Imma start calling I.C.E. on their illegal patrons at 1-866-347-2423 given that I ALWAYS hear these mofos encouraging their illegal ass patrons to call the fucking police on me – an American citizen ✊? #MAGA
– Drop wetbacks alive into the pacific ocean ⛓?
It brings me GREAT HAPPINESS to know that I will be able to do that to them someday….
I do not make these blogs to be understood by the wetback, but rather to teach my fellow humans about these things, how these things think, their hivemind consciousness so you know how to interact with them:
Why I Say That Mexicans Are The Children of The Devil aka Reptilians
The Reptilian Seeds of Quetzalcoatl Are Meant To Keep Us In A Low Vibratory State
I don't call them "the thing" for nothing….
I have studied these things' hiveminds. I was once connected to their oversoul, which is demonic and pure evil and pure reptilian as I break down here:
You are not dealing with regular human beings but demons operating in literal human vessels (otherwise known as organic portals) who are cunning, clever and sneaky and know how to hide their true nature from all but those like myself who are spiritual and conscious.
This is why blacks are whipping THE FUCK out these wetback ILLEGAL food vendors……
These creatures had been talking about me like a dog for weeks, years. These mofos who ARE MORE THAN LIKELY NOT EVEN LEGAL AND DO NOT BELONG AND THUS HAVE NO SAY IN THIS COUNTRY HAD THE FUCKING AUDACITY TO TRAVEL UP TO TOPANGA CANYON BLVD WHILE I WAS POSTED THERE IN HOPES THAT I WAS GONE – FROM A PART OF MY COUNTRY – FOR GOOD:
– They stopped doing the u turn part when I started taping….
This is where they normally park at….
So why TF they coming up all the way over here….
You can see them skittling out sneakily – like the wetback las cucarachas those things are – as I tape. You may be able to capture their facial expressions as they flee as I expose them.
As I said here those degenerates HAVE NO FUCKING RIGHT TO BE TELLING US WHAT TO DO ON OUR SOIL – ESP. THEM!
Don't Think You Can Come Over Here To America And Disrespect Us Americans
It brings me great pride that I may be able to do something about them in the meantime and get them off the planet (and astral realm) for good!
Seeing The Reptilian Symbolism That I Will Use In The Future As The Antichrist
That said, in the meantime, I am proud of my people for taking these garbage heap TRASH VERMIN which is what wetbacks are – OUT!
Wetbucks Are Now Getting They Deserved Due For What They Have Been Doing To Blacks
– I do my part…..
Drag Me To Hell Is REAL And These WETBACKS Are About To Find Out
Proud East L.A. Gangbangers Get 'Woked By The Black Border Patrol Shirt Lady
– If you aren't into witchcraft and gangbanging you can also do your part by reporting these illegal wetbacks to the INS, ICE at: 1-866-347-2423
And it's totally justified for what they have been doing to us…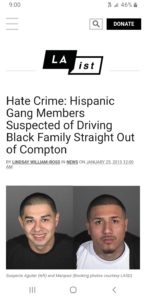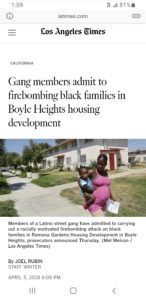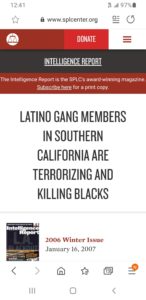 I remember reading this on lipstickalley….
https://bakersfieldnow.com/news/local/authorities-latino-gangsters-target-blacks
Read this last part here….
Don't let that "they just gangs" shit fool ya! They all hate us. Every. single. one. If not hate us, look down upon us and that is because their daddy the human eating human sacrificing reptilian demon Quetzalcoatl would shapeshift into a white man….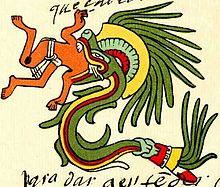 That is what they are ☝??? That is what those bloodthirsty demons come from ☝???Don't bother bringing these things up with the wetback because, like the reptilians that seeded them, they are bloodthirsty demonic creatures who only live to rule abd rape. It is their nature to be demonic so there is no reasoning with them and trying to be logical and understood.
They need to be wiped out!
That said, another thing about the Rainbow Catering people off the PCH in the rainbow truck vid:
I see them feed the homeless white dudes but not the homeless brothers like the homess brother who lives around in the woods in Topanga…..
That said while you all are out here correcting "sucka shit" on your own people after all the acts of genocide that they have done to wetbacks….
These WETBACKS are out here doing this to innocent black civilians….
Where the "correcting sucka shit" at for me, an innocent black homeless woman who has been attacked by wetbacks numerous times….
This started it, my hatred for them by seeing what they truly are:
Wetback Ass Drunk Driver Headed Down Topanga Admits To Coming Around To Harass Me
– Those wetback creatures ☝? actually spoke of how they got a gun and wanted to shoot me after telling me how they been stalking me (cause they are rapists, ALL OF THEM) for a while. A black woman. This is how those demons see us!
A brother here actually held it down….
Wetbacks Come To Interrupt My Healing And Calling Out A Jealous Homeless Black Dude
Look at how these things come at me, wanting to put hands on me like I am a fucking man cause I am a black woman:
And…. before you all say, "Well it's cause how you talk to em" looka how they treat a white man pushing one of their women out a store, assaulting her vs a black dude who also put hands on a wetback ILLEGAL vendor:
Looka how they treat me for saying mere words, spitting on me vs a white woman doing the most:
The Difference In How Mexicans Treat A Hostile White Lady Vs A Black Lady
And you all still wannabe on that black and brown unity shit.
You see the evidence.
They need to be wiped out!
A day will come when I will be able to do this physically:
– They have no idea what they fucked with: the beast they done awakened!
Abaddon is an angel of death, the destroyer who will get rid of the demons (demon seeds) in the last days…. like the wetback!
Eye ? know what they are….
Black people, you see the evidence: they have no respect for us! They use us as a crutch cause they know that because of black people's empathetic nature and our long hard won struggle for civil rights we will side with anyone who is of color. That said these demons truly in their hearts want to be white and accepted by whites even thought whites treat em like shit like here:
You have to understand that the reptilian consciousness of the wetback is to respect those who don't respect them, who hate them…..
For instance after killing blacks for being black in Chicago, look – they want peace:
They're cowards.
They are bullies by nature. They are rapists by nature:
You see what they are. THAT is what you wanna unify with – nonhumans with no empathy, literal monsters – of all them.
Stop being fooled by skin color. Look at the soul. The oversoul of the wetback is dark and demonic:
There will be a final solution for them.