HERE IS HOW THE BASTARD LOOKS: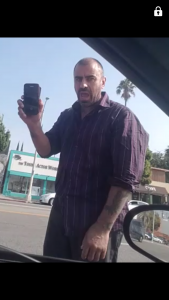 LOOK AT THE LAST THREE NUMBERS ON THE DASH IN EACH PIC:
(THIS WAS EARLY THIS MORNING):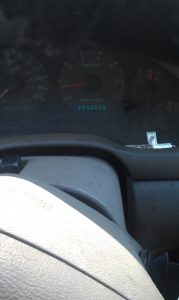 (THIS WAS LATER IN THE EVENING):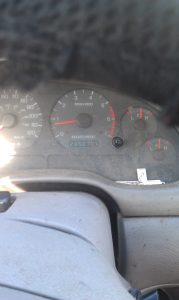 * SPIRIT WORLD WORKING OVERTIME HERE *
LOOK AT WHAT HAPPENED: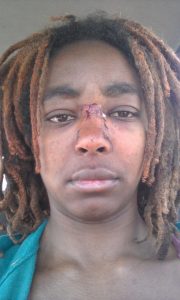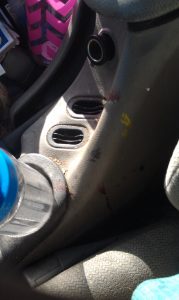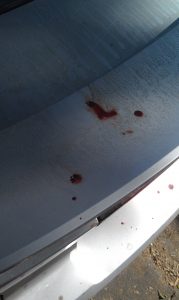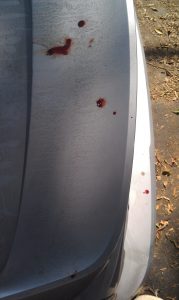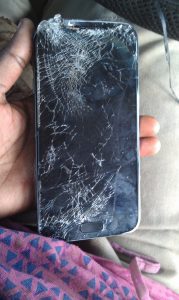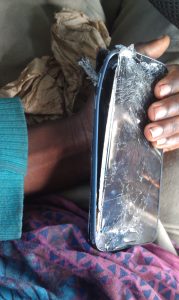 Here are MORE pics:
THIS THE BASTARD WHO DID IT: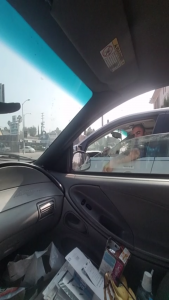 This PSYHCO, POSSESSED MOFO I FILMED HERE A WHILE BACK, always calling me (ever since I recognized he is an energy vampire) mayate's which is the Spanish word for NIGGER and all sorts of shit cause I won't let him near me to HAVE MY ENERGY!
Buy vid here
[purchase_link id="30784″ text="Purchase" style="button" color="blue"]
HIS PUNK ASS PARKS RIGHT NEAR ELLESMERE ON VENICE BLVD IN MID WILSHIRE L.A.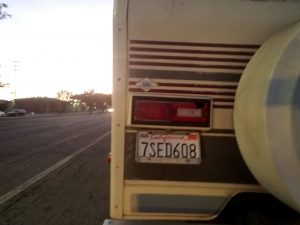 That's the license plate I got a while back!
Even worse is how people TREATED ME! There is no logical reason for it: I recall hospital staff at the Kaiser Permamente on La Cienega and Detroit making fun of me, calling me "weirdo", making fun of "how I will drive myself home" since I live out of my car (NOTICE WHAT THEY ARE SHIT TALKING ABOUT) and being very insensitive to my situation. Cops I felt were, too, at least in the beginning (not one of them, tho., Officer Koop was "friendly"). Paramedics had an ornery, poor disposition as well! I recall earlier going into the police station to update my phone (AFTER THE BASTARD PUNCHED ME IN THE FACE I WAS IN A DAZE AS IF MY HEAD WAS LITERALLY FILLED WITH WATER) and the cop in there was very mean, ornery in how he had addressed me (like it was personal) and I heard a female cop snicker as if to say, "That is good for her!" I know why…
It ain't got nothing to do with anything "bad" I've done except BE! Many of these demon reptilians OF WHICH L.A. IS FULL HAVE A HIVEMIND! AGAIN referring BACK to the comments the REPTILIAN hospital staff were making, it was in reference to the topless activism which shows INDIVIDUALITY AND IS A BUCK TO THE REPTILIAN SYSTEM! They don't like that when you go against their system (I'll keep going AGAINST the mofo UNTIL THE DAY I DIE). Also, note the pernicious made about my CHOICE of residing in my car, WHICH IS A MAJOR "AFFRONT" TO THEIR SYSTEM AND IS THE MAIN REASON BEHIND WHY THEY ARE GOING TO PUSH AGENDA 21! That is why they call me "Crazy" cause I know what the fuck is up (while typing this, TWO REPTILIANS NEXT TO ME AT STARBUCKS ARE UPSET FOR MY REVEALING THIS – FUCK THEM)! Their REPTILIAN body language conveys discomfort. THAT IS WHY NO MATTER WHERE I GO IN THIS CITY, THEIR REPTILIAN HIVEMIND TELLS THEM TO HATE LIL OLE ME – A WOMAN WHO RESIDES IN HER FUCKING CAR AND TO MOST REAL HUMANS DOES NOT POSE A FUCKING THREAT! Think about it! As for the nut who attacked, he does meth! When you do meth as this article states here: http://www.bibliotecapleyades.net/sumer_anunnaki/reptiles/reptiles50a.htm it opens people UP to demonic/ reptilian attack! I believe he is sincerely possessed and was GOADED to attack me!
This is why I am so "hated" – THEY influence people to hate me! 2Circles whose youtube channel is HERE: https://www.youtube.com/user/2CircIes/videos?disable_polymer=1 does a great job of breaking down how this DEMONIC ALIEN SPECIES WORKS (I believe through the trauma of my brother's death which I believe THEY AND SHADOW ENTITIES ARE RESPONBLE FOR – I even had a vision of them eating a "baby" version of my brother in the astral – they STOLE my parents' souls and replaced them with reptilian hivemind entities). He talks about how if you are a good person they will "reverse" shit and PROJECT and make YOU look like the bad guy, something I've always gone through MY ENTIRE LIFE! This vid here by this IDIOT named "Cellfluid" PROVES IT (YOU WOULDA THOUGHT I PERSONALLY INSULTED HIM BECAUSE I HAD A DIFFERENCE OF OPINION ON ASTRAL PROJECTION WHICH HE WANTS TO DO BUT I ADVISED AGAINST AT THE TIME NAMELY BECAUSE OF INCIDENTS LIKE THIS, HERE:
TALKING ABOUT "COUNTER SPELLZ" AGAINST ME ALL CAUSE OF A DIFFERENCE OF OPINION! THE NIGGA CAN BARELY FUCKING TALK, INARTICULATE ASS PUNK!

I saw and am starting to see later due to my overstanding of things how the people who called me "demonic" etc. are REALLY THE ONES DEMONIC THEMSELVES, PROJECTING ON ME, ESP. NOW THAT I CAN SEE INTO THE SPIRIT REALM ITSELF! That is why I constantly shed myself of people because so many demons like the dude their whose demon influenced and some who are demon/reptilian incarnates try to get close to me in an effort to either deplete me of my energy or throw me off my mission!
He discusses EXACTLY WHAT IS HAPPENING TO ME – WORD FOR WORD – EVERYTHING FROM HOW THEY TRY TO RECRUIT YOU HERE: https://toplessinla.org/2018/01/04/i-warned-you-all-they-would-try-to-recruit-me/ AND HERE: https://toplessinla.org/2018/01/07/reptilians-threatening-me-in-the-dreamscape-for-not-being-recruited-by-them/ AND IF THAT FAILS, DESTROY YOU, KILL YOU, WHICH IS WHAT THAT GUY WAS DESIGNED TO DO: https://toplessinla.org/2018/01/06/reptilians-put-a-death-curse-on-me/
YOU CAN READ HOW THEY OPERATE HERE:
Here is the ebook on it: https://www.pdf-archive.com/2017/04/15/how-aliens-manipulate-humans/how-aliens-manipulate-humans.pdf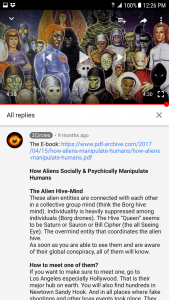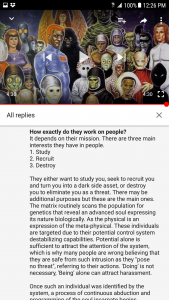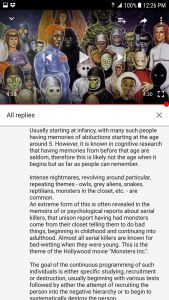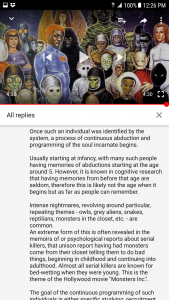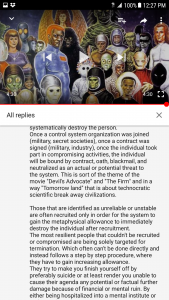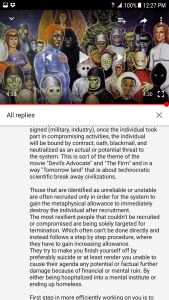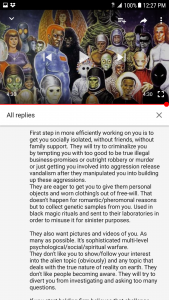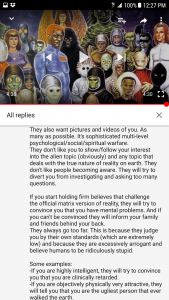 *YOU CAN READ THE COMMENT ON HIS CHANNEL WHICH IS PINNED ON IT!
This shit is VERY REAL and the reactions of these people is not by coincidence: there was a reptilian hive, a literal civilization found underneath the (sh)city of Los Angeles back in the 1930's:
http://www.metatech.org/wp/reptilians/underground-city-reptilians-aliens-los-angeles/
THERE WAS EVEN most recently a man who witnessed a female judge shapeshift into a reptilian in a Santa Monica courthouse. He noticed she recused aka REMOVED herself once HE noticed CAUSE THEY DON'T LIKE BEING EXPOSED (WHICH IS WHY I ENJOY EXPOSING THEY ASSES, LOL!):
http://cryptozoologynews.com/los-angeles-judge-turned-reptilian-humanoid-says-man/
Now, you may ask – and wisely as well – why don't I move. Well, because of WHO I AM and WHY I AM IN THE WORLD, they will fuck with me! Always have (every single job I ever had I got fired from including talking about the illuminati on lunch hour for a marketing company in NYC – them mofos are EVERYWHERE)! I got singled out cause the hivemind knows who I am and why I am in the world which is why the less they can control me (via living off grid, BEING COMFORTABLE WITH IT AND NOT FEELING "LOST" CAUSE SOMEHOW I DON'T FIT INTO THIS REPTILIAN MATRIX SYSTEM WHERE PIZZAGATE IE THE EATING OF HUMAN BABIES BY REPTILIANS OCCUR: https://toplessinla.org/2017/11/24/pizzagate-part-1-proof-in-the-pictures/ …and teaching other people the same) THE MORE A THREAT I BECOME! I BECOME MORE UNSTOPPABLE WITH EACH BS THING THEY THROW MY WAY!
– SHIT, A FAKE VIRUS POP UP JUST POPPED UP WHILE WRITING THIS AND IT WASN'T EVEN CAPTURED IN AUTOSAVE!</strong>
Now, my overstanding of EVERYTHING THAT IS GOING ON, THAT IS HAPPENING TO ME IS WHAT KEEPS ME SANE AND GROUNDED. I'll be honest, that attack STRENGTHENED ME, STRENGHTENED MY SPIRIT! I will continue to speak what I came here, to this Earth realm for, which is to break free of the alien reptilian archon matrix system. They gonna throw a whole lotta shit, already have and still MY SPIRIT PERSEVERES and my existence is to teach you all how to break into your own power and break free of the reptilian-archon-alien matrix that keeps you BOUND HERE to this three dimensional prison planet.
That's why I don't get caught up on the details, I see the whole picture which is KEY to staying sane here!