I don't know why people fuck with Abaddon but they ALWAYS pay a price…
I been wanting to do this…
A while back I came across this buck tooth carrot rabbit looking ass creature right here (here her facebook – I shoulda known something was off and you'll say the same when you see her fuck boi book too: https://www.facebook.com/profile.php?id=100008229339395)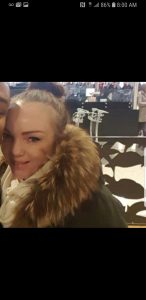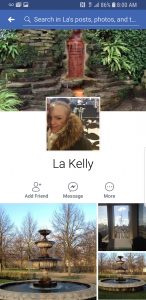 …WHO CAME under the disguise of a spiritual "friend" to use me for my knowledge (I SHOULDA KNOWN something was up cause from her aura I thought it was an emo dude – I envisioned a thin white boy [the profile look FAKE ASS FUCK so it probably is] and then turned around and STOPPED talking after I told her that I couldn't give out info on how I stay protected after she asked me (Smdh! Fucking dumbass! Depending on your life purpose you gonna have certain things around you). That said, read the exchanges to see what I mean so you know I ain't bs'ing…
That said, here are some other scrubs from a while back…
Before I show you the others, look at this person here, basically saying they want to join with me to use MY ENERGY to get MORE POWER! That basically sums up why most people want to "connect" with me and WHY I HATE MOST OF THOSE MOFOS WHOLE HEARTEDLY!: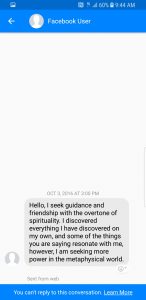 This bitch here WISHED HARM cause she wanted to use my spiritual services for FREE and not wanting to pay me when I was down and out tho. she paid a dude $100 for his spiritual book…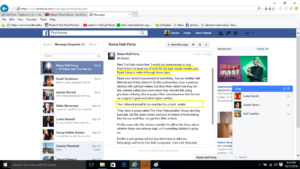 Here are more:
– This mofo AFTER I SENSED evil in her spirit HAD THE NERVE TO STALK ME AFTER I EXPOSED HER ASS AND RAN HER UP THE STREET! THESE ARE THE DEMONIC EVIL MALIGNANT MOFOS I GOT TO DEAL WITH!
https://toplessinla.org/2017/05/22/stalked-by-a-silverback-ape-named-angeline-alexis/
This mofo here, notice how he emphasizing "I should care what others think" to the detriment of myself to the point where I'm dependent upon what other's think and let others' perceptions bully me. REMINDS ME OF HOW THIS MESSY ASS HIGH SCHOOL TEACHER told me similar to destroy me and my self esteem: https://toplessinla.org/2014/11/04/do-not-send-your-kid-to-st-katherine-drexel-high-school-aka-xavier-prep/ SEE, THAT'S WHY I HATE THE MOFOS WHO TRY TO CALL THEMSELVES MY ALLIES AND FRIENDS CAUSE – LIKE THAT MOFO THERE – I FEEL THEY ARE DEMON/REPTILIAN POSSESSED AND ARE SENT TO SABOTAGE ME AND WHAT I TRY TO DO AS EVIDENCED BY THIS (READ THE ARTICLE TO SEE WHAT I MEAN):
https://toplessinla.org/2017/12/25/stalked-by-crazy-racist-psycho-youtube-troll-jim-domen-aka-jim-herbertson/
Here more mofos (one of em – Lamont Staton – has a REPTILIAN that's done taken over his body):
Irene Brennan: A Breakdown of the METH HEAD Demon Possessed WHITE SUPREMACIST Who Come For Me
Stalker Jeff Smith Who Works For Pleasant Valley Iowa Public Schools Calls Woman A Nigger
And this NIGGER a fucking RAPIST HERE:
Could Convicted Murderer and Rapist Adrian Waite aka 423chattanooga10worldwide of Chattanooga Be The Next Grim Sleeper
IT'S ALL ABOUT USING ME FOR ENERGY! THAT'S WHAT THE FUCK ALL THIS SHIT IS ALLL ABOUT – IS USING ME FOR FUCKING ENERGY. THESE SAME MOFOS – WHEN I DROP DOX AFTER TELLING THEM TO LEAVE ME THE FUCK ALONE – THEY GET PISSED AS IF THEY CAN DO WHATEVER THEY WANT TO ME, AS IF THEY GOT THE RIGHT BUT WHEN I "SHOW TEETH" AND DEFEND MYSELF FROM THEY PREDATORY ASSES THEY GET FUCKING PISSED! I'M TIRED OF IT! I'M TIRED OF THESE MOFOS AND THEN THEY WILL PLAY ACT LIKE THEY THE FUCKING VICTIM LIKE VERITAS DID (I JUST TOLD THE SIMPLE MK ULTRA PROGRAMMED WANNABE WITCH CONTROLLED OPPOSITION BITCH THAT SHE STILL BOTHERED BY SOME DUMB SHIT THAT HAPPENED IN THE MILITARY AND THEN SHE WENT ON SOME TIRADE TALKING SHIT AFTER I MERELY TOLD HER UGLY FUNNY NOSED LOOKING DRAINED ASS THE MAD FUCKING TRUTH – more on that hoe later – that's why she getting stalked by that whute nugga and crazy schitt happening #ProtectionKarma STUPID BITCH!)! I'm tired of being taken for granted, lied on then blamed on when I don't let mofos use me. I'm tired of it! I'm tired of this projecting shit. THIS ABUSE GONNA END!!!
That's why I HATE those mofos. I don't have friends. Outside of a small circle which is really one I CAN SEE THESE MOFOS AIN'T GOT NY BEST INTEREST AT HEART. JUST A BUNCH OF USERS AND BACKSTABBERS!
And here this bitch who I KNOW is MK Ultra who you can just hear her handler at the beginning of the tape say, "Hello" (it's a white dude's voice so NO WAY it's mine):
Her name's Essie P or Sha.
Here the shit she wrote: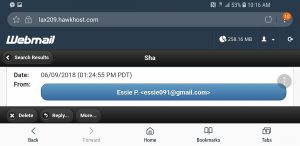 It says email address is [email protected]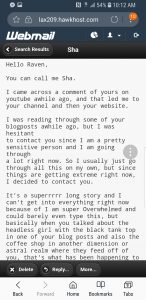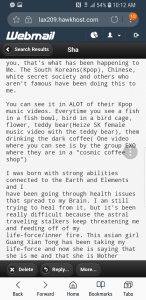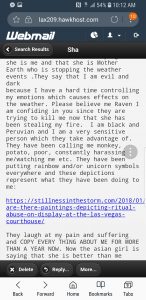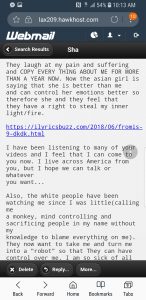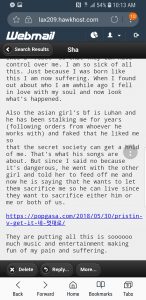 This BITCH came to me really for a fishing expedition after saying some South Korean band was "bugging her mind" by placing implants and tracking her and shit and SHE WANTED TO USE ME AS AN EMOTIONAL DUMPING GROUND – A FORM OF NARCISSITIC EMOTIONAL VAMPIRISM – TO DUMP ALL HER UNWANTED EMOTIONS ON!
WHEN I RAN THE BITCH UP THE STREET, she tried to send a fake voodoo doll and put a curse, lol!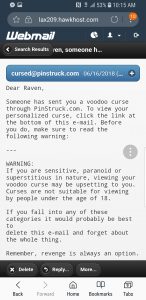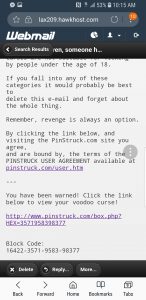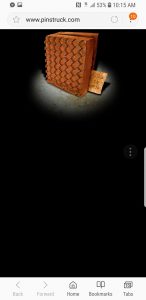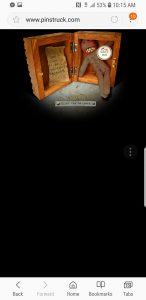 That bitch JUST DON'T KNOW WHAT I'M CAPABLE OF! I CAN AND WILL MAKE HER HEALTH PROBLEMS WORSE!
I think she mighta been this "Bri" BITCH HERE who as you can see is another energy vampire who likes to unhurl they shit on you (Peep how this bitch tried to contact 13signsastrology – another homeless person going through his own shit – see how EVIL these bitches are):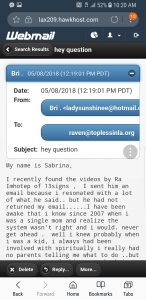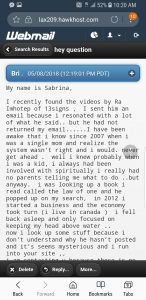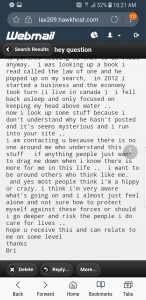 AND LOOK THIS BITCH RESPONSE AFTER I TOLD HER ABOUT HERSELF: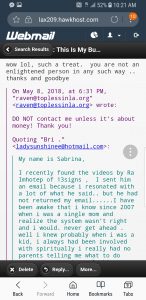 And the voodoo people – don't get me started. FREE word of advice (BUT DON'T TAKE ME FOR AN ABSOLUTE FREE RIDE) VOODOO PEOPLE LIKE TO ATTACH THEMSELVES ONTO THOSE WITH PURE ENERGY SO THEY CSN DRAIN THEM SINCE THEIR VOODOO LOA DEMONS EVENTUALLY GET TIRED OF DRAINING THEY ASSES AND WISH TO MOVE ON TO THE NEXT ROUND!
(This was taken from that Veritas Hoe's page):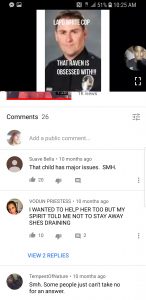 LOOK AT THIS BITCH'S FACE talking about helping me BUT LOOK HOW MISERABLE THIS BITCH IS!!!

LOL!!!
EDIT: SAY, LOOK – AFTER WRITING THIS ARTICLE (TO GO TO SHOW YOU HOW THESE ENERGY VAMPIRES LIKE VERITAS ARE FOLLOWING MY ASS) AFTER EXPOSING THAT BS CON ARTIST FAKE VOUDON WHATEVET NIGGER NIGGER BITCH, THIS BITCH CHANGED HER PROFILE PIC (I DON'T KNOW WHY CAUSE SHE LOOK LIKE PAUL MOONEY THERE) AND NAME TO SOMETHING "SEXY" (TO MAKE HERSELF FEEL BETTER) CAUSE OF HOW INSECURE SHE IS AND CAUSE I CALLED DAT AZZ OUTTT! LOL!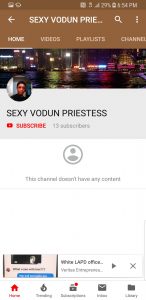 – Showing the thread so you can see its the same person/THING: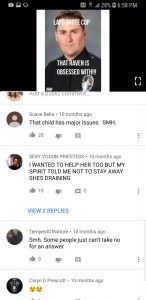 LOL!
SHE LOOKING FOR AN ENERGY COME UP, AN ENERGY SACRIFICE just like that other mofo in the screenshot cause with alot of these voodoo NIGGERS, CRAKKKAS, once their voodoo god or lwa (or shall I say LOWER) like Fag Saturday (Fag Samedi) or whatever of their choice gets TIRED OF THEM, THEY POSSESS THEM TO MOVE ON TO NEW VICTIMS AND THAT'S EXACTLY WHAT THAT OLD TIRED HAGGERED NIGGER BITCH HAD IN MINE!
Here another one: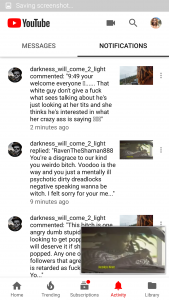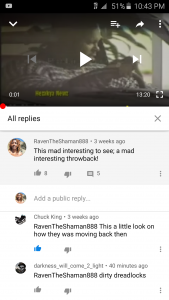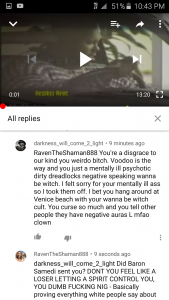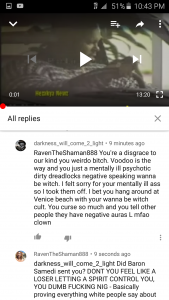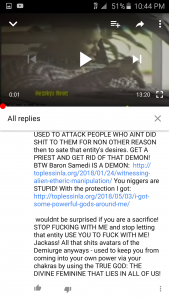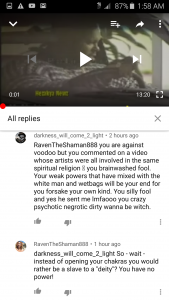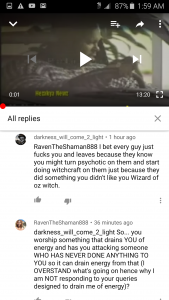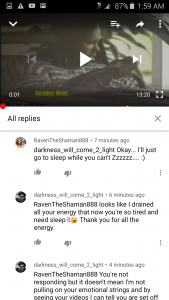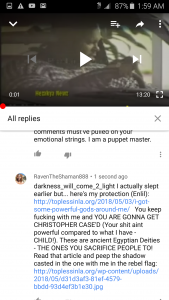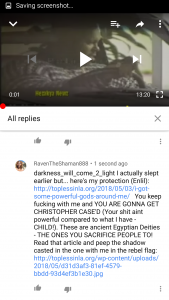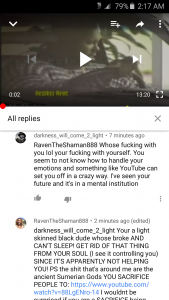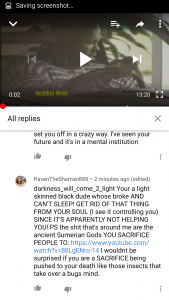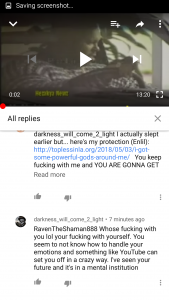 – When I was going back and forth with that cat (he attacked me out the blue for NO REASON) I felt like he was taking my energy. I stop interacting with him and it stopped. I knew of a nice white kid who had the same thing happen to him. THAT'S HOW I KNOW what these mofos are up to!
– I even had one of these user mofos say to me… "You're so nice and forgiving."
I'M TIRED OF THE SHIT! I DON'T DESERVE THIS SHIT! It's like I get hated on FOR NO FUCKING REASON and then when a using mofo comes up to me wanting to USE ME be it abilities, advice etc. and not even give me payment EVEN AFTER MAKING IT CLEAR I CHARGE FOR THAT AND EVEN IN LIGHT OF MY PREDICAMENT (I HAD SELFISH MOFOS NOT WANTING TO PAY EVEN WHILE I WAS IN A SHELTER) THEY GOT THE AUDACITY TO GET UPSET AS IF I OWE THEY USING, SELFISH ASSES SOMETHING and you wonder WHY – IN SELF DEFENSE – I LASH OUT AT MOFOS, RUN MOFOS UP THE STREET (MANY OF THESE MOFOS INCLUDING DUDES ARE FUCKING ABUSIVE ENERGY VAMPIRES) AND WHY I STAY TO MY FUCKING SELF! I ALMOST FEEL LIKE I'M CURSED: I GET NOTHINH BUT USING MOFOS WHO TREAT ME LIKE A DOG AND GET THE NERVE TO PROJECT WHEN I CALL THEM OUT! If I wasn't a strong enough person I'D BE DEAD! THE WORST mofos are those who SMILE IN YOUR FACE which is why I'm hardest on them as opposed to my enemies (cause I see my enemies coming from a mile away). Mofos don't appreciate me. I HAD THIS POS recently (blog article about his ass coming up) try to make eye contact with me FOR WEEKS TO GET MY ATTENTION. This evil bitch who had the nerve to judge me (with a contemptuous stare) about my being topless AND black thought he could come to me and use me for "healing" and thought he could – like the other bastards here – unload his emotional misery unto me by giving me some cursed shit:
That mofo was in for a RUDE AWAKENING! He ended up being ny sacrifice. Right after I did my ritual, his new 2013 car BROKE DOWN! Not only that – and I got it on tape – he was RESTLESS moving his shit at 5am in the morning, not being able to sleep, like an intranquil spirit…
LOL!
I know my appeal to people who follow me is that I come off as personal to the point where you think you know me but THAT DOES NOT MEAN MY SPIRITUAL SERVICES ARE FOR FREE AND THAT YOU SHOULD TAKE ADVANTAGE OF IT!!! Like a friend, you should respect people! Not take advantage of a friend!
People need to stop FUCKING WITH ME AND UNDERESTIMATING ME! I DON'T KNOW WHY PEOPLE TRY ME! Not too long ago mofo UNDERESTIMATED ME WITH THE TOPLESS THING – I ain't seen that nigga around. I keot seeing death in his cards.
With me, I don't need candles. Just a thought. That's your ass.
– And I'm very capricious AND unforgiving, too!
BTW anyone come up to me with ANY sexual intentions when I am doing my topless thing and I'll call the police AND torture you in the Spirit Realm. Again, I take souls and I don't fuck around!
It's funny, I'VE NEVER GOTTEN THINGS DONE UNLESS I PUT MY FOOT ON A PERSONALLY, METAPHORICALLY, TO GET SHIT DONE! When I'm nice – people take advantage. Those "mgtow" date guys may have a point!
https://toplessinla.org/2018/06/02/raven-masterson-named-abaddon-in-a-dream/
As shown above, not too long ago it was revealed my name was Abaddon. Abaddon in the bible is the Angel of Death. That's probably why this shit keeps happening. These people are sacrifices. They are sent to me so that I can take them out. I have Authority to do it but on a spiritual level. That is the only thing that makes sense! That's why this dumb ass rocks LAPD Officer with the Central Skid Row Division named R LI OUT THE BLUE came for me.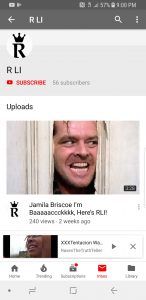 I JUST MADE A VIDEO TALKING ABOUT XXXTENTACION! NOTHING TO DO WITH HIM YET HE GETS OBSESSED WITH ME but he's gonna pay a price.
I know who he is. R LI is AN LAPD OFFICER WHO WORKS AT THE CENTRAL (SKID ROW) STATION OF L.A. He lives in Orange County and his last name I believe he said Tisdale. HERE is his number (he also got a 949 one):
I HAVE A RECORDING OF HIM STATING THAT SEX WORKERS CAN'T BE RAPED AND THAT RAPE IS ABOUT SEX – NOT POWER! SOMEBODY LIKE THAT SHOULD NOT BE WORKING AT A POLICE STATION AND WHEN I SEND IT TO THE MEDIA THEY WILL AGREE OTHERWISE! He also says he is a "men going their own way (mgtow)." He got three boys and is divorced (resentment towards his wife which is why he hates women). His cover story to deny that he is a cop is that he is now a PI (private investigator).
He also came at me using my business to fuck with me using the name "Jeff Tisdale" in which his last name IS Tisdale.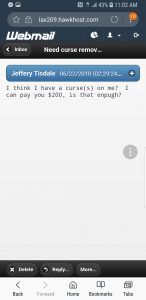 – I knew it was his ass cause most clients will come with their hearts pouring out in the email atcha!
He came for Jamila and I can see why (cause she a pos to her kids which I chronicled here: https://toplessinla.org/2016/02/19/the-worst-case-of-borderline-and-child-neglect-i-have-ever-seen-jamila-chontai-briscoe/ )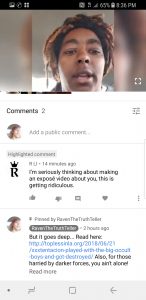 That said, he has no reason to be coming after me. He made a slight attempt in the past but I CAN TELL an intuitive feeling told him not to. Shoulda listened, bruh! Shoulda listened…
THAT SAID another spiritual worker TOLD ME that his obsession with Jamila wasn't about justice for the kids – no – but to harass her since he projected his rage and anger, his resentment onto his ex wife onto her. Now I see he doing the same with me (You picked the RIGHT ONE cause you about to GET EXPOSED)! The spiritual worker, Donna, told me that she saw that he rapes drug addicted women and prostitutes down there on skid row. Real evil SMARMY MOFO! EVIL!!! THIS NIGGEROACH NEEDS TO AND WILL BE EXPOSED FOR GREAT JUSTICE!
YOU FUCKED WITH ABADDON BITCH! IT'S TIME TO GET THAT SOUL!
BTW the way that vision in which the name Abaddon was given to me was the same way I saw this demon-pet familiar spirit whatever it is Rebuggo Low came to me:
https://toplessinla.org/2018/05/16/encountering-a-reptilian-demon-named-rebuggo-low/
I know it sounds crazy and I'm skeptical but it just makes sense. Not only that, in that vision the first name to appear before I saw Abaddon was Azazel who is also associated with and/or called The Angel of Death in the Bible.
I personally think this world needs a reset. If I'm the womban to do it, then I'll do it! I strongly sense that the shit that is happening to me us designed to jade me to humanity so I'll be able to off your asses at the end. I don't think that'll be a problem. That's why all these mofos trying to tie me down, force "love offers" for your own selfish purposes – Imma get it! When the time is right, I'll get ya! I'll also get you now in the various ways we all know I'm infamous for getting folks and like the play Abaddon here (notice they got a woman to represent her):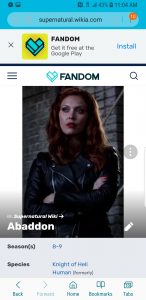 I take sadistic pleasure in destroying my enemies. Don't fuck with me or you'll end up in my stones.
Don't judge a book by it's cover (by judging me for living in my car and cursed and ignorant R LI did) and don't underestimate me.
BTW American Horror Story showed another woman as the "Angel of Death":
They telling you something…