HERE IS ANGELINE ALEXIS OF CALIFORNIA TALKING SHIT ABOUT WHITE PEOPLE: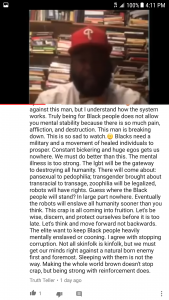 HERE IS A VIDEO where by her micro facial expressions and her movement YOU CAN SEE THE BITCH IS MENTALLY UN-STABLE (SHE MOVES AROUND ALOT AND TWIRLS HER HAIR). I almost sense MPD (multiple personality disorder) or schizoid personality disorder (more likely) or borderline or some combo of the three:
OOOO WEEEE THIS ONE UGLY BITCH!!!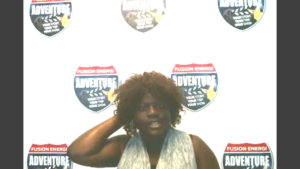 BITCH LOOK LIKE A MAN!
I finally found her pic…
Here is how SHE looks: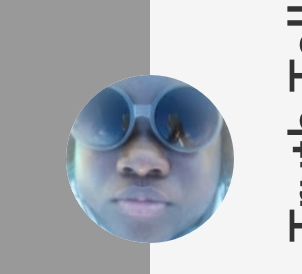 UPDATE – SEPTEMBER 4, 2017 – THIS GIRL IS SICK!! THE BEST WAY TO DEAL WITH PEOPLE LIKE HER IS TO JUST IGNORE THEM, DOCUMENT EVERYTHING DOWN, AND GO TO THE POLICE!! I already have a report written up about her which you can read below:
SHE HAS A WHOLE YOUTUBE CHANNEL DEVOTED TO ME:
https://www.youtube.com/channel/UCcfk4FdOjnb4j0wLLe9u0Tg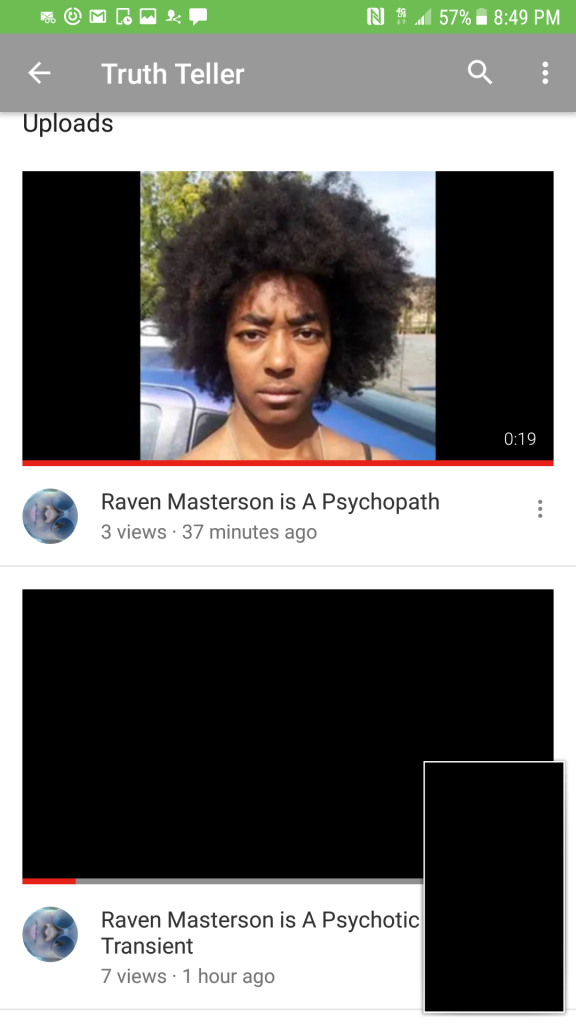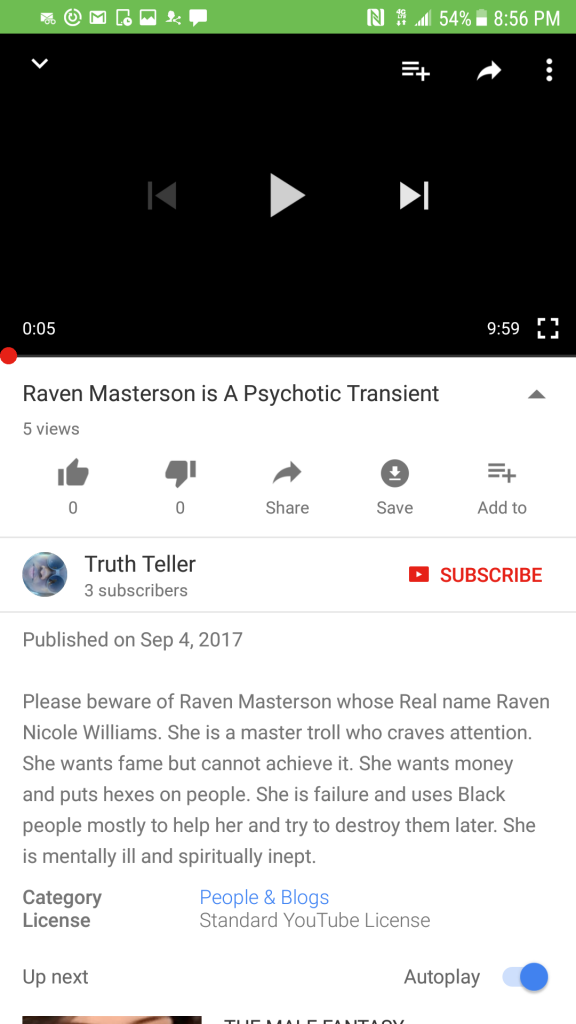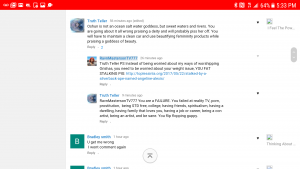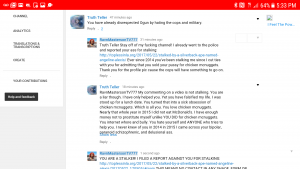 This girl is TRULY TRULY A SICK INDIVIDUAL! I believe he is demon possessed and if you saw this old video of her on a Google hangout you'd see what I mean and as well as jealous, envious, etc (hence why she is obsessed with my life) and co dependant and needy to the point of being DANGEROUS like Glenn Close in "Fatal Attraction" given – based on what you can see in the screenshots – that she has multiple personality disorder – two separate personalities and thus again PSYCHOTIC AND DANGEROUS!! THIS is someone who stalked a guy she fucked on the job and wanted me to DROP HIS DOX cause he no longer wanted her anymore!! he's been stalking me since 2014. Let THAT sink in!
THIS BITCH JUST POSTED A TRANSPHOBIC COMMENT, REFERRING TO A TRANSGENDER SPIRITUAL WORKER AS "CONFUSED":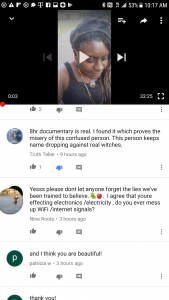 Here is her youtube channel:
https://www.youtube.com/channel/UCcfk4FdOjnb4j0wLLe9u0Tg
***UPDATE: I FILED A POLICE REPORT (THIS MESS IS GETTING OUT OF HAND).***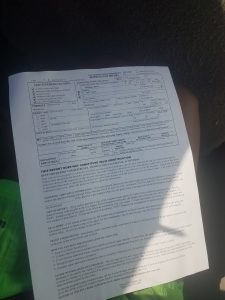 This is some "Single White 'bitch' Female" I'm about to tell ya [Except this involves a BLACK, LONELY silverback ape]..
FUCK. THIS SHIT "FATAL ATTRACTION" PROPORTIONS:

This crazy BITCH lives in Los Angeles (scary!!).
What I'm about to show you is scary…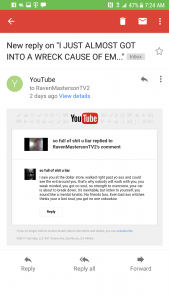 NOTE this psychopath knows where I go…
I think I may have seen her and like a silent stalker HER PSYCHOTIC DELUSIONAL ASS DIDN'T SAY SHIT! Also note in the messages she left below using the youtube moniker: "so full of shit u liar" whose channel you can see here: https://www.youtube.com/channel/UCCY_b_52laJs_LHncPpsW7w  IN WHICH THIS CRAZY, PSYCHOTIC DELUSIONAL DYKE ASS BITCH (I OUGHTA SEND SOME NIGGAZ TO "STRAIGHTEN THAT AZZ OUT") IS CALLING ME "RAVEY POO" – A CUTSEY NAME INDICATING AN EROTIC FIXATION WITH ME (I AM NOT A DYKE, NEVER SWUNG THAT WAY AND I DON'T PLAY THAT SHIT AND YOU DAMN SURE DON'T IMPOSE THAT SHIT ON ME), PROJECTING AUDACIOUSLY SUCH AS BY SAYING "I AM OBSESSED WITH HER" WHEN IT'S THAT FUGLY, UGLY BLACK SILVERBACK GORILLA APE WHOSE BEEN SENDING ME DROVES AND DROVES OF MESSAGES ON MY VARIOUS SOCIAL MEDIA PLATFORMS WITHIN THE PAST 10 HOURS, AND SAYING OTHER SHIT LIKE "YOU GOTTA RUN DOWN CAR" WHEN THE BITCH AIN'T GOT A CAR BUT GOT TO TAKE THE BUS AND TALKS NEGATIVELY OF MY CHOOSING TO LIVE IN MY CAR – meanwhile the OLE GREAT BLACK APE IS EXPENDING HER, I MEAN, "IT'S" MONEY ON A ROOM FOR RENT LIKE SHE A LIL KID (THIS BITCH IS LIKE IN "IT'S" 30'S AND SHOULD HAVE A HOME OR AT LEAST HAVE IT'S OWN PLACE TO RENT SINCE THAT'S FOR COLLEGE KIDS TO RENT ROOMS AND SHIT AND NOT NO GROWN AZZ ADULTS!!!) AND TALKING SHIT ABOUT MY LIFESTYLE (I MEAN, HOW FUCKING OBSESSED) WHEN SHE CHAINED TO A 9 TO 5 WITH NO PROSPECT FOR JOB ADVANCEMENT. No wonder this bitch is miserable and harassing me. Anyways, take a look at these messages this CRAZY BITCH SENT:
Here some more…
THIS BITCH IS CERTIFIABLY INSANE (WHEN I UNLOCK MY SECOND HARD DRIVE I AM POSTING THE VIDEOS SHOWING JUST HOW REALLY DEMENTED AND DEPARTED FROM REALITY IT REALLY IS): AND TO SHOW YOU HOW CLEARLY WARPED – AND DEPARTED FROM REALITY SHE REALLY IS – LOOK AT HER "THREAT" TO REPORT ME TO THE FUCKING COPS FOR HAVING A FUCKING OPINION AND SPEAKING ON MY RIGHT TO SELF DEFENCE: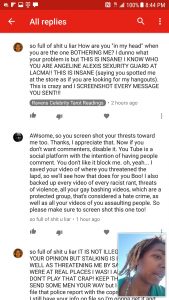 That said here is a video I did on this CRAZINESS earlier:
Buy vid here [purchase_link id="29375″ text="Purchase" style="button" color="blue"]
Let me break this bitch down and THE GENESIS OF THIS SHIT:
Okay, going back to 20 and fucking 14 ("THAT LOOONG AGO") I came across this lady named Angeline Alexis on Youtube. I was having a hard time and sooo she offered to "help me out." She donated, brought some of my paintibgs (in hindsight I realize she did it to "get close to me."). Anyways, while speaking with her – as I spoke about spiritual things – I could hear her and her friend snickering and making fun of me over the phone. That was the first thing, #1. Then I later learned she worked security at the LACMA museum/ La Brea tar pits and some warehouse near downtown by USC. That said, she revealed to me how she fucked some guy who works there – a fellow security guard ON THE JOB (Hey, I don't judge cause I was working as a prostitute at the time) and she wanted me to DROP HIS DIX, OOPS, I MEAN DOX ON HIM AND FUCK WITH HIS JOB cause she claimed "he stalked her" (I KNEW IT WAS THE OTHER WAY AROUND). I refusd. The kicker was when – after I spoke against street harassment – SHE REVEALED TO ME SHE GAVE AN OLD HOMELESS NUGGA HER PUSSY AKA "NUMBER" FOR — CHICKEN FUCKING MCNUGGETS.
I was done.
I cut off all ties with her given how she backtracked, all her past LIES, ETC.
I thought it was over but it was just beginning…
One day I found out through an idiot who revealed – inadvertently – THROUGH SCREENSHOTS THAT SHE HAD DROPPED MY DOX (this was in 2016 2 years after I "thought" she would leave me alone). Then I saw a blogtalk where her and another unstable individual named Jamila Briscoe whom you can read about here: https://toplessinla.org/2016/02/19/the-worst-case-of-borderline-and-child-neglect-i-have-ever-seen-jamila-chontai-briscoe/ were foaming at the mouth about different shit (there were other crazy mofos like "Simply Anonymous" there) AND THE WHOLE TIME EVEN WHEN THESE PEOPLE WERE TALKING ABOUT DIFFERENT TOPICS ANGELINE STAYED OBSESSED WITH TALKING ABOUT ME EVEN GOING SO FAR AS TALKING AND GRUNTING LIKE A GORILLA (I AM DEAD FUCKING SERIOUS) WITH YOUTUBER USER "MJ23theGreatest" ASKING HER: "ARE YOU OKAY???"
This bitch is crazy and the entitlement to me, my life IS REAL with this one as can be seen in the screenshots up above. I fear this "woman" one day losing it! Her ass is already delusional, lost, crazy and just unbelievably PSYCHO OBSESSED WITH ME, like I occupy her every thought in her head, LIKE SHE GOT TWO DEMONS MAKING HER OBSESSED! In all seriousness (I know I joked earlier) THIS BITCH NEEDS TO BE COMMITTED, ASAP! I see her committing suicide and quite possibly taking someone down with her cause she has already shown a break from reality which is most totally manifested by the fact that SHE HAS BEEN FUCKING OBSESSED WITH THIS FOR FIVE SOMETHING YEARS GOING ON STRONG! I'm homeless and I got my own issues and I don't need this shit!