Here is the message he left (after unjustly getting me blocked by flagging my facebook account), effectively FUCKING WITH MY BUSINESS SINCE MY BUSINESS PAGE IS CONNECTED TO THAT ACCOUNT: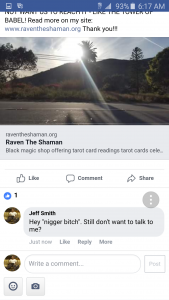 He used to work for the Pleasant Valley school district in Iowa as a janitor from 2016 to 2017 as a TEMPORARY CUSTODIAN, LOL!
HERE IS HIS FACEBOOK:
https://m.facebook.com/profile.php?id=676320132&fref=pb
Here some of his pics: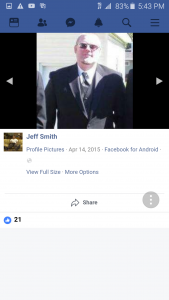 – Fucking Bubba Sparxxx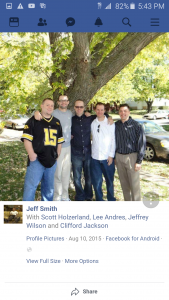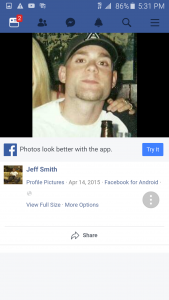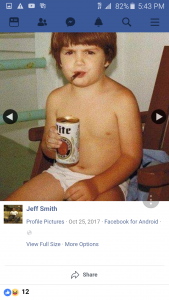 Here his emails:
That said, this shit's gonna end!
Here is how it started! I get these demon possessed, reptilian possessed people who like to project on me much like this negrow here:
– Who called me crazy yet it is HE who stayed in a mental hospital
See what I mean (I even told him what he got around him in hopes he eliminates it)!
Anyways, this "Mark Jackson" person aka "Jeff Smith" came into my livestream, talking about how he's being stalked by demons, etc. So, at one point, after asking, I asked him what he sees around me (my aura is usually white, violet, purple – yellow, positive colours). You can see it here:
http://www.raventheshaman.org/2018/03/31/white-aura-after-opening-third-eye-all-yesterday/
Here his livestream comments (they are in the lower right hand corner):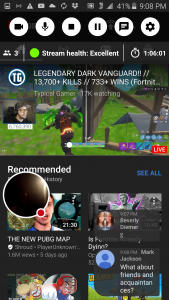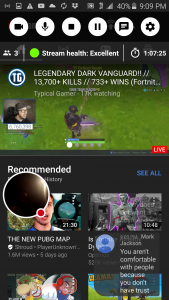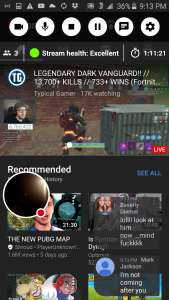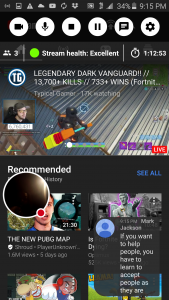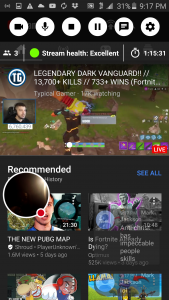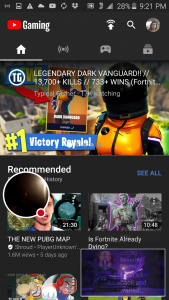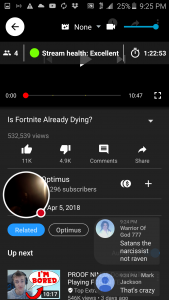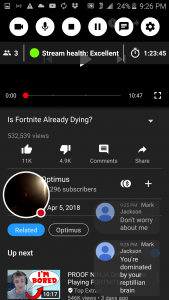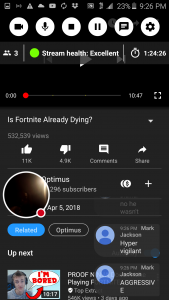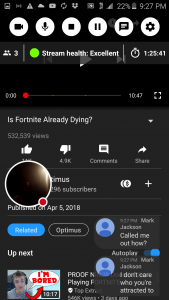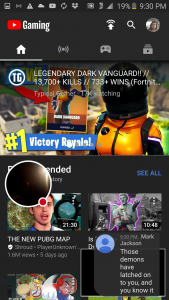 He tells me he sees evil shit keeping me from relationships (Emphasis on that!). He also said that I give off a powerful sexual energy which I've heard before. Fair enough! That said, the other part about "relationships" – given all that I know, I see where it's going…
I'm at a critical stage in my life where I am Awakening to My True Self, my True Powers and that said, cause of the Path that I am on, relationships, all that 3 dimensional stuff – I'll just say that I see it as beneath me and a hinderance to what I came here to do. That said, I GET ALOT OF ENERGY VAMPIRES – LIKE HIM – OF ALL RACES AND SEXES WHO TRY TO GET WITH ME SO AS TO SABOTAGE IT! I SEE IT and my intuition serves as the guiding post to steer people like that away from me. Via a vision I had yesterday I SAW some of My Protectors (Powerful shit):
https://toplessinla.org/2018/05/03/i-got-some-powerful-gods-around-me/
That said, at one point he was trying to get into my head and tell me that my own intuition couldn't be trusted! You see what I mean?
That said, sexual energy is the most powerful and potent energy from which to draw from for magick. That is why tantra sex is big! Energy vampires who are possessed by the demons controlling then feel compelled to come after that energy cause it is powerful and easily accessible. They will use all sorts of tricks to get it. That is why I said earlier "emphasis" on him saying that I give off a powerful sexual energy cause it dovetails with this!
That said, I saw on this guy a huge entity that looks like – well, it is black with the body of a worm or more likely, a dragon and it compels him to do things…
That said, it compelled him to come after me! Recognizing this, I blocked him from the livestream chat. He then resurfaced via email…
Here are the emails…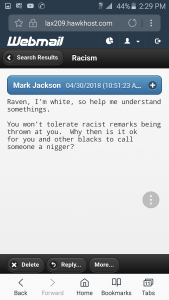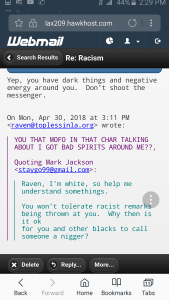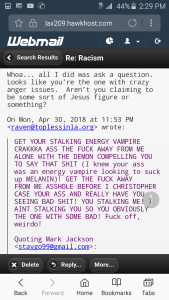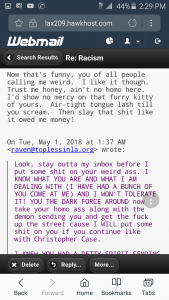 You can clearly see the obsession.
I blocked him from there, THEN he proceeded to bombard my Facebook profile with false flags, eventually getting me banned from my account (I knew it was him that was doing it since it was right after I blocked him from email AND based on WHAT GOT FLAGGED):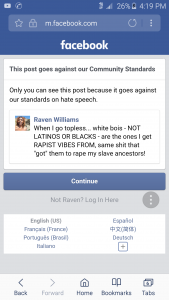 – Pissed cause I told truths…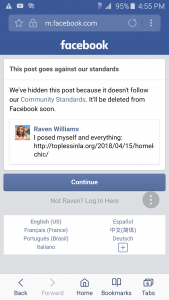 Here the post he banned (the one about white bois didn't even allow me to appeal):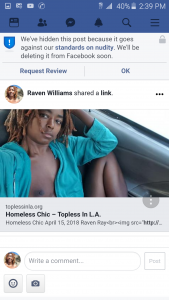 – Pissed cause I DON'T WANT his demonically possessed ass!
That said, I put two and two together when I noticed this "Jeff Smith" (who looks like a whigger which could explain in some respects the "black" energy I got from him) started serial "laughing" obsessively, my posts: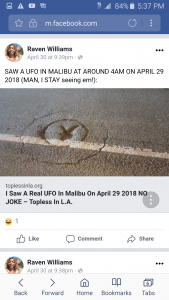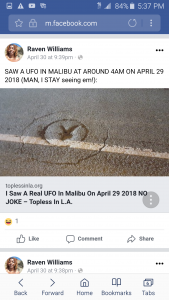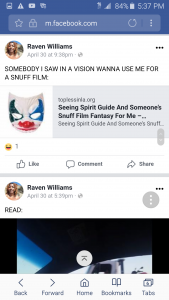 Facebook needs a new way to APPEAL decisions like this where false flagging is concerned…
I then sent the Jeff Smith facebook profile link to this "Mark Jackson" at [email protected]
in which after responding to another email I sent in which I let him know that I knew it was HIM behind it and how pissed I was… He didn't respond which let me know it was him all along behind it!
Also, let's look at the meaning behind his email which has alot of spiritual meaning behind it. His email which is staygo99, NOTE the stay and go. Hell, let's first look at his choice of numbers – 99 which correlates to the number of my name here:
That let's me know the email was made for me, spiritually! Now look at the dualistic "stay" and "go" in it – two opposing words! A part of him knows that it is wrong AND dangerous to fuck with me. After all – look at the spiritual protection I got:
There are GRAVE implications for messing with me! Now, the demon is telling to – to his own detriment – to continue messing with me hence the "STAY" part. Demonic possession is a mug ?
So in effect he was sent to pull me down into the realm of the mundane, to throw me off my path, as this one has tried to do:
https://toplessinla.org/2018/02/06/irene-brennan-a-breakdown-of-the-type-of-reptilian-demon-possessed-people-who-come-for-me/
Here:
https://toplessinla.org/2018/04/13/this-is-what-going-up-against-the-matrix-really-looks-like/
And this one here:
https://toplessinla.org/2017/05/22/stalked-by-a-silverback-ape-named-angeline-alexis/
But my spiritual protection ain't having it!
Here are pics from his facebook profile: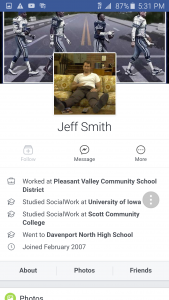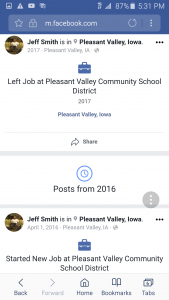 – Why he's lying saying that he works there in the former capacity of a custodian is beyond me when I spoke with the superintendent today who confirmed HE DIDN'T (I was gonna call the local news media on his ass).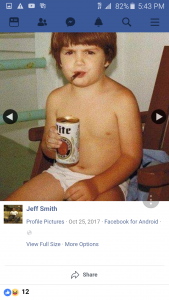 – TF?
No wonder.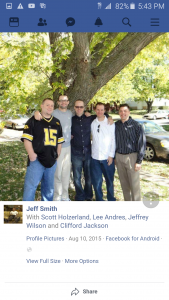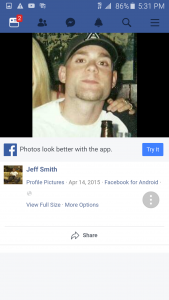 – Bubba Sparxxx everybody…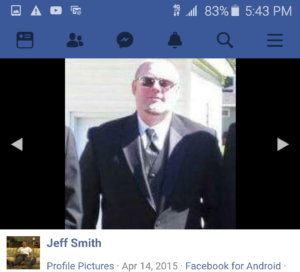 – Why people play with me is beyond me. This guy, all I'm gonna say is that he will WISH he were dead once I'm done with him…