EDIT: THIS THE SAME ENTITY WHO IN MASSACHUSETTS – AFTER I TOOK A PIC OF IT'S "TRANSPARENT" HANDS SINCE IT'S 4D WHICH WERE RESTING ON MY LEFT BREASTS (THEY WERE ABOUT THE SIZE OF A QUARTER OF MY HAND – WELL, MORE LIKE A QUARTER) IT MADE ME REMOVE THE PICTURE I HAD TAKEN OF IT!
It's not the first time I heard his name or encountered this bastard!
I believe he may be a "relic" from my old apartment who followed me!
That said, early this morning I had a vision in which it felt like I "melted" into the astral. I was at a table talking to a young white lady who looks like Youtube's Graveyard girl. Funny too because while awoke I kept hearing a woman's voice yawning which could be the old hag, who I've seen as well (she doesn't cause me sleep paralysis but she wants me to work with her)! I recall having a vision in which she stated that she uses this dude who assaulted me here:
https://toplessinla.org/2018/02/06/i-was-attacked-last-night/
…to get new souls! Anyways, the lady and I were dealing in tarots – I was throwing out cards. That said, I saw the Queen of Wands card, etc. Before I could complete my self reading – I felt a hand grab the back of my head by my hair then released (this has happened before). I then saw a shadowy three clawed small arms and "fingers" in a "vision". Then the name "Rebuggo Low" flashed before me on a black background in smokey yellow lettering and I recall the young lady laughing and saying, "Yep, that's Rebuggo Low."
I think that this Rebuggo Low can be seen here in a picture I took of a BLINK WHITE WALL in Massachusetts:
Here the original: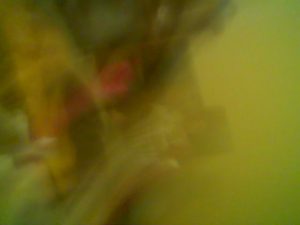 Here is a highlighted version so you can see what I mean (it looks like he's cutting a man's throat):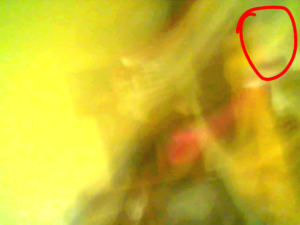 People – what you are looking at is a view into the 4th dimension – the lower part which is worse than any hell on Earth!
It's a small, evil lil reptilian entity. I have had my hair pulled before in the spirit realm which is more than likely this entity doing it. That said, I believe that this "Rebuggo Low" is responsible for alot of problems in my life, esp. self destructive behaviors like drinking alcohol, etc. I notice thar the alcohol thing emerged when I started getting on the spirutual track and whenever I drink it – even in small amounts – I notice shit that was working before like my wireless charger will stop working, etc. Things will break (my car door wouldn't close even though it works perfectly) and other calamities! As this guy here states:
Reptilians and other archons will create unnatural alcohol urges to keep you from spiritually evolving so that you don't escape the Earth-Matrix reincarnation trap that they have created to keep souls tied to this 3D realm. This video talks about it more indepth:
It is ALWAYS nice to know what is around you so you can fight it better by calling on it's name. I recall in my old apartment I had a vision in which I was in bed (it was SOOO VIVID) with a client and I recall him saying something to the effect of during a conversation, "Like that ugly monster that comes through your window every night!" I discussed that here:
https://toplessinla.org/2015/08/12/stalked-and-raped-by-a-shushing-entity-that-hangs-outside-my-window/
I recall the astral projection experience I had which I talk about here:
https://toplessinla.org/2018/05/12/i-astral-projected-again-last-night/
In which a cardboard cut out looking entity that looked like a cartoon with brown hair, white, green sweater zig zagged into my apartment saying, "Hey Raven!" then hissed! They might be that entity's manifestation – one of many perhaps. That said, it's creepy and scary to know what is around us. There is an unseen world that controls EVERYTHING going on in the physical. Don't dismiss it cause you can't see it!
Also, note the word count says: 514 which is my birthday!