Aside from the laughter I saw from some of the cops they day after the attack happened… here's another reason why I KNOW shit won't be done about the attack! Look at the report: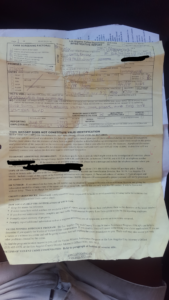 NOTICE IT SAYS BURGLARY, NEVERMIND THIS HAPPENED: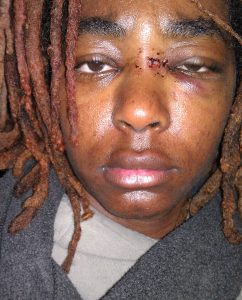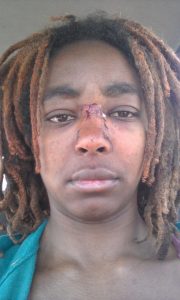 I don't wanna post all the pictures but you can see here:
https://toplessinla.org/2018/02/06/i-was-attacked-last-night/
That said, YES HE DID TAKE MY CELLPHONE AND EVIDENTLY DROPPED IT SOMEWHERE AROUND THERE CAUSE THE COPS WERE ABLE TO FIND IT but yet THE BIG THING WAS THE ASSAULT, I HAD BLOOD ALL OVER ME SO WHY NOT LIST IT AS TO WHAT IT ACTUALLY MORE LIKELY WAS!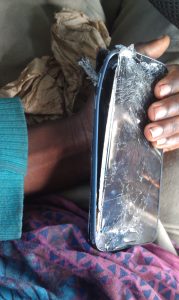 The officer who investigated, Officer Koop, who seems to be assigned SPECIFICALLY to things involving me (I don't know why) who can be seen here: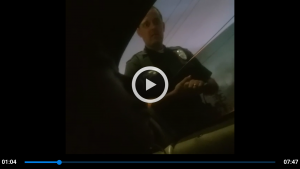 You can read about him, here:
https://toplessinla.org/2017/08/19/cute-crazy-eyed-cop-shows-up-for-bs-call/
And here the bs call he showed up for…
https://toplessinla.org/2017/08/19/meth-out-looking-uk-bitch-gets-straightened-out-for-being-an-uppity-ugly-bully/
And here:
https://toplessinla.org/2017/11/26/nosey-bitches-calls-the-cops-to-fuck-with-me-lapd-disses-their-asses/
I don't know why he would list it as such! I figure if the cellphone was recovered THEN THERE IS NO CASE! I have called the station and the detectives REFUSE TO GET BACK IN TOUCH, WHICH I WILL KEEP DOCUMENTING along with making an appearance there THIS WEEK!
That said, while pretending I feel to be nice and sympathetic, I overheard Officer Koop refer to me as "crazy" while driving off with the trainee in the article which you can read above.
That said, I had a vision last night. I saw that if I WERE TO DO SOMETHING TO HIM – the dude who attacked me, I'D BE SITTING IN PRISON IF I WERE TO HAVE DEFENDED MYSELF THAT DAY! That is why I got scared – given the artist loft situation – I know if I in any way even so much as defend myself – even righteously – and I've heard echoed from MANY WOMEN IN JAIL WHEN I'VE BEEN TO JAIL – I WOULD BE SITTING IN PRISON RIGHT NOW! THE SELECTIVE ENFORCEMENT THAT THE LAPD HAS BEEN DOING AGAINST ME OUT HERE IS WHAT – HONESTLY – GOT ME SCARED TO DEFEND MYSELF THAT NIGHT! Read the artist loft situation TO SEE WHAT THE FUCK I AM DEALING WITH, THE FORCES I  UP AGAINST!
https://toplessinla.org/2017/06/12/lapd-are-really-out-to-get-me/
I've heard NUMEROUS TIMES FROM PEOPLE IN THE KNOW that the cops out here either want me DEAD OR IN PRISON AND I SAW IT IN A VISION LAST NIGHT, I HAVE HAD VISIONS which is why IT IS IMPORTANT THAT I GOT A CIVIL RIGHTS LAWYERS WHOSE GONNA HELP WITH FILING A SUIT AGAINST THEM FOR SELECTIVE ENFORCEMENT! THIS IS WAYYY TOO FUCKING MUCH TO BE DEALING WITH – TO BE DENIED YOUR RIGHT TO DEFEND YOURSELF WHILE THE COPS WANT YOU DEFENSELESS SO YOU WILL END UP DEAD For reference, READ the artist loft article where I got robbed and battered, allegedly went back and got their asses and the cops TAKE ME TO JAIL even though I filed a report against their asses A MONTH BEFORE. They even after prosecuting me and everything went ahead and took that case OUT THE SYSTEM FOR A BIT WHICH YOU CAN READ HERE:
https://toplessinla.org/2017/06/27/lapd-now-covers-their-crooked-tracks-by-removing-illegitimate-case-against-copwatcher-from-the-system/
NOW DO YOU SEE WHAT I AM UP AGAINST!
I'm up against some VERY DARK FORCES and for all you dumb, simple minded organic portal ass NORPs out there reading, this shit is not out the realm of fact. Remember the case of Marissa Alexander, a black lady in  Florida who ended up in jail for defending herself by shooting a gun AND NOT EVEN AT THE BASTARD WHO HAD ATTACKED HER NUMEROUS TIMES!!!
– I'll tell you something tho.: THOSE CASES THAT MAKE IT IN THE MEDIA, ALOT OF THAT IS DUE TO MK ULTRA AND VIA MK ULTRA AND BEING GROOMED FOR IT THAT IS HOW THOSE PEOPLE END UP ARTIFICIALLY MAKING IT IN THE HEADLINES!
Here case happens to women, ESP. black women ALL THE TIME which you can read here: https://www.bitchmedia.org/post/women-in-prison-for-fighting-back-against-domestic-abuse-ray-rice
My mentioning MK Ultra reminds me of how when the last time I was in jail – after writing about prettyhoe304 and mk ultra, a prisoner said the new word in jail is now "mk ultra." The deputies I noticed GAVE ME THE SIDE EYE! THAT IS BECAUSE THEY ARE REPTILIANS (I'VE SEEN EM SHAPE SHIFT) AND THEY DO NOT LIKE IT WHEN YOU REVEAL THEIR SECRETS AND THERE ARE PLENTY OF EM OUT HERE. Read this article about how a Santa (anagram for "Sanat", a so called "Ascended Master" which REALLY MEANS SATAN!) Monica judge shapeshifted before a man's eyes then recused ie removed herself/itself WHEN IT NOTICED HE NOTICED:
http://cryptozoologynews.com/los-angeles-judge-turned-reptilian-humanoid-says-man/
Also, read about a large subterranean underground tunnel full of reptilians found underneath DOWNTOWN LA THEN read about how it correlates to WHAT I DISCOVERED WITH ALL THE OCCULT SYMBOLISM AND STRANGE CREAKING CEMENT FLOORS IN THE TRAIN TUNNEL AREA OF DOWNTOWN L.A. WHICH YOU CAN READ RIGHT HERE (this the one about the underground reptilian city underneath downtown LA):
http://www.metatech.org/wp/reptilians/underground-city-reptilians-aliens-los-angeles/
I AM UP AGAINST SOME REAL DARK FORCES, SOME REAL DARK SHIT AND I NEED YOU ALL TO UNDERSTAND THIS! All this week while out in Malibu I have had the Lost Hills Malibu Sheriffs HARASS me all this week, which I've only been able to PARTIALLY document (which I will explain later on) here:
https://toplessinla.org/2018/02/12/los-angeles-county-sheriff-handing-out-tickets-based-on-racial-bias/
Placing lil orange marking signs meaning you only got 72 hrs to be there or be towed signs ONLY by my car and worse:
https://toplessinla.org/2018/02/13/proof-of-lost-hills-sheriffs-pulling-selective-bias-last-night/
One day I heard a female deputy, Deputy Garcia I believe who informed me of the bs warrants here:
https://toplessinla.org/2017/11/22/los-angeles-malibu-sheriffs-tell-me-i-got-warrants-for-court-cases-i-already-got-convictions-for/
Yell, "GET OUT!" as she was directly passing by my car. Deputy Thieme – the deputy who sexually assaulted me whom you can read about here:   – STARING ME DOWN WITH THIS EVIL FUCKING STARE ONE DAY ON SATURDAY AND… last night, a deputy saying, specifically applying this to me: "You can not park there at 12:00 (it was already 12:22), you need to move your vehicle. No magic…" The "magic" part – referencing to how I practice magic, spirituality – LET ME KNOW THEY WERE REFERRING TO ME!
So this ain't just a lil set of arbitrary incidents. This shit I feel is MAJOR – LINKED to what they may know about me. I HAVE ALWAYS FELT LIKE I WAS BROUGHT TO THE WORLD FOR A VERY SPECIAL PURPOSE! Hell, while in jail, a fellow prisoner said my soul sticks is BIGGER than my body and she saw I was a Being of Light. I am up against some very powerful forces – just like Jesus back in his day – cause of what I preach and represent. Archons – reptilians, aliens, the Demiurge – don't like it when incarnated souls like me TEACH people to break free of the human energy harvesting system designed by archons. They want you all to stay asleep hence why they send organic portals to keep you asleep like right here: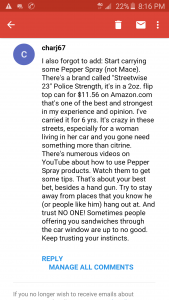 – NOTICE she threw shade at the citrine, A VERY POWERFUL CRYSTAL, letting you know she is a void – organic portal emissary for the Demiurge AS THAT CRYSTAL IS IMPORTANT FOR SPIRITUAL GROWTH AND DEVELOPMENT!
Convince you that what it is happening to you is mundane and that if you think outside the box and look at what is happening to you from a perspective outside the box, then you are crazy (I peeped she didn't respond when I said what's really up!)!
THAT'S WHY I AM GETTING SO MUCH OPPOSITION, SO MUCH HATRED from online trolls, people pretending to be friends but are saboteurs, random people attacking me, hating me FOR NO REASON (A guy on Facebook WARNED ME THAT I WAS UNDER A REPTILIAN DEATH CURSE which you can read here: https://toplessinla.org/2018/01/06/reptilians-put-a-death-curse-on-me/ )
It's because they are THREATENED behind WHY I am in the world and the more I come into my spiritual powers and knowledge of WHO I AM and why I am here – the more threatened they are hence why the attacks have intensified because when I become a beacon, A LIGHT for how to officially break free of this system/matrix, then I REALLY become a threat to their agenda!
As Jesus said, "the Kingdom of God (The Divine Feminine) IS WITHIN YOU!" The Demiurge doesn't want you knowing that hence why it sends ALL THESE AGENTS TO ATTACK ME SUCH AS: reptilians, reptilian/archon possessed people, cops – who are by design created to maintain the edifice that is the archon created matrix system hence why they don't help victims since reptilians which many of em are feed off the "loosh" created off the energy generated from trauma – in short the REAL criminals are doing what they, the archons, want them to do which is create trauma hence why they go after good people who are defending themselves, don't defend themselves and those who commit what are really VICTIMLESS crimes like prostitution (some of whom are victims of trauma), selling drugs (necessary to survive in an already unfair system created around trauma) and other things like that.
NOW YOU SEE WHAT I AM TALKING ABOUT BECAUSE MANY OF YOU HAVE EXPERIENCED IT YOURSELVES!