THESE BASTARDS HONKED WHILE PASSING BY MY CAR JUST NOW (though after replaying the tape you won't hear that part BUT YOU CAN SEE THEM PASSING BY)!!!
Buy vids here
[purchase_link id="30811″ text="Purchase" style="button" color="blue"]
I didn't see a ticket given to the OTHER people who happen to be white in the RV next to me (Not trying to start mess – JUST POINTING THE OBVIOUS):
Also, OF NOTE and I filmed last night as well which was probably a good thing – I DID NOT SEE A TICKET ON MY WINDOW (BELIEVE ME – I WOULDA NOTICED) AND I filmed at around 3am. Note the time on the ticket: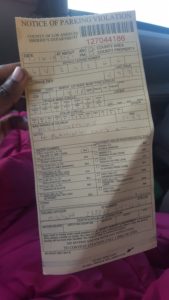 1:51am! I didn't see SHIT on there. They full of shit!
That said, I KNOW why they doing this shit! Aside from racial reasons… I feel ALOT of this shit that's being compounded on my plate to throw me off track is all and all threw have me focus on seemingly dumb shit that I can't focus on the bigger shit! AND I KNOW WHO they are using as an instrument to enact all this dumb shit. Remember, WITCH, YOU WILL BECOME A SACRIFICE to those grey and reptilian aliens you unknowingly working for…
Anyways, since I was built for a hard life (I never cared too much for the Earthly delusion matrix made designed version of "comfort", Earthly trinkets WHICH IS WHY I WAS BUILT FOR THIS) I am just gonna keep trucking, exposing until I can fully do something about the system. As for people like this lady – think about what you're fucking with cause your afterlife won't be so nice:
http://community.seattletimes.nwsource.com/archive/?date=19910504&slug=1281135