I was in some type of shop – seems like one meant for creating esoteric jewelry – which I plan to start today – and I saw a midget wetback reminiscent in terms of looks of the same midget wetback who was on the 70s show, "The Love Boat":
– He was actually a French actor like my home state ⚜ named Hervé Villechaize
but you get the picture…..
Anyways I was in a sorta woodworking/crafts shop and I recall as I was leaving this short midget wetback mofo wearing a black shirt and blue jeans tried to attack.
A brother I know who also lives out his vehicle stepped in and we both grabbed him with the brother saying, "Imma cut his head off."
All day – early this morning – I notice wetbacks been going crazy since they know they can't use me as an energy source anymore – NONE of these organic portals – as I cut the ties, the etheric ties that binded and bonded me to em:
This wetback here named Jenny Segura at
860-518-6871 called early this morning, proving what I know to be true…..
It ain't just them but it is many organic portals and energy vampires of every race amassing against me (but they will fail as predicted in the bible) cause us Soulled folks are ascending…..
As I was petting the grey cat last night the grey sprinter van that I exposed was in a kidnapping plot showed up here last night out of the blue:
My intuition is never wrong 🙅🏼‍♀️
– Talking all that peace love shit the first time with those bad intentions hence why I just cut his ass off and talked ALLLL over him 💃🏼😂🤣
They had this creepy mofo last night who parked right on my van last night then drove off then started playing around with me, driving in circles. Needless to say they can chase them shadow people I put on they asses 🧙🏻‍♀️🪄👤👤👤👥👥👥👥…..
– See, what these mofos are doing is, they think all black folks are reactionary, like they can lure us into reacting to get our energy.
Don't work like that with me cause of my Soul and Soul heritage and REAL connection to the Divine, The Source so I know when to do things and when not to and I am extremely strategic hence why I got in that van and chased their asses then 'woked they ass later 😈🧙🏻‍♀️🪄👤👥👥👥👥
Black folks you gotta watch out for that. Just 'woke em and send their Soulless ass spirits to hell for all eternity, including their kids witch 🧙🏻‍♀️🪄👹🐉🔥🔥🔥🔥🔥👤👥👥👥👥 is what I do.
This mofo a homeless gangstalker as profiled here as well….
I ran his gangstalking homeless ass out and later in the night when I saw him again, plotting to do some shit waiting on me to go to sleep, when I ran his ass out again I saw he was affiliated with this fucker here and I decided to put the full Shang Tsung 'Woke on him and 'woke that Soul out dat body….. Talking about the "god" the demiurge. Hope the demiurge wore….. I mean "helped" dat azz out 🏃🏼‍♀️
This was from the other day when I first posted my TrIump bumper sticker in the back window of my van for everybody (the wetbacks) to see…..
Eye 👁👁👁 see that they done ran all the homeless Soulled folks out who are not in alignment with their plans…..
– They devil card revealed itself as I was just typing this part…..
That said, as shown the other day – and last night (just got tinnitus in my left ear again = bad news) – they were trying to do that shit with me but I am just too powerful and well known for them to fuck with me like that.
So I get em back to humble em and let them know I ain't the one.
As said in my tarot reading here there is a war against us as Soulled people ascend as per the Rapture commencing this year…..
My Third Eye Shows 2022 Is Going To Be The Year of The Start of The Rapture For Soulled People
All yesterday – look, as can be seen here I ain't updated this profile on SexyJobs IN YEARS yet….. out the blue, I'm getting all types of offers……
Just now pedophile face aka Warren Kruger who I also profiled here just did that roundabout gangstalking harassing u turn bull……
– I heard the guy talking to the dude in the white truck saying, "We're gonna put a demon in her"….
– Imma tell you something about him. Me and my friend were looking at his eyes and this guy has NO SOUL OR SPIRIT IN THEM……
Like me and my friend were saying this guy has the consciousness of a gnat, a roach. This guy has no inner consciousness whatsoever. This guy is the straight definition of an organic portal: Soulless, lifeless, with an aura of just complete nothingness – no life, total death around him.
I saw thru my third eye his Soul is stuck in a giant sacrificial head and it got him running around like a chicken with it's head cut off – just like this rooster here – doing what it wants him to do, got him running on pure instinct, like an insect, which brings me to what I am about to say next…..
Us Soulled people can't get caught up in the little details on focus TOO MUCH (cause you have to defend yourself ⚔🧟‍♂️🧟‍♀️🧟) against these organic portals being sent to attack us. You gotta get rid of the sacrificial head as I call it that are controlling and coordinating these organic portals to attack you.
I've seen em controlling the organic portals whose spirit it downloads itself into as well as Soulled people like the homeless black guy from the other day and pedophile face as I call him aka Warren Kruger…..
Funny with pedophile face I asked my third eye what he do for a living before he started living in his converted truck house and I saw a truck full of people = human trafficking which I got the sense he still does to this day….
That said, like with the alkie-hole urges they want you focusing on the lil peons coming after you whom they are sending after you instead of them, who is the cause of why said peons are pursuing you….
The Sacrificial Head Entity: How They Work and Why They Are THE HARDEST INTERNAL Entity Attachment To Get Rid Of
It is like with the alkie-hole urges them things would create while within me. Bad shit would happen and so therefore instead of focusing on healing I end up focusing on revenge for bad shit done to me…..
– I ain't forgot about him…..
– Or him….
That said cause of the impact of the trauma and the holes it creates in your auric field and in your Soul you end up seeking revenge to amend it while losing valuable time that coulda been used to purge the entities in and around you orchestrating these event out and from around you…..
It is a very toxic cycle of events these things keep you stuck in.
In my case there is the squidward entity as talked about here:
I Finally Rescued My Brother From The Demon Reptilian Holding Him Hostage
That said the most important thing you gotta do is disconnect yourself to this energy matrix as a Source for it…..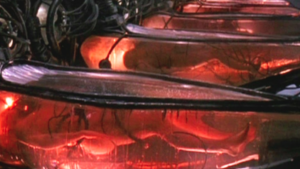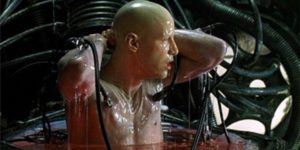 Recognise and, this is important, overstand and innerstand what is going on.
Ask your third eye to show yoh the etheric bonds then use it to cut em.
As simple as that.
Another thing, use your third eye to identify alien attachments not of your Soul that are burdening it. These are matrix programs designed to keep you stuck and tied to the matrix as well as the overseer demon/reptiliam usually that is keeping you stuck.
A good example of this is the clown in the movie, Spawn.
– I myself and others have seen this around and it's some type of matrix archon gatekeeper.
Funny that thing up above is called The Violator.
TRY NOT TO GIVE IN TO URGES and purge the entities in you causing them as they are caused by the demiURGE to keep you in a low vibratory state and are not called "urges" for nothing……
Also recognize cyclical patterns designed to keeo you stuck in the matrix.
The sex work offers didn't pop up out of nowhere. They are a desperate attempt by the overseeing reptilian demon I got – squidward – to keep me oppressed spiritually and keep me coming into my power by putting me in low vibrational porn and around low vibrational people, thus continuing the programming of causing my energy to continue getting drained and thus using me as an energy sacrifice.
A lady named Barefoot Stargazer talked about this rather sadistic psychic attack thru economic oppression.
Also, get a rainbow crystal quartz wand. That shit helps with manifestation, esp. spiritual manifestation cause we will need it for what we are fighting ⚔💎
These mofos, organic portals operate thru a hivemind caused by said sacrificial heads who are bequeathed power by the demiurge hence why these mofos were meowing after meeting that cat that had the spirit of squidward in it……
And, DO NOT engage with organic portals unless absolutely necessary. Don't befriend em, CALL EM OUT and set your energy to where it just wards em off, as I do the wetbacks 👍🏻