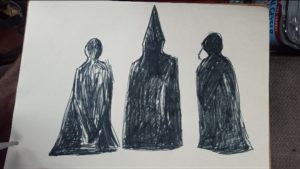 These are some evil mofos…. they just tried to block me from posting up they pic just now…..
****UPDATE: I figured out what they are and I WILL discuss later but I touch up on how they caused me to get stabbed, here****
My EVP Sessions And PROOF Of How The Spiritual Can Affect The Physical Plane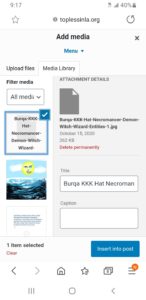 I saw this shit coming, this shit PERFECT storm ???…..
Back in my old apartment, I saw that these things were gonna have me on a trajectory of living out my car….. I then had astral visions where I saw myself living out of a suitcase on the streets of L.A.
I won't let that shit happen! Imma fight as best as I can.
I think the deal with them is – from the subliminals derived from various tarot readers it may have something to do with some karma placed upon me by Nefertiti who is an ancestor……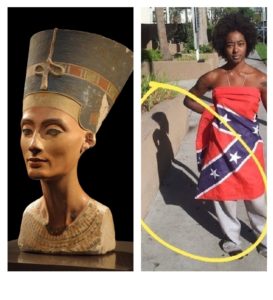 A coupla days ago I "happened" upon a vid where, while she was young – a woman who claimed to be reincarnated Egyptian royalty stated that while young, Nefertiti tried to stop her dad from flogging a slave and ever since she felt a great obligation to the poor.
I think that "obligation" turned into guilt and affected her heirs/descendants in the form of a curse.
Now I am suffering, impacted profusely by the system down a severe downward spiral, a royal snowball affect manipulated by those mofos above. They are very powerfull. They are what you call, as a friend told me, necromancer magicians/demons but based on what I saw with my third eye one time, they are shapeshifters who cause you to see things…..
It started with the smog and the hinderance that is just un-fucking-believeable – but is real as I will show you – to get it smogged!
Hell, it started with the insane alcohol urges. When I got forced into satanism after a reptilian who I identify as "the knight of pentacles" put a strangle-HOLDT??? on my money right during my spiritual awakening ?? note the synchronicity – I suffered terrible TERRIBLE drinking urges where I would get unholy, inexplicable urges for Jack Daniels – before I never cared for it – EVERY 3 DAYS – note the numerology, the number 3! It was like my fucking body would even physically contort, mainly the right side if I didn't feed this!
I knew it wasn't me doing this and I knew the urges weren't coming from me. As I am finding out during my cleansing/fasting period, it was VERY powerful dark ass forces causing this, inducing this to bring about my destruction seemingly, to the organic portal/non spiritual person, at my hands.
They even got you mofos to dismiss me as "crazy" when I bring it up but spiritual people with souls know….
I got my second dui in 10 years RIGHT after I first got my car and got out the shelter.
I remember when I first got my car – wasn't perfect but it was nice, could drive and get me around: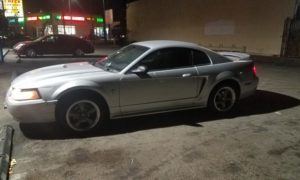 Now look at it….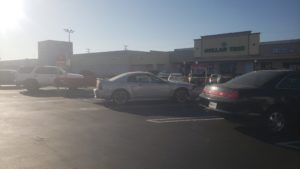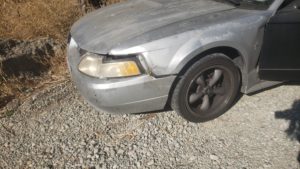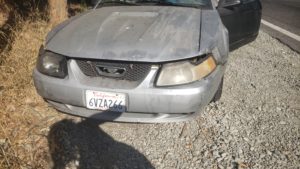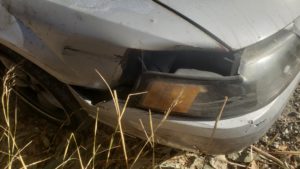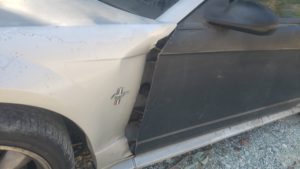 It's all fucked up, banged up! It is just a never ending portal of…. just shit piling on top of shit!
Last night – to make matters worse, while doing this with more plans to get rid of evil shit…. a crazed ass stalker, this dude here contacted me….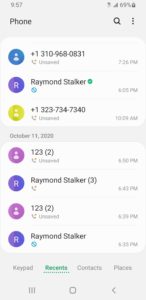 It's the Raymond Stalker mofo….. I profiled him here:
I beat his ass here:
I hate this shit cause it's how dare he impose himself into my life.
He been calling and calling…..
Hear my responses…. I can't stand this shit!
You can hear this sick bitch sorta laugh as I tell him to leave me the fuck alone….
I ask a friend to run his ass….
This is his response to the threats from my friend. You can hear the mental illness and delusional thinking in his voice where he says, "He in love" and that he wasn't gonna stop basically….
This is my response after…..
And this animal still calls….
I don't need this shit. I already got ALOT on my plate and I don't need some delusional, old ugly ass pathetic loser adding to my list of woes…..
I just don't.
But you see how evil spirits work? If you don't believe me I will gladly send that shit your way and let's see you be strong enough to battle that shit as I have.
This lady said no lies…..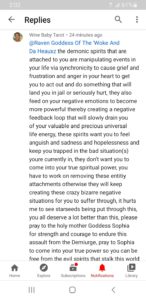 She's right…..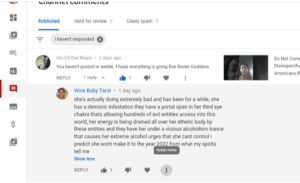 She especially right on the whole entire negative events synchronicity to keep me down, the alcohol trances (they are NOT controllable), the third eye thing – when I drunk copious amounts of liquor from Baron Samedi's altar and it opened my third eye wide to the hellish underworld realms – I know what she say is true.
The negative events synchronicity: just now while writing and searching for her quote, the organic portal Raymond aka Rain Man called me again, started projecting – I wish I recorded it – saying "Why I called him" after he had been harassing me, which is a narcissist's way of putting the blame on the person they victimize. It agitated me, made me cry cause I was pissed and felt helpless – all that shit fed those evil things. I also ate chicken out of frustration – and cause of the heavy pressure on my crown chakra.
As I write this now I feel a strong attachment on my crown chakra. Once I'm done Imma go back fasting – I feel like eating rice and chicken. Now, the car….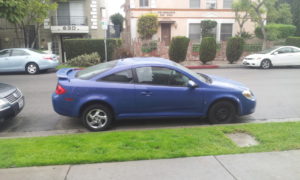 ….When I moved to my old neighborhood – which has alot of spiritual energy, EVERY CHRISTMAS LIKE CLOCKWORK, something bad would happen every time to this relatively new 2008 car. One Christmas, it was the engine, out the blue! It was like something evil was causing my money to drain and I couldn't get ahead no matter how hard I tried. My business was failing, I knew an invisible dark evil hand was holding me back! Back in MacArthur Park I didn't have these issues as bad cause there was no spiritual energy in that area tho I got inklings of what was spiritually around in that I would ALWAYS have $3000 saved up then SOMETHING would happen to cause me to drain my money…..
About the smog!
The first place I went to was the Normandie Smog shop on Normandie ran by a real asshole who made it clear via bpdy language, etc. that he did not want me.
At first he told me – after I explained that I lived out of my car – that he would work with me over time so I wouldn't have to leave the car at the shop. I had that voucher and he was the only person who was willing to work with that voucher for poor folks who need smog repairs done. This happened:
I went back and he started making it out like I wanted shit for free. He must be on drugs cause before he told me that he would take the $600 voucher money and just use that to fix it then later it can come out of my pocket, which is not a problem. When I went back he had an attitude and was acting as if, again, I was looking for something for free. Frustrated, I went elsewhere…..
These people were cool……
I say they were cool because later they let me come in to test and see if my car is ready but even there you can see they didn't want to deal with my car, I guess cause of the outside condition as well as interior…..
I live in it. I try to keep it as clean as possible so you can only do so much…..
Long story short I hit a fucking rock while driving down the pch and, it did something to throw the codes cause, look you can see I fixed the 02 sensor….
Yet the codes showing the 02 sensors aren't fixed still come up on the reader……
The worst was this asshole here, X-Press Smog on Venice near La Brea: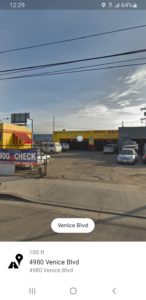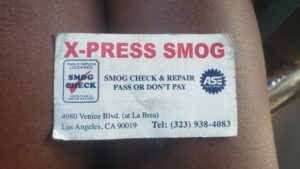 If you a lady, don't go there! The first time I went there, when he seemed "willing" to accept my car, I hugged him out of glee and he slid his hands past my breasts.
Because I am a topless rights advocate, it didn't bother me but I know it will ya'll!
When he tried to do that shit a second time, I told him about it, that is when I overheard him saying to a customer, he said, "Yeah she go topless and crazy." Not that it matters to me but I never went topless in his shop. I had my shirt on. I believe it comes from folks knowing of my blog…..
That said, this him giving me the runaround…..
I went there another day and this how rude his ass is…..
I recall he tried telling me his shop was closed due to corona while still seeing folks…..
This another time (I went there, even called like 5 times to see if he would be willing to see me) and look at how he treats me:
I then by happenstance found a fourth place that seemed cool – they ran the tests – and told me to replace the ccrm which is right on the passenger wheel side of my car. They wanted to charge me $300 but I had the tools and the ability to do it – wasn't even a hard job!
Check engine light still comes on…..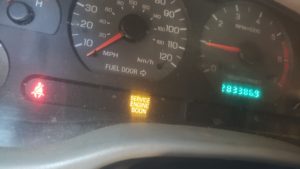 I go back, again, gotta keep the car a whole day. Was told he would be there on Saturday….
I get the runaround…..
Crazy thing is, this is some spiritual shit, while driving there, when I had to make a u turn to turn around to get there, my car all of a sudden starts making this loud, clinking noise:
Don't tell me this is not a spiritual thing. I proceed to, while fasting, remove a literal portal to hell surrounding it with all sorts of shadow beings chasing it and this is how it sounds…..
CRAZY cause tho it sounds better in person and is driving better it sounds the same when I play two sets of audio from the night I was having issues with it and into the next day and even now…..
It's like when fruitbat put a curse on the car and next thing I know – while I am in a weakened state – that nasty mofo controlled by that reptilian rolls around, brings me vodka and then the car works!
That's evil shit creating pernicious synchronicities to hold me in a very self destructive cycles as wine baby tarot stated…..
That said, I am stuck in a very fucked up cycle but I've been working hard to break out and I can only break out of this, spiritually!
Cause of the dui, I have to enroll in classes (I don't work well at all with people and ain't got the money for it – shit be $105), get an interlock installed in this already fragile as hell car – I had to remove 2 years back the security sound alarm cause it kept draining my battery and is unnecessary cause I live in my car – and it is the only way I can get my license back.
I got stopped by the cops yesterday after leaving court:
For not having a license and had to have a friend drive me so I won't go to jail and lose the car…..
They even wrote me ANOTHER ticket to keep me in that fucking system, rite when I thought I was home/clear free: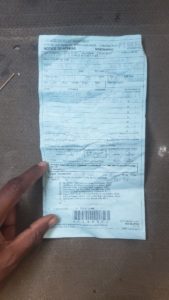 It is a very fucked quagmire – fuck a situation – that I am in.
My old apartment manager, out of vindictiveness cause I won money off of em on my own in eviction – took advantage of when I first became homeless, lost my original car in a freak accident and all the morass that followed – got me put under as an eviction after I moved out on time! If I lose my car – the shelter system is fucked up which I will talk about in another blog – I'm fucked! I'll have no place and the streets is the trajectory they want me on!
The system wants me to be ashamed of how I live so they can have more control to suppress me. I have seen it in astral visions before as touched on here:
Series of Astral Visions Reveal That The Migos Have Been Stealing My Blessings
It is a sadistic materialistic oppression that is being orchestrated as per a conspiracy by the demiurge and his minions, the archons. I have spoke of my battles with em here and how fierce they are:
The Demiurge Sends A Yellow Dragon To Fight Me As I Come Into My Spiritual Power
I got nearly taken to another dimension as I discuss here after fighting off a particularly powerful demon/reptilian archon while fasting….
Demon Alters Timeline And Navy Shows Me The Matrix In Astral Vision
It's no coincidence both them cops – two organic portals – pull me over at the very same time I was working to get rid of a particularly nasty reptilian entity, that knight of pentacles mofo whose name I think is Arithea, off of me and off of my crown.
This lady was not lying: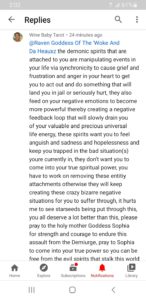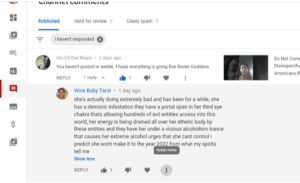 She says I won't make it to 2022 but I second that….. I am here on a mission and I will fight it. It's using material oppression and negative synchronicities to keep me stuck, make me wanna commit suicide (which I will be damned cause they'll just pull my ass to hell anyways since they know I have not fully figured out the code to fully breaking free of this matrix system) and keep me from being the great spiritual teacher I was meant to be. I have no illusions about this system and the oppressive matrix bullshit, coincidences they pull to keep soulled being materially locked and, if possible – as was done to my baby brother – spiritually!
I always knew going back to the early 90s that the most woke folks ✊✊?✊?✊? were poor folks, esp. the homeless. You see that mofo walking down the street supposedly talking to himself? Nah, that's a spirit fucking with her! The most spiritually powerFULL ?? people will be met with the most resistance from the demiurge kingdom, getting attacked by demiurge romanced induced organic soulless empty portals trying to attach itself to you, material hardships etc. – that's why I say fuck god the demiurge and it's system and all the organic portal footsoldiers that dwell within. Looka this: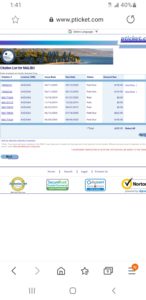 – I never even got those two fucking tickets at the top…..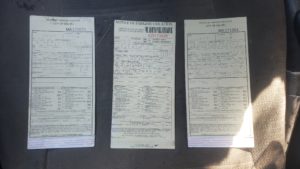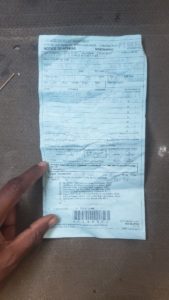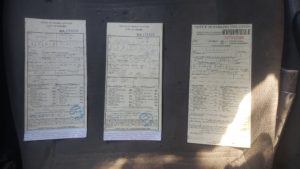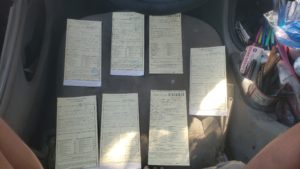 This shit designed to fuck with my spirit. It's designed to crush it. One thing I'm proud of Aarona is, she took her situation and still tries to let her spirit shine:
No matter how many trolls throw matted shit at her, no matter how much the demiurge tars and feathers her to keep her from coming into her spiritual power (my only issue is she war-ships the problem ???)…. she thrives, even while living in a tent on the street.
Same with Docta Canis aka Colton Wood:
Proud of em both ⚘????
Fuck what society thinks. Who says a tent or a car can't be a home if you so choose.
This mofo ain't gonna beat me down. I done got rid of 4 or 5 major powerful spirits fucking with me. I saw myself using powerfull Soul Source energy to defeat a much smaller, toy sized Beelzebub. I can do it cause I did it then.
Imma fast, continue to eat that which won't necessarily fill my stomach but my spirit so I can get this shit off of me. I am getting close, real close so I can finally manifest in the demiurge's kingdom, which won't be for long ?