*****UPDATE UPDATE*****
I THINK SOME OF THESE PEOPLE MIGHT BE THE PEOPLE FROM THE ARTIST LOFT HERE: https://toplessinla.org/2017/06/12/lapd-are-really-out-to-get-me/ AND HERE (WITH UPDATED NEW INFO – I KNOW YOU ALL ARE LOOKING 🙂 https://toplessinla.org/2017/08/28/scott-property-management-of-los-angeles-rents-to-drug-dealers-addicts-prostitutes-and-violent-people/ IN WHICH THEY ARE PISSED CAUSE HERE: https://toplessinla.org/2018/01/21/stopping-child-sacrifice-in-the-astral/ I STATE THEIR SPELLS AIN'T WORKING LIKE THEY WANTED THEM TO! LOL! TOUGH TITTY, LOL!
– I just got deja vu from writing this!
Not too long after I published an article talking about this here:
https://toplessinla.org/2018/01/21/stopping-child-sacrifice-in-the-astral/
Along with an intro video for said article, I get THIS response posted on said intro video regarding the article here in which a Kelly Breanna says that mofos ALL over L.A. are "watching" – yeah, bitch, I know – and are waiting to get me – Yes, I know, too, and am prepared. Comment she made is down below (one screenahot taken off the Youtube app so you van see it more: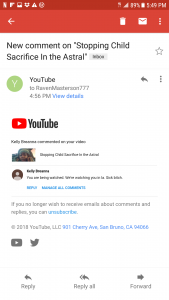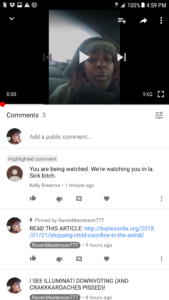 Here my response:
Buy vid here
[purchase_link id="30689″ text="Purchase" style="button" color="blue"]
Like I said, for this year, 2018 WILL BE THE YEAR THEY SEPARATE THE WHEAT FROM THE TARES!
They are PISSED cause they tried EVERYTHING TO KNOCK ME DOWN – online and real life spiritually influencex lynchings, online mobs against me, influencing people to hate me, calling me crazy to influence the public to go against me – even trying to recruit me here:
https://toplessinla.org/2018/01/04/i-warned-you-all-they-would-try-to-recruit-me/
AT THE WORST POSSIBLE TIME (FOR THEM) SINCE THIS IS DURING MY SPIRITUAL AWAKENING AS I COME INTO CONTACT WITH MY TRUE DIVINE POWERS AND THUS INNER DIVINE PURPOSE – so earthly trinkets don't sway me!
ALLL this shit designed to throw me off path and keep me from coming into my own power.
Look at how all the videos EXPOSING SHIT are DOWNVOTED while the lighter shit ISN'T SO DOWNVOTED!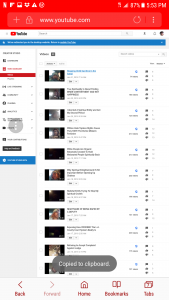 – Also, note how the spirit world had to via the thumbnail in the blue circled vid the one eye symbolism representing the mockery of Ra through his loss of one eye at the hands of Osiris:
…But, they failed, and out of desperation this is the best in shit they can throw at me here – this comment, but they fucked up!
I guess seeing AND exposing their astral realm baby sacrifices struck a chord, huh, lol!