*****UPDATE UPDATE*****
I THINK SOME OF THESE PEOPLE MIGHT BE THE PEOPLE FROM THE ARTIST LOFT HERE: https://toplessinla.org/2017/06/12/lapd-are-really-out-to-get-me/ AND HERE (WITH UPDATED NEW INFO – I KNOW YOU ALL ARE LOOKING 🙂 https://toplessinla.org/2017/08/28/scott-property-management-of-los-angeles-rents-to-drug-dealers-addicts-prostitutes-and-violent-people/ IN WHICH THEY ARE PISSED CAUSE HERE: https://toplessinla.org/2018/01/21/stopping-child-sacrifice-in-the-astral/ I STATE THEIR SPELLS AIN'T WORKING LIKE THEY WANTED THEM TO! LOL! TOUGH TITTY, LOL!
Something VERY WEIRD AND WRONG is going on…
This just fucking creepy (read these comments)…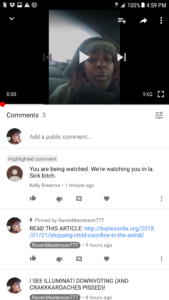 Here more (I talked about this shit yesterday)…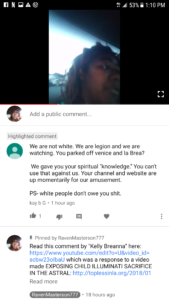 Some bullshit from someone named "Bob Seraphim" – PEEP the use of religious names like with another person I'll show you: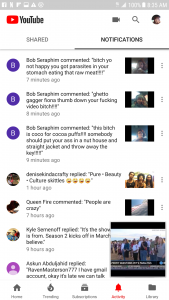 Then this "Kelly Breanna" came back as "Kay B G", which sounds alot like KGB – the old soviet spy agency: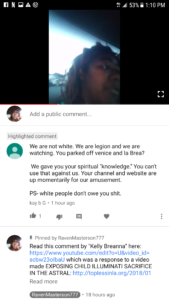 And then (going back to when I brought up "Bob Seraphim" and these people's use of religious themed names), here's a person named "Sinus Demon":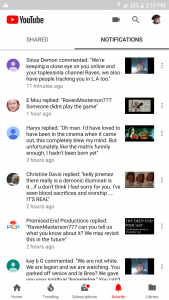 Also, peep this! In the comment section for this fake psyop video that Cardi B put out to FAKE like she walking away from the illuminati, peep this commemtator named "Heyyyyo EightFour (what a WEIRD name for a black lady online to have and there must be some symbolism to it) and the weird shit she had to say in which she denies the existence of the illuminati, encourages you to lower your vibratory level and pursue 3D, carnal things and then capes for reptilians: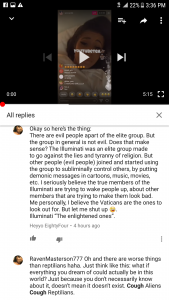 Here her whole comment thread (Notice how though others argue with her she is mainly referring back to ME AND MY COMMENT as if that's important):
This honestly sounds like some cult shit if I ain't seen one. That Kelly Breanne bitch has an OBVIOUS REPTILIAN ENERGY (Yeah, the bitch is WHITE and she strike me as a sociopath) and the more I start coming into my own power – it sounds like those people wanted to use me (for "satanic" evil purposes) but seeing I don't give a shit and do my own thing and go my own way with my own more positive agenda – THESE CRAKKKAROACHES (CAUSE THEY NEED OUR MELANIN TO MAKE THINGS WORK) ARE PISSED! THEM HOES ARE FUCKING POWERLESS AND THEY KNOW IT – TALKING ABOUT HOW THEIR GENETIC RECESSIVE DEFECTIVE ASSES "GAVE ME MY KNOWLEDGE!" CRAKKKA PLEASE! FUCK OUTTA HERE! Alot of that shit they saying IS PROJECTION and I RECOGNIZE IT FOR WHAT IT IS! That said, if I find and catch these internet trolls out on the street – just playing! That said, the more I come into my power, the more I CAN CRUSH YOU!