That featured image is what they trying to get me to do! I'll explain later…
There's many ways they do this:
They can defame a person, target them like crazy (hence the term, "targeted individual"), have people call them crazy, alienate them, isolate them so as to make them THINK they are crazy.
Then, if those fail – they go to the "recruitment stage" which can sometimes be before the "character assassination" stage in which – as they are trying to do with me through their spiritually providing me visioms of my being the Antichrist (After all, my "Expression Number" in numerology adds up to three perfect 9's which you can see here):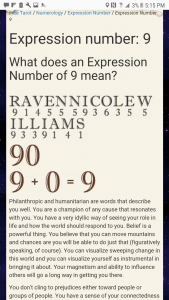 9 in numerology means, "completion", "omega".
Hitler's were three perfect 6's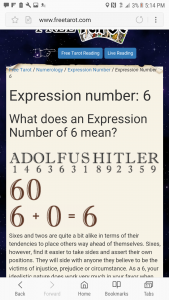 Here's where I talk about those recruitment visions to be the Antichrist (the last one more detailed with ALOT of symbolism):
https://toplessinla.org/2017/06/22/the-illuminati-trying-to-recruit-me-to-be-the-antichrist/
here
https://toplessinla.org/2017/07/01/satan-trying-to-recruit-me-to-be-the-antichrist-you-all/
here
https://toplessinla.org/2017/10/23/another-dream-to-become-the-antichrist/
HERE'S the final one that explains in HREATER DETAIL what's going on…
https://toplessinla.org/2017/11/16/the-illuminati-still-trying-to-recruit-me-for-their-perverted-agenda/
If that doesn't work, they kill you as was the case with Brother Darren Seals in Ferguson, MO (REST IN POWER, BROTHER – his murder hurts me personally for some strange reason). Here he is revealing the TRUE intentions of George Soros' gay agenda pushing Black LIES Matter (I say LIES cause it wasn't about helping black folks) before he died…
And it was a white female who was the ONLY person to call out the REAL reason behind why Brother Darren Seals was killed:
https://thecorrespondent.com/5349/meet-darren-seals-then-tell-me-black-death-is-not-a-business/1512965275833-fe73c5b1
While in jail (I was in there after a deputy sexually assaulted me which I am ashamed to say amd as a cover charge claimed I had kicked him so I as to exert his authority), I had a vision in which some lil old church dressed black folks (guessing ancestors) from the 1960's ushured me to this projector screen in which showed – like a roll of credits – a list of names of civil rights leaders who've come and gone and Brother Darren Seals was listed there. They told me it wasn't my time to go yet…
I'm here to do something great and there are "people" who "know" which is why they are trying to stop my progress…
That said, they throw things in my direction such as this recent bull!
Not too long after, coincidentally, I exposed youtube/google for disrespecting my right to submit a DMCA (which is a federal violation) which you can SEE here:
https://toplessinla.org/2017/12/18/youtube-illegally-wont-accept-submissions-from-my-email-in-violation-of-copyright-dmca-law/
AND exposing how they claimed that "wearechange.org" site is infested with viruses while trying to access their spirit cooking/pizzagate article which you can see here:
https://toplessinla.org/2017/12/18/google-illegally-blocks-wearechange-org-website/
I also feel that maybe one of these people from the artist loft incident, Amir Sanders here, might of had something to do with it because not too long after I posted about him drinking while driving (HE IS A DRIVER FOR UBER) did I get all this craziness coming for me since boom bap nation – what kinda fucking name is that – seem like something he would follow (I think it is): https://twitter.com/Reesex420?s=09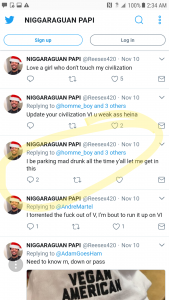 I had one of my youtube accounts shut down! Not too long after, THE IDIOT AVALANCHE STARTED!!!
Just look at some of the comments. I can't take them seriously.
HERE MY FAVORITE ONE – GOT IT THE DAY AFTER CHRISTMAS:
This mofo calling me "racist", yet he knocking ARABS (YOU CAN'T TELL ME HE AIN'T):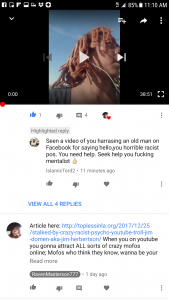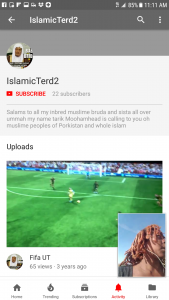 – That shit's funny, LOL!
Here one: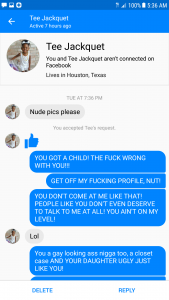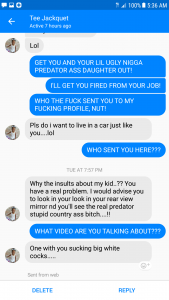 Now, THAT SHIT is straight up pedophilia to me. How the fuck you gonna ask a sexually explicit question YET HAVE YOUR BABY DAUGHTER AS YOUR FACEBOOK ICON ??? (Here's his Facebook btw):
https://m.facebook.com/profile.php?id=100000663881082&refid=46
Here pics of his ugly ass (that's an OOGLY mofo, look like a fucking gila monster and sea beast had a baby):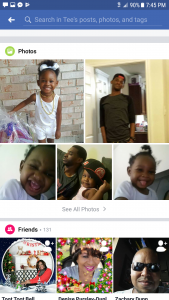 Given what he wrote, THIS SHIT LOOKS WEIRD WITH HIM ESCORTING HIS CHILD LIKE SHE HIS GIRL: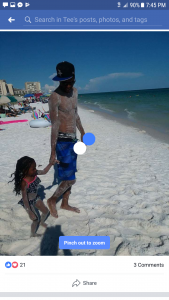 Here another one, someone named Sam John Foe: https://www.facebook.com/profile.php?id=100010741746439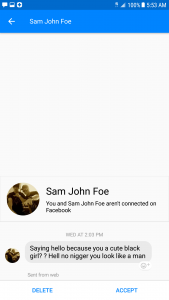 Here are the requisite, stupid facebook pics (can't tell ya how many mofos been calling me "nigger" AND posting their job SHOWING HOW STUPID PEOPLE ARE):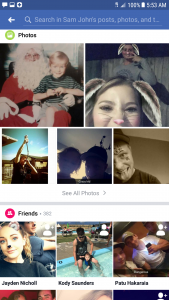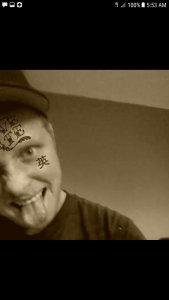 Here another one: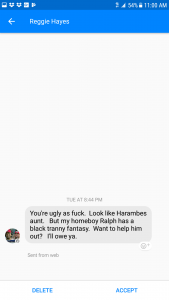 – That's kinda funny…
Here this one by another lame…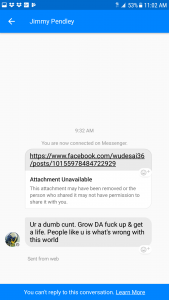 His name is Jimmy Pendly (why I keep up with r
their names…). Here his facebook: https://www.facebook.com/jimbo.pendley
This nugga look like a PITBULL in the face! That's one UGLY CREATURE: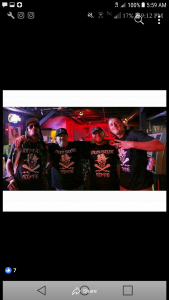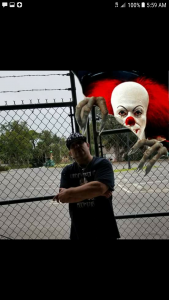 Him and the fat retarded black dude look like they can be fat ass "twinsies" if their skin colors were the same…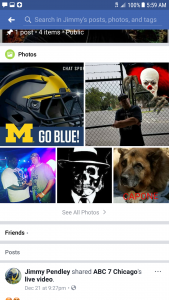 Here another one – Jacob Lui – who I wonder if he is related to the Judge who presided over my artist loft case: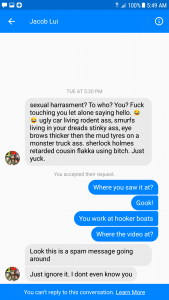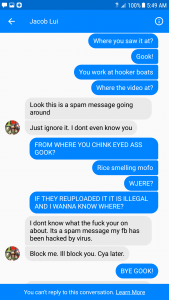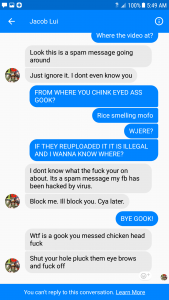 Before I get in to the next case study, I gotta say THESE PEOPLE – THE WAY THEY ARE – IS ENOUGH TO MAKE ME WANT TO HATE THEM! It's not the comments, IT'S THEIR INFERIORITY! They can't think for themselves; they need a hivemind, A CROWD to think for them because THEY ARE INCAPABLE OF THINKING FOR THEMSELVES, hence the crowd-lynch mentality they have. I don't respect them. I don't see them as human beings and THEY ARE NOT as I will explain later. I see them as no different than cardboard and to me cutting them up like you would a piece of cardboard would not be a bother to them cause I don't see them as worthy of respect bevause they are not human in my eyes… I HATE them for what they are: soulless, dumb mindlesses masses of robots NOT WORTHY of being treated as
in the same way a soul'd human with individual thoughts should be treated…
And this other "person" who I just "can't"
And this other "person" who goes by "thotboy" – THIS PERSON PROVES EVERYTHING I JUST SAID UP ABOVE!!! (Here his facebook):
https://www.facebook.com/http.PrinceCam
– Nigga a fucking gay male prostitute: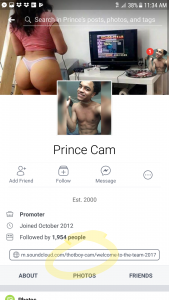 Here he is with his white trash ma (lil nigga look like any ole light skinned black ass nigga in the black community):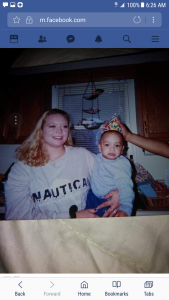 LOOK AT THE SHIT ON THIS LIL NIGGA'S PROFILE! JUST DISGUSTING!!!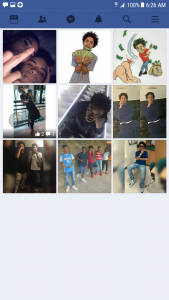 I nearly brought his ass to TEARS after our convo basically exposed how superficial, 0.00015% dimensional (not even one dimensional) he is, just no originality AT ALL…
Here said convo:
…Like an organic robotoid.
THIS MOFO HERE SHOWS MK ULTRA. LOOK AT THEM EYES: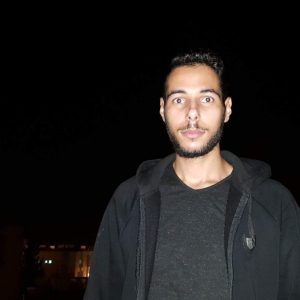 Even his facebook here: https://www.facebook.com/misanthronihil
is called MISANTHRO (as in misanthrophic). His name is Troudi Abdellaziz.
Here's MORE from the PEE-NUT gallery:
Before I move on… I wanna say looking at this child here, into his EYES gives me hope…
Those are Angel Eyes…
Fuck the parents: this is what you call a crystal child, the type of child who will bring hope into the world. People like me in my generation – before and a lil after – are warrior spirits sent to break down the old institutions, old ways of doing things. Many of us succumb to drugs, alcohol addiction cause dealing with the world can be too much (thank goodness I got the mental constitution to persevere). That said, some of us never forgot why we are here. I never did which is why I get so much opppsition because of my life purposes for being here.
What's an organic robotoid/ organic portal? See, there was a pre adamic race who were bred to be mindless robots. They are called organic portals. They are mindless human beings who can't critically think cause they don't have that divine spark = a soul
THAT'S WHY these mindless people say the mindless shit, mindless stockphrases they do. That "Cam" person literally – I could sense it – went haywire crazy, like a robot cause my ORIGINALITY due to me having that divine spark, a soul had me saying stuff, questioning him that required critical thinking that went WAAYYY beyond the trendy stock phrases he was programmed to have/ say as an organic robotoid (It was kinda fun FUCKING with his dumb ass, lol!). But yes it acted like a malfunctioning robot – repeating the same shit over and over cause his limited CONSCIOUSNESS (notice I didn't say "intelligence" couldn't keep up). For those with eyes to see and ears to hear, here is the convo. and you can see how these organic robotoids act/respond.
For more info, you can check out "organic robotoids" here:
https://veilofreality.com/2011/04/18/organic-portals-soulless-humans/
That said, these people were coming for me as if I did something personal to them, especially that Maurice Jordan who I exposed here: https://toplessinla.org/2017/12/20/swat-police-officer-maurice-jordan-sends-threatening-message/: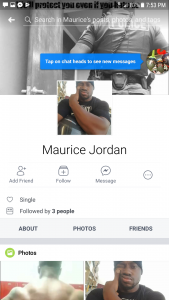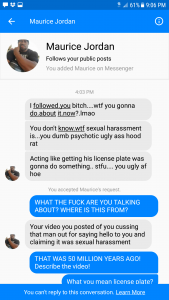 – IMMA TELL YOU SOMETHING! WHILE WRITING THIS, A VISION FLASHED BEFORE ME OF HIM WATCHING CHILD PORN! THIS MOFOS A MOLESTOR!
And this other boy here – Anthony Allen – a cop I believe who works out here in Malibu for the sheriffs as an undercover (I believe I've seen him once) who did I strongly feel take advantage one night: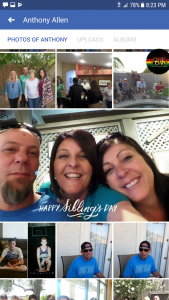 – IF YOU READ HIS COMMENTS BELOW, YOU CAN SEE WHY I SENSED HE A COP! Not only that, but why bring up him having a "bald head" unless – and this is what I feel – was a sick, sadistic way to TAUNT me for what happemed the other night. READ THOSE COMMENTS! It's like he's using stockphrases and even contradicting himself (making racist comments in an attempt to attack ME for "racism") in an effort to "fit in" and also – again – now that I think about it his point about being a bald headed white boy and accentuating that sounds like someone who is also maybe making that point to say cops can like that music, too. He looks and based on that convo SOUNDS like an undercover cop!
They're (I know the first one is but not so sure about the second) unsurprisingly cops (their "training" is steeped in occult rituals, agendas and symbolism which I will explain in another blog post):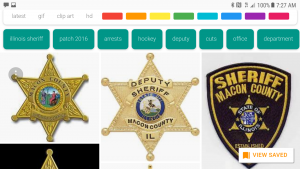 The typical sheriff's badge emulates the sacred geometric symbol – the octagon – which is actually representative of the cube of Saturn which is an euphemism for Satan. Also, the octagon in magick is designed to get things, people to yield.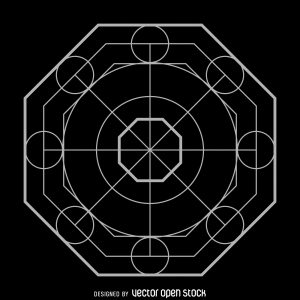 Here's the cube of Saturn, which most religions/spiritual systems to some extent worship on this planet: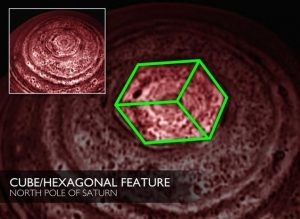 Also, of note is that the Los Angeles County Sheriffs badge harbors the "boy lover" pedophile fbi symbol etched in it's very badge: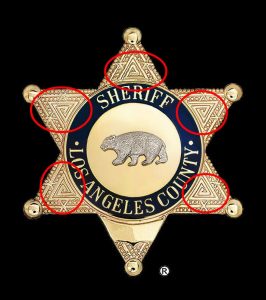 Here is the boylover pedophile symbol as indicated on the fbi website: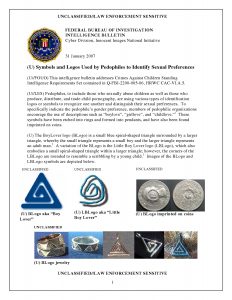 Anyways these people WERE SPIRITUALLY SENT by forces in the spirit world looking to sabotage me just as "Agent Smith" manifested via various people in the Matrix in an effort to destroy Keanu: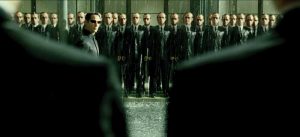 I mean, You must remember these people are organic, SOULLESS machines, organic portals who are created in part to allow Archons to possess and use as a medium via which to convey messages – including attack their enemies.
That said, that's why I don't take it personally.
– Also, there's a reason why they got "Agent Smith" looking like a stereotypical FBI agent. Because via "fusion centers" which you can learn about here: https://www.aclu.org/other/more-about-fusion-centers in which first responders such as law enforcement, firemen, and concerned citizens – lol at that term – are given a LIST of people who are considered "problems" in their community cause they are eccentric or because – as is the case with me – via Operation Stargate:
http://realitysandwich.com/158056/stargate_psychic_warriors_cia/
the government sees they will be a "problem" ie THREAT TO THE NWO on a grand scale so they seek to stifle us before we can become an effective threat!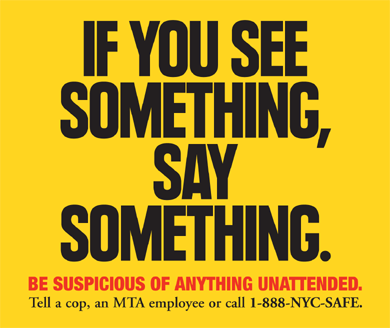 Even the CIA is revealing WHAT THEY WANT YOU TO KNOW ABOUT STARGATE: https://www.cia.gov/library/readingroom/collection/stargate
The Chicago police are "disappearing" people like they did in Nazi Germany or in (and still are doing this) in China in what is known as the Homan Square incidents: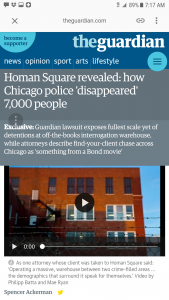 https://www.theguardian.com/us-news/2015/oct/19/homan-square-chicago-police-disappeared-thousands
THIS IS HAPPENING IN AMERICA!
– The shit's real AND it will hit the fan.
Now, the people who brought all this – Boom Bap Nation – I AIN'T NEVER HEARD OF THEZE NIGGAZ – EVER! I mean, I looked at their site and the shit looks like a small site/outfit like mine. I AIN'T NEVER HEARD OF THEM!!! (Here their Facebook: https://m.facebook.com/boombapnation/?tsid=0.035800074498758105 )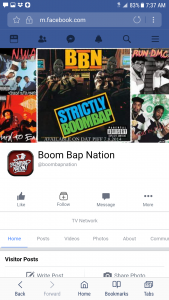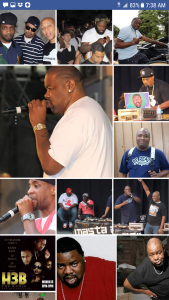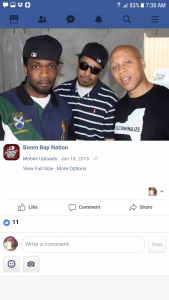 Imma explain to you why this shit significant – !
The person who runs it's name is Lessel Jones.
According to a whois domain look up, the address for him and "Boom Bap Nation" is:
113 Wheaton Drive
Richlands, NC
Here's the phone number for Boom Bap Nation and I'm guessing Lessel Jones (nigga wasn't smart enough to hide it): 910-430-4472
Here is Lessel Jones aka Boom Bap Nation's email:
Here is Lessel Jones's personal facebook:
https://m.facebook.com/lessel.jones
When I googled info on him, it came back two addresses: one in North Carolina and another in New Jersey (later I observed how he once lived in Florida meaning he traveled around alot!):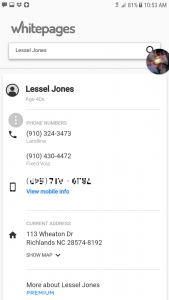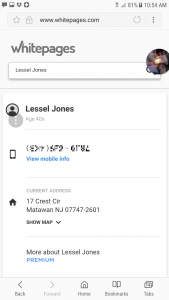 Here his twitter @SellySelJones: https://twitter.com/SellySelJones?s=09
I don't know if it's the same person (looks like it) BUT LOOK AT ALL THE CRAZY SHE HE WROTE ABOUT HAVING VIOLENT THOUGHTS, ETC: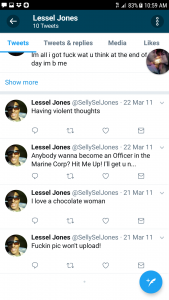 And the misogynist shit he wrote…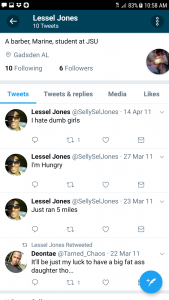 Here Lessel Jones's flickr: https://www.flickr.com/photos/badgirluniversity/
Here a screenshot of Boom Bap Nation's whois domain info: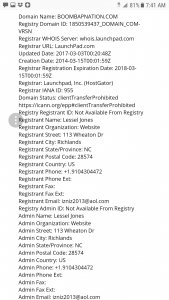 Lessel Jones is from Gadsen, Alabama from what internet records showed. I can see from records that he once lived in Florida (he tried to pass himself off as "latin" with a name like "jones", lol!) which you can see here: http://7dias7noches.net/people/BadgirlUniversity/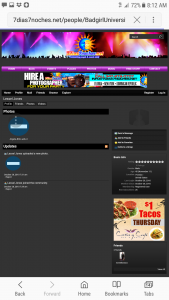 Based on the profile from there, he is 45 years old and tries to pass himself off as a photographer. Here is what he photographs, something for a played ass site he trying to create called "Bad Girls University":
Here is the youtube for Bad Girls University:
https://www.youtube.com/user/BadGirlUniversity?app=desktop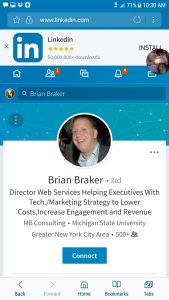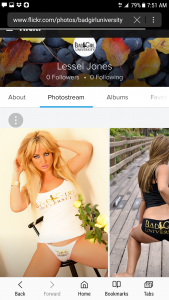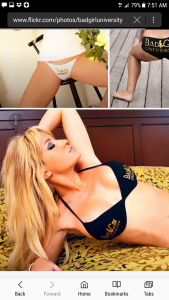 Why he got a WHITE GIRL and no black women to use as cover models and this the guy who took pics with Zulu Nation members – A PRO BLACK GROUP: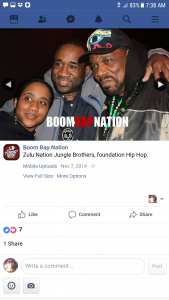 – Alot of RBG (REAL BLACK GANGSTER) COLORS IN THERE!
Also, he couldn't go ANYWHERE with "Bad Girl's University" so where the fuck he got the funds to make "Boom Bap Nation" – what kinda fucking name – successful?
Here is Lessel Jones' Linkedin for Bad Girls University:
https://www.linkedin.com/in/lessel-jones-41426924/
Here is Lessel Jones' linkedin profile for his Boom Bap Nation: https://www.linkedin.com/in/lessel-jones-95bb8713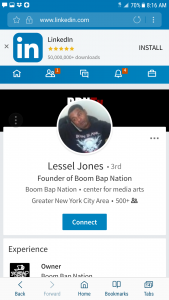 Here his employment history. His shit looks weird cause if you look at his shit it seems for much of his life he was a subpar photographer I'm sensing for hookers who didn't do too much and then all of a sudden – OUT THE BLUE – he gets hooked up with Boom Bap Nation where he interviewing all these Hollywood celebrities (or Hollyweird SELL-ebrities as I like to call them)!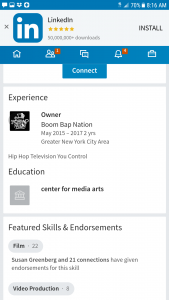 – I mean, what the fuck is this "center for media arts"??? It sounds like one of those George Soros think tank type orgs where the illuminati funnels money into to use to push a specific agenda (in part why they – Boom Bap Nation – coming after my ass!)!
This some weird George Soros created like a la black lives matter shit!
The rabbit hole goes even deeper – who the hell is this Susan Greenberg chick whose listed as Lessel Jones' "connection" in Linkedin: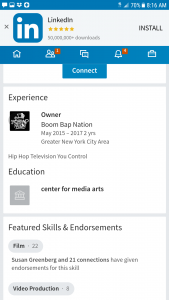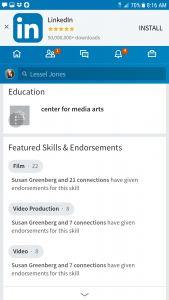 WHO IS THIS SHADOWY BITCH???
I mean, her profile icon doesn't show anything – neither her or that ither shadowy ass "Center for Media Arts". What's so special about her that she – this person with NO PROFILE PIC WHO DOES NOT WANNA SHOW HER FACE – THAT SHE IS IN ALL HIS CONNECTIONS AND RECOMMENDATIONS!
At the risk of sounding a little anti semitic (they DO run alot of things – NOT KNOCKING cause that's SMART!) THERE'S AN AWFUL LOT OF JEWS IN THERE – LIKE GEORGE SOROS – SOMEOME GETTING FINANCED SO THEY CAN PUT THIS IGNORANT SHIT UP TO SERVE AS A DIVERSION FOR THE DUMBED DOWN M(ASSES):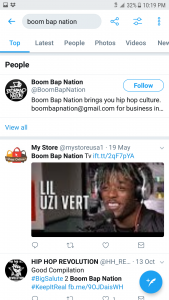 Here's the list with all these JEWS (That Brian Braker fellow – I mean, what he doing associating with a lowly would be photograpger hip hop guy – looks an awful lot like Harvey Weinstein):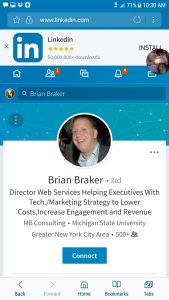 Here his linkedin profile: https://www.linkedin.com/in/mbconsulting/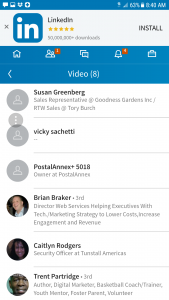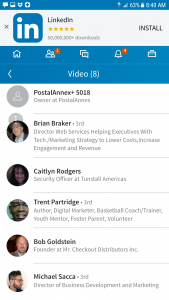 That's why alot of them people were attacking me. Alot of em reminded me of the paid for bot troll accounts employed in Hillary Clinton's campaign: https://www.thedailybeast.com/hillary-pac-spends-dollar1-million-to-correct-commenters-on-reddit-and-facebook I mean I had REDNECK, REBEL FLAG CARRYING/WAVING PATRIOTIC AMERICAN TYPE MOFOS ATTACKING ME!
I MEAN – THIS DUDE HERE US AN OBVIOUS PSYOP/TROLL ACCOUNT. HOW YOU GONNA CLAIM TO BE PRO BLACK BY SAYING YOU WENT TO MALCOLM X UNIVERSITY YET YOU GOT THE BEATLES – A FUCKING WHITE GROUP – AS YOUR HEADER (COULDN'T PICK A BLACK GROUP???) Oh yes, here his facebook:    )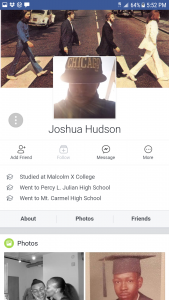 – Shit don't make no sense!
YOU CAN NOT TELL ME THESE MOFOS ARE READING A BLOG ABOUT HIP HOP! As for that Susan Greenberg cat, this what I learned when I went to her profile: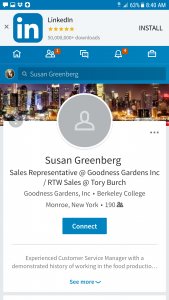 She a "sales rep" for Goodness Gardens.
http://www.goodnessgardens.com
They are located at:
377 County Rd 12,
New Hampton, NY 10958
845-355-4757
I feel she gave him money to start it but someone MUCH BIGGER (I'm seeing George Soros) was behind it. When I have visions – they come to me, symbolically!
Alot of weird shit's going on, alot of weird shit's gonna go down…
I feel that 2018 is gonna pop off in a bad way. They aren't dropping dimes on themselves with this Harvey Weinstein bs for nothing. Shit – REAL SHIT is going down! The elites are getting desperate because even the dumbest amongst us are becoming woke. They threw out this fake shit with ARAB Colin Kaepernick cause they know people are becoming awakened and so they threw some emotional shit like race (can't them niggaz REALLY piss off white folks and just start their own team?) to throw you all off while pizzagate is going on. Meanwhile, people like myself get ATTACKED with no fanfare (alot of unjustified hatred), RECEIVING NO MONEY, poor, homeless – cause I'M REALLY A FUCKING THREAT! You don't have 50 million youtube channels due to youtube constantly running you off for nothing unless you're a threat!
Also, another reason behind why they're doing it – they're trying to recruit me to become The Antichrist!
I'm not having the visions I talked about in the blog links above for nothing. I keep having visions of a European born white man with sandy blonde thinning hair, wealthy, well heeled abd middle aged – taking me in at some point and grooming me. I have had fleeting visions of myself getting into politics (or, as I say, politricks!). I recall after purchasing my groceries from the 99 cents store, I saw $5.55 on the receipt. In numerology that means movement. That said, I pondered what it meant (something intuitively told me it meant something) then a vision of myself in politics – helping immigrants with labour issues – flashed before me! That said, before you say this lady is merely a crazy homeless person – let me remind you that Hitler was homeless, too.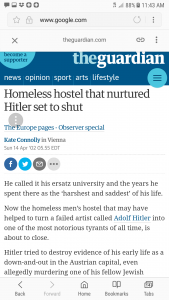 You can read more about his time being homeless, here:
http://www.historyplace.com/worldwar2/riseofhitler/homeless.htm
That said, Hitler was meant to do GOOD AND GREAT things! His TRUE purpose was to expose pedophilia in the church. Instead, he got diverted due to the illuminati putting spiritual forces on him to force HIM to join forces with them just as they – the Chinese branch of the illuminati, the Li family – cursed Bruce Lee with a demon cause they saw how powerful he would become (he MASTERED energy) and wanted him to join forces as well:
– BTW Bruce Lee is now a guardian on the other side who protects those practicing tai chi which is the manipulation of energy (like the film, the Last Airbender) hence WHY people who practice it in China are going to jail for it and even getting killed: http://www.roadjunky.com/1481/china-tortures-tai-chi-rebels-and-then-sells-their-organs/
Anyways, as great of a painter Adolf Hitler was…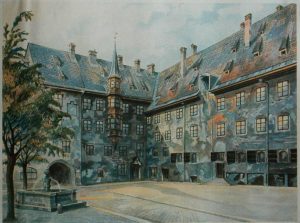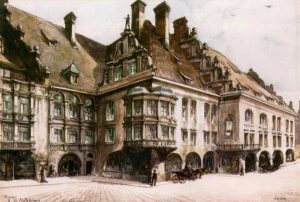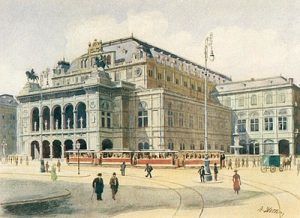 – I'm an artist and I am not THAT good when it comes to even DRAWING buildings, let alone paint!
That's why he couldn't make it in art school. All other endeavours failed except the one the illuminati wanted him to fulfill which was to start WW II so that Israel will be created then hated (in the Bible, persecution of the jews is supposed to bring about the second coming) so that they can manufacture the Second Coming of Christ and have the Antichrist act in the role of Christ:
– The HBO series the Young Pope basically explains it (I believe that's the blueprint for the Antichrist)…
That said, in my case, they sent spiritual forces against me that causes people to reject me and thus not listen to what I say, something that's been going on my entire life…
That said, ever since I was a little girl, people have always reacted negatively to me. I recall when I was 7 and I made MY FIRST (and last as you will find out) phone call to a little girl named Alex and ON MY FIRST CALL to that house her mama picked it up and CUSSED ME OUT!! I remember thinking to myself, "What the hell happened?" Any projects I would undertake wouldn't go anywhere! I felt like something was blocking me and keeping me from being successful in other areas cause A. they don't want what I have to say to reach many people (hence why I keep getting taken off of youtube and why all these waves of hatred are sent in my direction to push me off of social media so I'll be even less effective) B. to push me to go in a direction they want me to, just as they did to Hitler and tried to do to Bruce Lee (Bruce Lee whipped the demon he was sacrificed to's ass!). That's why they sending you negative ass people my way. That's why I've done gone through ALOT of trauma like with here: and here: cause the intent is to jade me to the point where I will hate you and accept that role and end up killing ALOT OF YOU – ON A GRAND SCALE – and on an individual level as well where – as exposed by pizzagate – torture and murder people in private as well.
The worst is when they send personal saboteurs to try to get to me on a "personal level" by trying to get close as friends. Due to my heightened sensitive abilities, I can sense they ass (alot of em are mk ultra cause they know I won't let or even TOLERATE organic portals in my presence let alone be "friends" with em…) and because I'm no longer bothered by societal morals with "nice-ities" like all that fake polite shit – which is why I can be comfortable with living out of my car as well as not wearing masks to fake appease others and be FAKE which makes me even more of a threat – I tell them to get the fuck outta my face. I would rather have an enemy tell me they hate my ass vs a deceiving bastard with the same intentions of the enemy by wearing a "friend" mask.
They know that I don't have an organization. So they attack, periodically (I've had these what I call "waves of hatred" attack me before). I'm not shook. I ride it out, keep telling my truths and this is an all an effort to make me "bend" to their will by either trying to change me OR as I said recruit for what they wanna recruit me for by using mainly mk ultra operatives (I spoke with a young man – very intelligent – who pretty much confirmed it) and organic portals to "jade me against humanity." It doesn't work with me cause I see the deception. The next step maybe my death and I can see that.