THIS SPIRIT WORLD SHIT IS REEAL AND IT'S GETTING REEALER BY THE MINUTE:
Buy vid here [purchase_link id="29420″ text="Purchase" style="button" color="blue"]
And then again that POS BASTARD, SATAN, STALKED ME AGAIN:
Buy vid here [purchase_link id="29460″ text="Purchase" style="button" color="blue"]
I will say for the record, I REFUSE TO DO THAT EVIL BAZTARD'S BIDDING GIVEN ALL THE EVIL, VILE SHIT HE HAS PUT ME THROUGH: A LIFE OF REJECTION, CONSTANT BULLYING, MISUNDERSTANDINGS CAUSED FROM HIM TWISTING AND THEREBY CONFUSING PEOPLE'S UNDERSTANDINGS OF WHAT I HAVE TO SAY, HORRIFIC ACTS LIKE THE ARTISTS LOFT INCIDENT THAT HAPPENED TO ME: https://toplessinla.org/2017/06/12/lapd-are-really-out-to-get-me/ AND OTHERS…
That said, I refuse to live a life that empowers evil people – the same ones he caused to get in my way and do harm – as opposed to empowering those who deserve it: the rejected, unjustifiably despised and hated… like me!
Unlike this POS down below: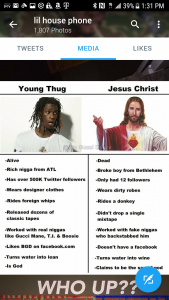 This nugga's name is: #lilhousephon3 or better yet, lil FAGphone! You can read about him here and how he hit on Ghetto Gagger's Paulie Harker:
https://toplessinla.org/2017/03/21/lapd-officer-domingo-silva-illegally-uses-lapd-computer-to-stalk-women/
I would rather live the life of Jesus Chriat, walk in His shoes, teach people to live off grid, open up their chakras (where the meaning "the Kingdom of God" is actually from) AND MOST IMPORTANTLY – OF ALL – DISCONNECT ME FROM THIS BEAST-MATRIX SYSTEM!
Just like Jesus before me, obstacles are being placed in my path BY SATAN to keep me from walking the path of truth, teaching those people out there with ears to hear who are ready to listen how to open up their own power to get out from under Satan/ The Demiurge: by causing my Life to be hard and try to force me to turn to it's POS azz in return (while in jail at one point I recall as I tried to have an outer body experience a "nagging intuitive sense" from the Satanic side aka "the right side" stated that if I were to accomplish it, I would NOT BE SUCCESSFUL IN MY CASE, the same one that tries to induce me to engage in the toxic practice of alcohol in which I am surely and slowly overcoming).
I see EXACTLY what that mofos intent is: From what I can see, based on a vision me and my friend had a while back where the LAPD had done murdered and raped me and held a press conference saying that was not my body, etc… what's gonna happen is… that may very well happen (I don't think it's beyond coincidence we both had that vision) and what will happen is… and this is what I think Satan is hoping for… I call on him for "help!" I get revived after having the gunshot to my head (could be another part of my body) and because of all the trauma (the artists' loft, etc., this incident) which happened to me, I WILL WANT REVENGE!!! I will be installed into a position of power and therefore be able to direct my fury towards those who have harmed me (UNDER SATAN'S INFLUENCE, OF COURSE). But then I will become drunk with POWER and wanna direct it UPON THE WORLD, THUS STARTING WWIII!
I know that alot of the shit that has done happened has happened under the direct influence of Satan; in that artists' loft one night I saw a big image of the Hat Man – an agent of Satan's – appear on the wall much like those projectors our teachers used to use back in the day when showing lil strips of film on the chalkboard, etc. That said, they've ALWAYS been around, even going back to when I was a child, evil, causing constant rejection (I recall a GROWN ASS ADULT cussed me out when I was a lil child of 7 for calling her daughter, Alice.). I've always been rejected, hated, bullied (though I fight) but I know the real cause: I WILL NEVER SIDE WITH EVIL! See, the thing stupidass Satan don't understand is when you cause people sooo much misery and grief, people won't side with him (he's waiting for me to join up with him), ESP. THE STRONG, ESP. THOSE FEEBLE ATTACKS! I'm not under shit but I will say this: I see the harm he causes and NO WAY IN HELL WOULD I WANNA SIDE UP WITH AN ABUSER WHO CAUSES THIS MUCH HEARTACHE SO I CAN INFLICT THIS MUCH TRAUMA UPON SOMEONE ELSE! This is how the illuminati trains illuminati babies so they will grow up to have as little empathy as the people who abused them which you can see HERE as left in this comment in reddit: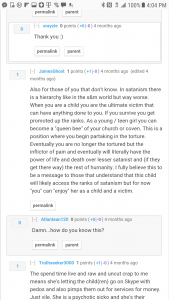 AND READ ABOUT HERE:
https://dcpizzagate.wordpress.com/2016/11/07/first-blog-post/
AND EVEN HERE (ARCHIVE THIS):
http://www.abundanthope.net/talkitup/archive/index.php/t-833.html
YOU CAN READ MORE ON #PIZZAGATE HERE:
http://thepaulstalservice.yuku.com/topic/332/Reposted-Pizzagate-Is-Anything-but-Fake-News)
From my experiences there are many truth tellers in jail; some of the most AWAKE PEOPLE ARE SOME OF THE MOST HURT and mistreated people hence why they end up persecuted, in jail to SILENCE THEM! I AM STRONG AND I OVERSTAND WHAT IS HAPPENING – AND WHO IS DOING IT – AND I WON'T (to borrow from Kirk Franklin who says: "Devil won't steal my sunshine.") LET YOU TAKE MY EMPATHY, MY HUMANITY!
The devil (who is "God" and you can read HERE:) CAUSES alot of problems so you will feel no other choice and get to a weak point where you join him: DON'T FALL FOR IT! Contrary to popular belief, he goes after THE STRONG, NOT THE WEAK, hence why he puts you through "tests" as "God" is said to do. DON'T FALL FOR IT! Remember all the hardships he put you through and think back to yourself: "Would you wanna put innocent others through that?" After all THIS MOFO ATTACKED YOU so what better revenge then to not fall for his shit and not only be STRONG ENOUGH TO OVERCOME HIS SHIT BUT NOT JOIN UP SIDES WITH HIM, TOO!