Man…. I had to dust out da 'Wokemaster fo' this…..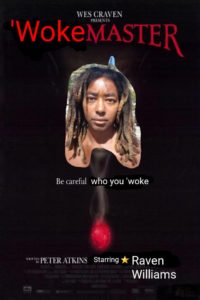 Some folks are gonna end up being a part of my Hall of 'Woke fame!
This was my favourite 'woke to date, my best known 'woke……
TOPLESS IN LA EXCLUSIVE: I Killed A Man's Ma Cause He Refused To Give Me A Jump
Along with this one where a man told me that I put a guy in a mental home using black magick…..
Just as was done to Christopher Case, seeing shit just like that guy I put in the mental home right before he died ?
http://community.seattletimes.nwsource.com/archive/?date=19910504&slug=1281135
Those visions of me being Abaddon – the angel of destruction and death – and the Antichrist now make hella – pun intended – sense!
Lordt, gotz me going back to hell ?? to teach some mofos a lesson in humility…. and to bow down to me!
I also got the evil eye ?
Everytime this creepy ass wetback is around (bitch parked direct across from me then walked his dog past me after parking here only after seeing me), HE DIRECT COMES OUTSIDE and straight leers at me!
The crakkkas in the NSA RV – really, the blonde surfer – does that too!
Now they can look at my demons……
Here and for eternity when they die ??‍♀️????
Also….. ??‍♀️
This just in…..
– goofy looking ass Chuck Norris failure mofo – He works for Pacific Plumbing….
https://www.pacificplumbingsocal.com/
Here is their number: 714-699-9936
Seriously wanted to fight me….. Acting like he in charge like most crakkkas do (he gone find out WHO and WHAT he dealing with ??‍♀️???⚔)…..
Imma wipe that crakkka caveape entitlement right off his head ???
How dare this crakkka get uppity with me! How dare IT! IT will have to be trained ?‍?????? Ole dog haired Rover hair having ass bitch!
Here is the license plate of the car he was in…..
I serious thought it mighta been the rapist who raped me here:
That said, notice how this white genetic defective crakkka cave ape wanted to fight a black woman to stand for some wetbacks who had been sexually harassing me for the past coupla days….. (cause I was thwarting there shit while in my car by keeping them from being able to see via certain angles I'd hold – for instance staring dead at their asses as they unnecessarily rolled their truck up to try to look in and then – based on the convo I heard AND what their tarot cards showed me – the crakkka, wetback [can't tell what IT was] demon with the demonic santa muerte skull shirt called the cops as I merely chilled in my car):
They gonna have to get 'woked too. They gotta know who they dealing with!