Alright, I want you all to look at this: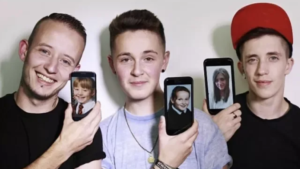 – Btw I don't have a problem with queers, gender fluids, horses, raddishes and everything in between (but seriously, I don't! Given my experience with the topless thing which I will discuss and my innate strong tendency towards white men in terms of romantic/sexual attraction – here come transracial, well, the racial equivalent of gay as I was born this way BUT I DO NOT IDENTIFY AS A WHITE WOMAN!!! – Anyways, people shouldn't fuck with these people!).
BUT NOTICE HOW even throughout history women in western societies mostly have to be portrayed as masculine and wipe out their BEAUTIFUL DIVINE FEMININE ESSENCE to be awarded with Earthly gifts and 3D realm recogniton. Look at how models look, like lil boys…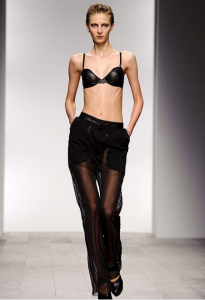 That said, this is nothing more than an ATTACK ON THE DIVINE FEMININE! In a world where womban are encouraged to be masculine NOTICE we are NOT BEING ENCOURAGED TO SHOW OUR BREASTS (while trannies can be us!). It is because THE BREASTS REPRESENT THE ATTRIBUTES OF THE DIVINE FEMININE, THR CREATOR OF ALL LIFE WHICH THE REAL CREATOR – THE DIVINE FEMININE – IMPARTS!!! Breasts gives LIFE to children and in our male patriarchists society where attribution of creation is given to an EVIL MALE DEITY KNOWN AS THE DEMIURGE which I talk about here: https://toplessinla.org/2018/04/06/the-demiurge-wants-to-keep-you-from-becoming-your-own-god/
AND THE WOMBAN'S ROLE IN THE PATRIARCHAL MIND CONTROL RELIGION KNOWN AS (HYPO)CHRISTIANITY IS SUPPRESSED, there is alot of male envy towards what WE WOMBAN CAN NATURALLY DO – WHICH IS WHY LIKE JEALOUS BITCHES THEY SEEK TO ATTACK US AND MARGINALIZE US TO THE POINT WHERE WE WANNA EMULATE THEM WHEN IN FACT THEY BEEN EMULATING US AS DISPLAYED BY THE FACTS I PROPOUNDED UP ABOVE! SAME THING WITH HOW BLACKS HAVE BEEN TREATED (STEALING TWERKING WHILE PUTTING IT DOWN WHEN IT EXCLUSIVELY BELONGED TO US AS THEY DID WITH HIP HOP, RAP, BIG BOTTIES, TANNING – WANTING OUR SKIN BUT YET CALLING US TAR BABIES FOR HAVIN NATURAL BEAITIFUL DARK SKIN). NOTICE HOW IT IS CHILDREN OF THE DIVINE FEMININE (WOMBAN, BLACK, MELANATED PEOPLE) ARE TREATED LIKE SHIT IN THIS 3D EXISTENCE REALM CONTROLLED BY THE DEMIURGE AKA "GOD"!
See, the man I learned based on energy work I have performed on myself, going deep within I learned that the left brain represents the man, the Ego, the Demiurge, the masculine; symmetrical, focused on the illusion of "logic" as cast in the Demiurge's CREATED SYSTEM, focused on hierarchy, the illusion of the physical, non higher pursuits, dogma, intolerance (due to inability to see into higher realms due to lacking in the ability of elevating to higher states of consciousness. Now, on the other hand, you have the Divine Feminine which is called "dirty energy" or spirit energy in Chinese Feng Shui (Note, again, how the womban is put down on this 3D Earth realm – the realm of the Demiurge). The womban energy represents CHAOS – Satan, Lucifer, higher states of consciousness, elevation to said higher states of consciousness – seeing into the 3D realm and into the astral. As a matter of fact, and I broke it down here:
https://toplessinla.org/2017/12/30/how-drinking-period-blood-is-drinking-adrenochrome/
the womban's menstrual cycle can lead to all sorts of psychic activities via it's chaos which is the gas needed to initiate psychic abilities such as anxiety in the central nervous system which I learned from personal experience (notice how our society CONSTANTLY put it down as they do breasts as if it is impure and impurient to see aka SEA like Yemaya the ocean Goddess which could in many ways be representative of the Divine Feminine energy). The Divine Feminine womban energy represents the next steps in human evolution. The elites don't want that…
They want you to stay dumbed down, drink flouridated water, watching dumbing down entertainment (Ever seen the Discovery Channel or the History Channel? Back in my day they had quality programming when I used to watch em in 1997, 1998 and now, like the Sci Fi channel – it ain't no "SyFy", the crappy network that brought you such brilliant gems like "Sharknado", smdh and lol – they done gone to SHIT!), AND SUBSCRIBE TO THE NEW AND IMPROVED MASS MIND CONTROL RELIGIONS THAT KEEPS YOU FROM ASCENDING BY NOT WANTING YOU TO HAVE KNOWLEDGE OF SELF – which comes from opening your chakras. The Divine Feminine is about opening up your chakras, empowering yourself. The illuminati – who've made a deal with the Demiurge and Archons – does not want that for you. They want you to stay dumb, programmed into the matrix hivemind way of thinking via hierarchal, group aka societal pressure so you can't bust out and be a free thinker and ultimately ascend spiritually – things the Demiurge DOES NOT WANT YOU TO DO! Why do you think knowledge of ANYTHING in patriarchal christianity (which is not the TRUE christianity as Christ taught you to open your chakras) is considered a "sin", why womben who opened up portals in their brains and via their chakras were crucified during the Salem Witch Trials, the Grand Inquisition?
It's because they want you to stay DUMB – FOCUSED ON THE 3D PHYSICAL REALM, THE HOME OF THE DEMIURGE AND VIA DOING SO CONTINUE HAVING YOURSELF TRAPPED IN THE REINCARNATION MATRIX THAT HAS YOU REPEATING YOUR EXISTENCE HERE ON EARTH VIA TRAUMATIC EXPERIENCES THAT MAKE YOU WANNA "KEEP COMING BACK" – as they say in AA (which is another cult established to cultivate soul energy for the Demiurge as I have seen via personal experience by getting you to rely on "god" aka THE DEMIURGE – funny, most of those people have a high recitvism rate). That said, as Bobby Hemmitt here says:
The Demiurge LOVES YOUR BODY, BUT HATES YOUR SOUL and that is because your soul becomes trapped in your body when you are born. The Demiurge feeds off your energy just as this room did to John Cusack in Room 1408:
By creating the conditions in which trauma induces you to wanna come back to this 3D plane such as Earthbound spirits who can't move on due to getting murdered, attachments to family, etc. THAT IS WHY IT IS SOOO IMPORTANT TO BREAK FREE OF THESE ATTACHMENTS AND NOT GET BOUND TO EARTH, PHYSICAL THINGS SND NOT GET CAUGHT UP IN THE EARTHLY EXPERIENCE. THAT'S HOW IT TRAPS YOU!!! THAT'S WHY THERE IS SO MUCH EMPHASIS ON THE MASCULINE BECAUSE IT REPRESENTS THE 3D ENERGY, LOW VIBRATORY ENERGY WHICH THE DEMIURGE WANTS YOU TO BECOME IMPRISONED TO, STUCK ON!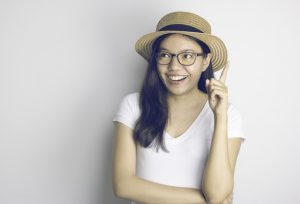 I've talked about this before, in more depth:
https://toplessinla.org/2018/03/03/the-real-reason-why-this-world-hates-women/