Them cocksuckers were supposed to let me KNOW that they filed my case which was the 15th but they filed it two days AFTER I had showed up, which was the 17th (Bas-TARDS filed on the 19th, a full fledged 5 FUCKING DAYS WHEN THEY WERE SUPPOSED TO HAVE FILED). I am quite certain when I do my due dilligence in legal research on it (which I will keep everyone posted on), I COULD GET THE CHARGES DROPPED THROUGH A LEGAL LOOPHOLE!. That said, though I KNOW FOR A FACT THAT THEY HAVE TO MAIL YOU A NOTICE IF YOU SHOWED UP, A SUMMONS STATING THAT YOU HAVE TO SHOW UP TO COURT FOR ANOTHER DATE! HERE IS EVIDENCE: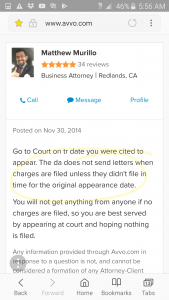 They didn't do that meaning THEM FUCKERS DID IT OUT OF MALICE SO I CAN GET ANOTHER FUCKING WARRANT SO THEY WILL HAVE "JUST CAUSE" TO ARREST MY ASS AND THROW ME IN JAIL! That is abuse of process to say the least, a legal term. Here is the video evidence of the lady at the front window saying they supposed to mail me shit notifying that the court date I am supposed to show up for HAS CHANGED:
Buy all 7 vids here
[purchase_link id="30881″ text="Purchase" style="button" color="blue"]
Here is EVIDENCE ON THE FUCKING COURT TICKET ITSELF DISPLAYING WHEN I WENT, WHEN THEY WERE SUPPOSED TO HAVE FILED VIS A VIS WITH THE VIDEO ABOVE DEMONSTRATING THAT THEY FILED AFTER I SHOWED UP TWO FUCKING DAYS LATER SHOWING THEY DID THIS SHIT OUT OF PERNICIOUS, SPITEFUL ASS FUCKING MALICE SO THEY CAN GENERATE WARRANTS TO THROW ME BACK IN JAIL: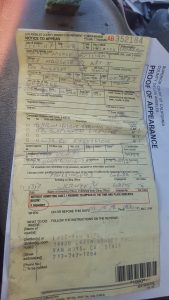 Proof I showed up for court date: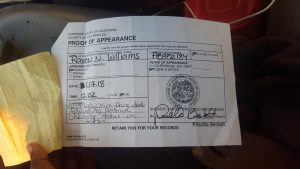 – Notice they listed it as BOTH an infraction AND misdemeanor (THE FUCK???) which sounds illegal in and of itself.
Here the back IN CASE YOU WANNA KNOW YOUR RIGHTS: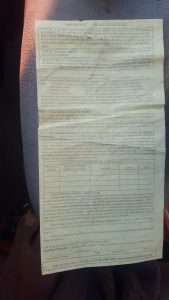 I ONLY FOUND OUT AFTER A CHANCE MEETING FOR A RESTITURION HEARING (WHICH WASN'T EVEN SUPPOSED TO BF SET UP) IN WHICH THD FINANCIAL EVALUATOR REVEALED THAT I WAS SUPPOSED TO SHOW UP TO COURT – A CHANCE FUCKING ENCOUNTER WHICH YOU CAN HEAR DOWN FUCKING BELOW:
Also, LOOK AT THIS BS ASS PARKING TICKET WHICH REEKS OF FUCKING SELECTIVE ENFORCEMENT WHICH I SHOWED YOU ALL A COUPLE OF DAYS BEFORE: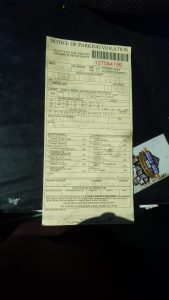 Here the back, like an old album cover, lol (Plus it tells you your "rights" to some extent):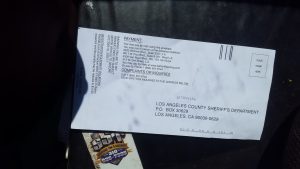 – HOW THE FUCK you gonna ticket me for parking in a COUNTY AREA WHEN IT AIN'T EVEN COUNTY FUCKING PROPERTY!! THE FUCK YOU GET THAT FROM?? I ain't even done the legal research and can SEE THE TICKET'S BS! WHERE I PARKED AT IS LEGAL! You can see, written on the fucking ticket "No parking from 10pm to 5am" WHICH APPLIES TO THE OTHER SIDE OF THE STREET YOU FUCKING MORON! These people are fucking stupid.
A while back, they were fucking with another dude named Howard Lukens aka Angsto the Clown in which one crooked ass deputy tried to extort the man of money just as was done to a LEGIT VENDOR in Malibu:
Here Mr. Luken's vid on it:
Here his channel where he documented LA Sheriffs corruption in Malibu (THEY REALLY FUCKED WITH THAT DUDE and it was around the time of Mitrice Richardson. I remember): https://toplessinla.org/2017/11/24/man-says-there-is-a-cover-up-of-women-going-missing-in-malibu-involving-sheriffs-and-local-government/
Here he is EXPLAINING how to handle their bs ticket revenue generator scam: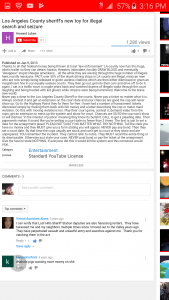 He got 66 subs, lol: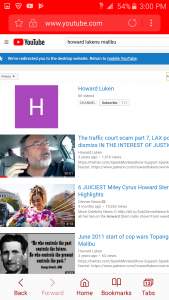 THEM MOFOS BEEN FUCKING WITH ME FOR LEGALLY PARKING SINCE ALL LAST WEEK WHICH YOU CAN READ HERE: https://toplessinla.org/2018/02/13/proof-of-lost-hills-sheriffs-pulling-selective-bias-last-night/
And see HERE (Note the orange line is ONLY BY MY CAR):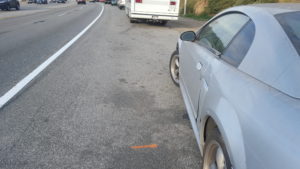 – and the other people are WHITE!
…And here PROOF IN THE PICTURES:
Them fucking sheriffs felt EMBOLDENED TO HARASS ME after this incident, thinking I am "weak" CAUSE MY LIL 5'4 100LBS ASS GOT BEATEN UP BY A GROSS ASS MAN which you can see here:
https://toplessinla.org/2018/02/06/i-was-attacked-last-night/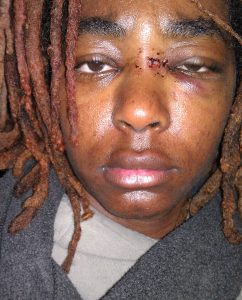 These mofos were insulting me (too fast enough for me to capture on tape), one female sheriffs whose name I think is Garcia told me to "Get Out! (like the fucking film), Deputy Thieme staring me down, and another Deputy, prob. the mofo who wrote me thd ticket, blaring on his loudspeaker: "No parking from 12 midnight to 5am (there are no such signs over here, ONLY SIGNS ON THE OTHER SIDE OF THE STREET)." Then he ends it by saying, "No magic" which is a reference to me because I know they read my blog and know that I've had dealings with witchcraft, magic.
EVEN THIS JUDGE HERE IN A WAY ADMITTED THAT THE COURT SYSTEM IS FUCKING WITH ME (After all, how am I, at age 34, "too young" to rack up so many charges as he says – MANY ACQUIRED WHILE HOMELESS so think about that? I mean, I ain't 19. He only saying that CAUSE HE KNOWS THE COURT SYSTEM FUCKING WITH ME:
The court system is fucking abominable and THE SHIT THESE MOFOS THINK THEY COULD GET AWAY WITH WHEN THEY THINK YOU ARE WEAK SHOWS THE TYPE OF EVIL, SADISTIC, REPTILIAN ASS MOFOS THEY REALLY ARE! THEY SAW MY ATTACK AS A LAUNCHING PAD TO FURTHER ATTACK ME MORE – kinda analogous to buzzards flying around WHAT THEY THOUGHT WAS A DEAD BODY! Oh, how they ARE AND WERE WRONG! Down below you can hear how our fucked up court system "works", putting peopld behind bars for shit that shouldn't even be crimes. That's how they make their money! It ain't about justice, it's about SELECTIVE ENFORCEMENT AND KEEPING INDEPENDENT THINKERS LIKE ME FURTHER DOWN! That said, here's what went down in court that day when I went in for that BULLSHIT, BIASED TICKET! Fucking up people's LIVES over dumb shit:
Look at this looong ass line:
…All waiting for justice!