I wanna mention before I begin that I may have found a purse belonging to a possible kidnapped woman, here: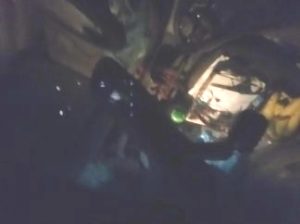 I think this shit has some occult leanings, which DEFINITELY as was the case with Mitrice Richardson: https://toplessinla.org/2017/11/17/lost-hills-malibu-sheriffs-tried-to-set-up-itinerant-homeless-man-for-mitrice-richardsons-murder/
Buy vids here [purchase_link id="29882″ text="Purchase" style="button" color="blue"]
I feel that the missing girls – including a young Asian girl who went missing from the Glendale area here: http://ktla.com/2017/09/15/new-500k-reward-offered-in-case-of-missing-glendale-woman/  are being used in occult rituals out there in Malibu. ALOT of shit goes down in Malibu that most people wouldn't be aware of…
For instance, I was informed that the local sheriff's "like to play a game" in which they will arrest usually homeless women, impound their car (if they got one) let em out in the middle of the night in the middle of the woods WITH NO CAR, NO PHONE, NOTHING (since all that is in sheriffs possession as what happened to Mitrice Richardson and let em out) and do whatever which sounds ALOT like that old movie with Gary Busey and Ice T in which they were hunting humans, MOSTLY HOMELESS PEOPLE which you can read about here: https://en.m.wikipedia.org/wiki/Surviving_the_Game AND which the Queen of England IS well known for doing which you can read about here: http://childabuserecovery.com/european-royals-killing-naked-children-for-fun-at-human-hunting-parties/ AND HERE IS PROOF: http://www.dailymail.co.uk/news/article-2083872/Body-Queens-Sandringham-estate-identified-Alisa-Dmitrijeva.html AND here is MORE EVIDENCE in which #pizzagate researchers revealed by releasing one of Tony Podesta's favorite artist: Biljana Djurdjevic who I think recreates photo souveniors of their torture sessions onto canvas so it will be socially acceptable to flaunt what they did – as murderers like to do, one of which you can see, here: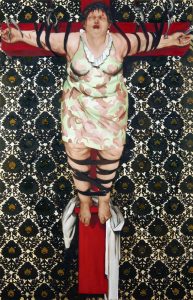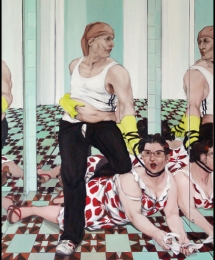 YOU CAN'T TELL ME THAT THAT IS NOT OF A TORTURE SCENE!
Tony Podesta is also FAMOUS for acquiring a life sized statue of one of Jeffrey Dahmer's torture victims: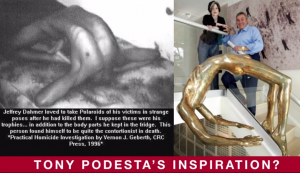 But here's what happens to em…
I BELIEVE many of em get used in occult rituals as human sacrifices and I think the Lost Hills Los Angeles Sheriffs in Malibu provides them as sacrifices through trumped up (or legit) arrests like in the case of Mitrice Richardson where her offence was not paying a restaurant tab (while under mental durress I believe which was put upon her via a spell to summon her to come there for a ritual sacrifice which I discuss here: https://toplessinla.org/2017/11/17/lost-hills-malibu-sheriffs-tried-to-set-up-itinerant-homeless-man-for-mitrice-richardsons-murder/ ). PS NOT PAYING A RESTAURANT TAB IS A CITABLE OFFENSE, NOT A JAILABLE ONE AND SINCE SHE WAS SHOWING MENTAL DURESS AT THE TIME SHE SHOULD OF BEEN 5150'd by them demonic ass beings! Now, returning back to the Los Angeles Sheriff's, NOTE they got the "boylover" logo all around the TRIANGULAR aspects of their badge that correlates to what the FBI identified as NAMBLA/pedophile based secret symbols as well as the so called "Star of Solomon" which it really ain't (The 6 pointed star represents the Baphomet as I explain here: https://toplessinla.org/2017/11/13/the-los-angeles-lost-hills-sheriffs-are-into-baphomet-worship-with-proof/ ):
HERE IS THE FBI BOYLOVER LOGO USED BY PEDOPHILE RINGS: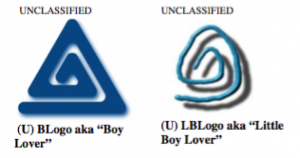 Now, HERE IS THE L.A. COUNTY SHERIFF'S BADGE WITH THE PEDOPHILIAC BOY LOVER INSIGNIAS ON THEIR BADGES (NOW YOU WONDER WHY THESE CURSED NIGGAZ DO SICK SHIT):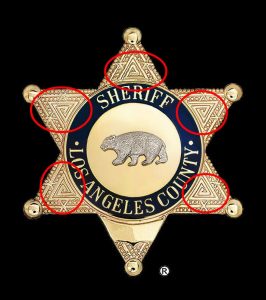 Regarding how I KNOW they in some way worship the occult Baphomet, let me explain below…
THE 6 POINTED STAR MEANS, "PERFECTED WOMAN AND MAN" LIKE THE BAPHOMET!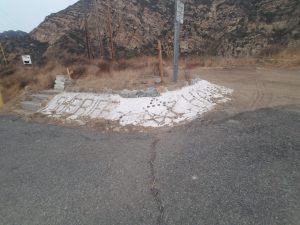 THE BAPHOMET: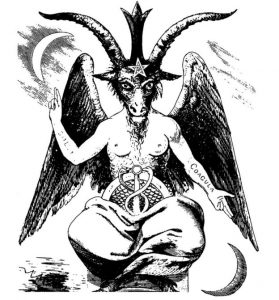 …Which means, simply, "balance." The Baphomet by the way is a REAL being that can be encountered in the astral!
Aside from Mitrice Richardson, another young lady – Korean – from a "good home" (wonder how many are being put up as sacrifices by their families) went missing in Malibu as well (Willing to bet ya she was a dui bust – driving a nice car but WHY the sheriffs would pick her is beyond me) not too long ago as again talked about here: http://ktla.com/2017/09/15/new-500k-reward-offered-in-case-of-missing-glendale-woman/  I feel in some way intuitively that the Lost Hills Sheriffs (a station which is helmed by two reptilian SERGEANTS – just look at their eyes and tell me it don't resemble Queen Elizabeth's SNAKE EYES) PROVIDE these young ladies for human sacrifices and as one young lady who is a Seer who oversaw how Mitrice Richardson was sacrificed, they take em, rape em (to impurify em and fill them with enough fear to create adrenochrome – a drug sold on the black market in which is combined with blood AND adrenaline to give the user a "high" as was shown in, "Fear and Loathing In Las Vegas"):
They also rape them because the energy released gives enough power to fill – and call forth ie attract the demons they are trying to summon. Once they are done with the torture, they proceed on to kill the victim and then that person goes on to become a "battery" for whatever DEMON they were sacrificed to in the Afterlife (No pearly gates and stop lying that such souls are, "At peace!").
Here's how they do it… All you need to do is check out this MOCA "Art" Exhibition (they always hide their perverted shit under "art" like they did with the Tony Podesta paintings in which depicts I feel real photographs taken of torture victims as "exterior souvenirs" meaning they get to show off what they did IN A PUBLICLY ACCEPTABLE MANNER under the guise of "art"):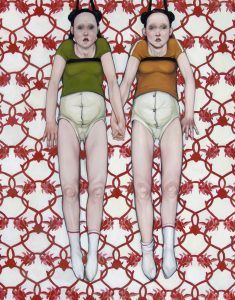 – These two lil girls holding hands while being TORTURED AND WORSE ain't shit compared to some of the other shit this artist painted…
That said, the MOCA exhibition was basically them showing off how they do their actual, real HUMAN SACRIFICES: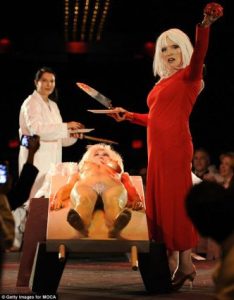 – DEBORAH HARRY, THAT'S ONE EVIL LOOKING ASS BITCH!
Here more atrocious images: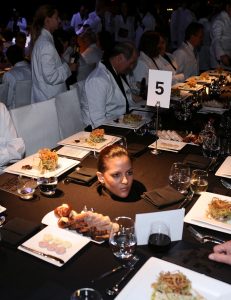 …And that MOCA Event was attended by none other than your former Mayor, Villaraigosa.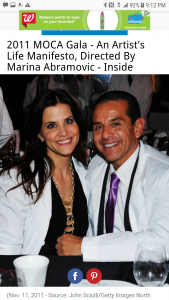 HELL, IT'S REPORTED THAT 100,000 MISSING KIDS ARE UNDERNEATH THE GETTY CENTER IN ROWS OF CAGES WAITING TO BE USED FOR RITUAL SACRIFICE ACCORDING TO WHAT STEVEN KELLEY AND A NEW AGE AUTHOR TALKED ABOUT!
HERE IS A GREAT ARTICLE DONE ON THE EXPOSER – STEVEN KELLY – WHO EXPOSED THIS:
https://jandeane81.com/showthread.php/2773-Dark-Secrets-of-the-Getty-Museum-Exposed
– He even says as I have said that the illuminati worship EGYPTIAN, BABYLONIAN GODS, NOT that hodgepodge fake fantasy bs known as HYPOchristianity which STOLE from real spiritual systems, such as the fact that "amen" was taken from ancient Egyptian God, Amun:
https://en.m.wikipedia.org/wiki/Amun
Reddit (as much as they try to discredit em you can learn alot from their site) touches on it:
https://www.reddit.com/r/conspiracy/comments/5kg2sn/the_getty_in_la_is_supposed_to_be_the_capital_of/
Voat touches on it, too:
https://voat.co/v/pizzagate/1500196
Now you know what happens to all those MISSING GIRLS/WOMEN IN MALIBU!