Witness The Goddess Shadow Wolk:
[purchase_link id="34554″ text="Download" style="button" color="blue"]
These mofos living in the past based on a confusing time in my life when I was just first coming into my spiritual own and figuring out who I am and my destiny:
[purchase_link id="34294″ text="Download" style="button" color="blue"]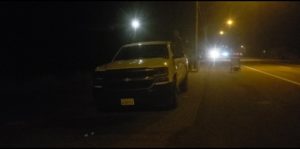 Imma say this: Fuck my cards – my third eye ? be more accurate. I put 'woke on em = sold they soul to me ???? That said I saw thru my third eye that the crakkka one is seeing an "evil" aspect of me in the mirror while brushing his teeth, which I manipulated while a 'woke – lol – and the other had a knife put to his throat in a robbery at a 7-11.
I did this blogpost in part based on them:
https://toplessinla.org/2020/05/11/how-satan-pushes-the-misogynist-agenda/
I wanted to torture and kill dey ass.
That being said, let me tell you about myself.
I control my image; nobody else does (which is why I walked off that reality show 2X in the late '00s. That being said I am the daughter of a retired New Orleans police officer (NOPD aka *NO* police department lol which is closely akin to what my dad complained about in the late 90s when the department was going down). I got nothing but respeck for what they do. I remember the times my lil daddy would come out with candy and snacks from details and me and my lil brother Bryan would wait up at 12 midnight for his arrival so we can get em – and hug him cause we were glad he home!
That being said, I don't like these two mofos. I want them dead with a death curse. You ain't gone come to my area on some nastay, condescending, mocking shit.
You gone feel my wrath!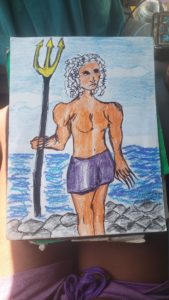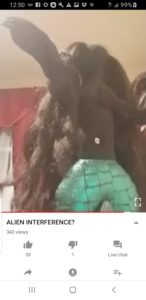 – The reptilian Goddess. I eat mofos energies like people eat candy bars. I'm gonna snatch these niggaz souls up, thinking they can play with me.
As soon as I overcome the opposition from the otherside (folks wonder why I got blocks on material shit and it's cause – as I know from experience – demiurge agents like "ancestors" and other gods been blocking – and I been 'wokeing they ass too) I'm get what's mine ??
That being said, to show you how power-FULL I am, when I got fucked up by the Skid Row LAPD station here:
https://toplessinla.org/2017/06/12/lapd-are-really-out-to-get-me-the-artist-loft-incident/
Physical 'woke didn't work so I had to resort to spiritual 'wokeing to get shit done.
Next thing ya know:
Baby, I FUCKED THEY SHIT UP! Them niggaz – ESP. THE DETECTIVE WHO FUCKED OVER ME – gettin' typhus, ebola, eboli, the T virus, the black plague, the red (devil) plague, all dem plagues….
My baby Kouvelis is spared: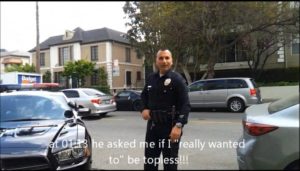 Here he is caping for me when the fat blackso thurr called the cops to fuck with me for being topless:
https://toplessinla.org/2014/05/10/lapd-called-on-me-for-walking-around-topless-by-irate-neighbor/
I don't play.
– Damn, all that shit so looong ago (the article above) #memories ?
– Think about it, that funkay ass station LOOOONG been surrounded by filth and funk yet – only after I put on em da 'woke, they get diss shit ???
That being said, I did start the first copwatching in LA: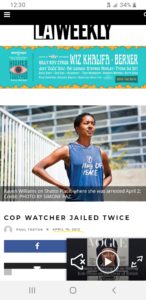 https://www.laweekly.com/cop-watcher-jailed-twice/
WAYYYY before Tom Zebra fucked with it, going back to 2010 (I rem. going back to my old neighborhood BEFORE he blew up he contacted me to work with me then said he couldn't because he felt I shone brighter than him and wanted the spotlight to only be on him), I started it!
That being said, getting to the skid row LAPD station – tho I 'woked em (for the bad) I notice a weird effect my 'woke has:
This mofo right here – Ricky Munday – a truck driver like my brother – waltzed into the IHOP downtown while an LAPD central division officer was with his hyna and took a sip of the man's water: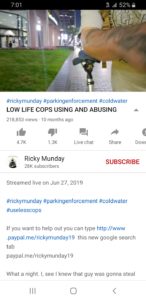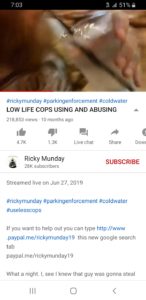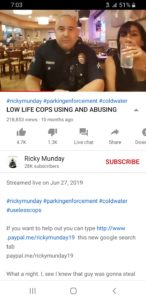 Next thing ya know, he get 'woked, with his bike getting stolen and an attempted robbery at knifepoint: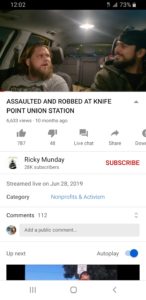 – Nigga tried to play it off like the bike didn't matter but he gave at fuck as evidenced by the videos proceeding the incident.
That said, my 'woke works in mysterious ways….
I peep that if I put 'woke on a place, it will have the effect of fucking with those who are mal-intent towards me and helping those who are good to me.
Ricky Munday got that instant karma cause, by extension of the 'woke, they were protected by me!
That's why it is important to watch what you do to others: As spiritualist Donna Martinez once said – you don't know what's crowning a person, what's around a person, what that person is spiritually capable of.
You can look at a person who is homeless and think they ain't shit. Next thing you know, you getting hit by two cars in two near fatal accidents as what happened here to this gorilla black bitch who had been stalking me for years named Angeline Alexis after I 'woked da bitch (just search her here):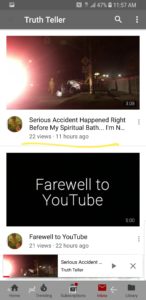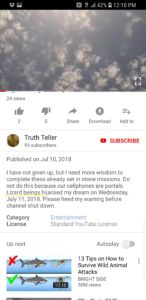 – Just as those two mofos in the video above will find out.
Don't play with me!