*If you all get a spike in complaints, IT'S CAUSE MOFOS WHO DON'T LIKE ME ARE GONNA TRY TO FUCK WITH HIM CAUSE THEY THINK THEY GONNA GET ME! I see it coming… Don't FALL FOR IT!
Here he is: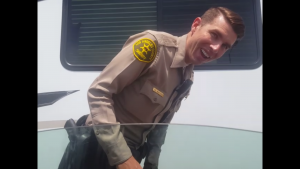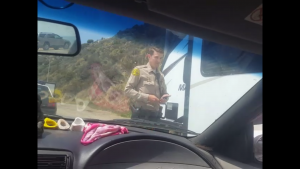 LEAVE THIS MAN ALONE!
Here he is saying, "hi", to me:
Buy vid here
[purchase_link id="31211″ text="Purchase" style="button" color="blue"]
I notice a couple of days ago – after he said "Hi", I saw two other deputies in a car follow him, inexplicably…
The other night I saw an marked black and white sheriff SUV following him. Now I don't see the man around. It's bothering me…
Luckily, I got psychic senses to KNOW what's going on…
I know the deal. I KNOW YOU ALL READ MY BLOG! When I talk about the man "stalking me" it's meant to be tongue and cheek – not to be taken literally. I feel like you all are following this man like a spaceship stalking it's prey cause of what you all read on my blog.
PLEASE DON'T FUCK WITH THAT MAN!
I think he a very nice person – very down to Earth, mad human (more so than most) and I can see he's intelligent – he ain't no organic portal. I ain't tooting my own horn but he I sense has a level of consciousness, awareness of how things are, on my level (not saying that I know everything cause I got alot to learn) BUT I NOTICE he ain't been in the area where I park and the cards I threw shows "movement" as in YOU ALL MOVED HIM (I hope not to another station cause he wouldn't belong there – trust me, I read Spirit.). I saw that he has a purple aura to the left side – meanimg protection! That said, I notice when people are nice to me – the "hordes" come to attack! Please don't do shit to that man or else end up like Christopher Case: