To whatever demon they are worshipping/ inadvertently feeding…
Take Angeline Alexis, a stalker who I talked about HERE (Imma change the title – Imma send her some healing energy and I will explain WHY later on):
https://toplessinla.org/2017/05/22/stalked-by-a-silverback-ape-named-angeline-alexis/
who contacted me last night: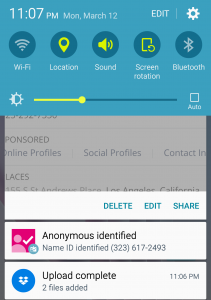 PROOF that's HER number. PEEP the number I searched which is the same as in the screenshot above: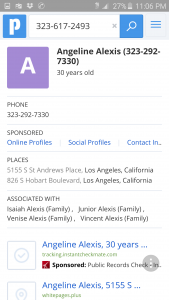 And here she is – in true stalker fashion – NOT SAYING SHIT OVER THE PHONE AFTER SHE CALLS ME!!!
And it wasn't too long after I got into it with a "Holly Vegas" on predator-tube, lol, who took shit TOO PERSONAL, letting me KNOW it was her (she had commented on some demon possessed person's channel named "MV60" who had some demon possesses cursed video attempting to "recruit me" – more on that later…):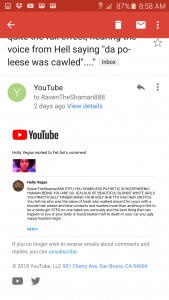 AND THESE ARE THE TYPES OF MUGS WHO WILL LIE ON ME AND SAY THAT I AM STALKING THEM!
Or this other nut named WHO WOULD CALL – NONSTAHP – FOR A MONTH! Here: https://toplessinla.org/2018/01/07/weird-phone-calls-from-a-reptilian-possessed-negro/
(I WANNA SAY, WHEN YOU LISTEN TO THE AUDIO – ONE OF EM WHERE I IDENTIFY IT AS REPTILIAN BASED – NOTE IT DOES NOT FUCKING PLAYBACK YET IT WORKS PERFECTLY WHEN I PLAY IT BACK IN MY FILES!)
https://toplessinla.org/2018/01/06/weird-illuminati-freemason-mk-ultra-or-witchcraft-call/
https://toplessinla.org/2018/01/09/how-the-u-s-government-and-reptilians-try-to-throw-you-off-with-their-agents/
And this other fucking idiot – MV60 something – WITH THIS SATANIC SHIT (THE FUCK I NEED A "satan" FOR WHEN I GOT MY OWN FUCKING POWER AKA MY CHAKRAS YOU FUCKING, FUCKING NEOPHYTE in the occult.):
…they are being demon possessed/influenced to come after me. I take the latter.
That said, a warning to you people being made as SACRIFICES to do the bidding of these demons you unwittingly serve who, like her below:
– At about 0:50, you can hear her say, "My soul is trapped!"
…ARE USING YOUR BODY TO COME AFTER ME, effectively putting you physically along with your soul – at risk!
I HAVE ALOT OF PROTECTION! I won't go into detail but one of em is Archangel Gabriel, the Messenger of God:
SHE IS AROUND! I'VE SEEN HER AND I FEEL HEAT JUST MENTIONING HER (Which is indicative of an archangel's presence). I know why I am here on this Earth and what I came here to do. That said, you jackasses – ESP. THAT SATAN WORSHIPPING MV60 PUNK – WILL BE IN FOR A WORLD OF SUFFERING IN THE AFTERLIFE, letting these punk ass demons use your body to do their dirty work (along with stealing your energy, eh mv60 – I KNOW you can't sleep at night!). That said, as part of my divine life contract – which all souls or at least most have – THERE ARE CERTAIN THINGS I HAVE TO GO THROUGH, THAT I WAS BUILT TO ENDURE AS PART OF MY DIVINE LIFE CONTRACT FOR WHY I AM HERE! That said, I am NEVER given more than WHAT I CAN HANDLE! THAT is how you can tell the difference between a curse vs you just going through what you agreed to as per your Divine Life contract. BECAUSE I AM PROTECTED, THERE ARE HUGE RAMIFICATIONS ON A KARMIC SCALE that happens to those who try to throw me off that path! They meet HORRIBLE ASS REPERCUSSIONS which they don't shake off! At that artist loft, they got kicked out after having messed over others. I was their karmic mofo! One of em even lost his car which he used to work for Uber! That said, based on an astral experience I had where I was dressed as a cop, STRAIGHTENING OUT SPIRITUAL SHIT, I am starting to believe that I am some form of Ma'at, Justice! I've always sensed it – even as a child – and now it's starting to be confirmed.
Some of the people here like Alexis WHO I SENSE UNDERNEATH THAT DEMON (I sensed for a long time something via a relative or uncle got into her thru childhood rape since SHE HAS AN OBSESSION WITH IT – even defending ME, her sworn enemy when a HOMOSEXUAL MADE A LUDACRIS STATEMENT ABOUT "RAPING ME" – Letting me know it's a trigger):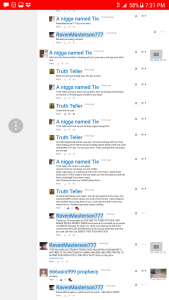 That said, even in her recent comment which you can see in the first screenshot at the beginning of the article, she says, "Wow, she has so nany enemies…" – THAT'S HER TRUE SELF COMING OUT, HER SOUL, THE GOODNESS IN HER which is reminiscient of how at one point this woman here's soul peaks out, saying "She is stuck!" which again you can hear at 0:50
I been said Alexis got two demons on her, WORKING HER AGAINST HER, USING HER TO GET TO ME – they look like shadows… SHE IS A GOOD SOUL! THAT IS WHY I DON'T HATE HER CAUSE I CAN DIFFERENTIATE THE DEMON FROM HER!
People like MV60 WHO INVITED THAT SHIT IN, PLAYING AROUND WITH THAT SHIT – I have no sympathy for em (And neither does it extend to all assholes or even demon/reptilian possessed people)!
THAT SAID, THIS IS A WARNING TO ALL OF YOU: YOU ARE BEING SENT BY THESE THINGS TO ATTACK ME! They won't face any karmic repercussions from my Protectors but YOU WILL! That said, cleanse yourself – do what you must cause if you all KEEP ON COMING AT ME WITH THE DEMON POSSESSED BS THEY ARE INFLUENCING YOU ALL TO DO – you will WANT DEATH IN YOUR AFTERLIFE and I don't HAVE TO DO SHIT! NOT EVEN A SPELL!