While writing this article here…
https://toplessinla.org/2018/02/09/susan-rinderle-linkedin-invite-is-an-illuminati-attempt-to-try-to-recruit-raven-masterson-to-become-a-lamestream-advocate/
The revelation came to my mind! THIS Kanye you see here IS CLONED: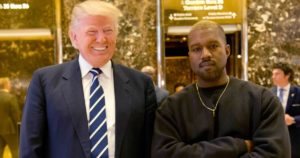 – You can TELL by the soulless vacant look, STARE and lack of talkativeness that that ain't Kanye!
Even the Hellyweird (pun AGAINST HOLLYWOOD and not the mag itself) Reporter hints at it by saying that the blonde hair indicates the person is now locked and loaded under mind control: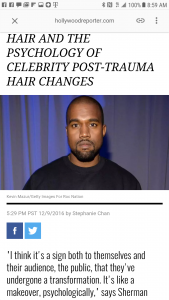 While writing the article up above, the following vision/info came to me:
"This how they got Kanye (referring to how they TRYING to get me!): I got the sense that Kanye wanted to be a preacher to reach the kids, but saw rap as a better venue – not realizing HOW EVIL the music industry is! Make a long story short, they destroyed him, had him – dejected, labeled crazy, KKKOON-IFYING HIM, DEGRADING HIM, calling him crazy, etc. etc. See, he wasn't someone originally involved in MK Ultra programming BUT THE POWERS THAT SHOULDN'T BE can foresee through things like this: https://www.dailystar.co.uk/news/latest-news/586316/Alien-UFO-Life-on-Mars-CIA-Psychics-Declassified-Files-Stargate-Project-Shadow-People WHO WILL BE A THREAT TO THEIR AGENDA IN THE FUTURE AND WHO WON'T – of which Kanye clearly was! They now practically cloned him as this Hollywood Reporter article inadvertently proclaims HERE:

and now got him trapped, underground, LOCKED UP "FOR HIS OWN GOOD" AS IF HE IS INSANE CAUSE HE SPOKE OUT AGAINST THE SYSTEM (I JUST SAW A VISION OF HIM IN A SMALL WIDE CIRCUMFERENCE 7 FT TALL CAGE WITH HAIR SIMILAR TO WHAT CHRIS TUCKER WORE:

IN THE "5TH ELEMENT" – a story that dealt with Jesus and apocalyptic, Egyptian themes which I discussed here: https://toplessinla.org/2017/05/17/the-fifth-element-film-reveals-christ-the-redeemer-will-be-a-black-woman/ WITH MISTY LIGHTS, A PURPLE (PEEP THE SYMBIOLOGY HERE) BED OUTSIDE WHICH WOMEN WHO ARE MEANT TO PROGRAM HIM SUCH AS THIS DARK HAIRED LIGHT OLDER CREOLE LADY – WEARING A PURPLE BED ROBE GET ON, HE IS ON THE BARS SHOUTING FOR HIS FREEDOM, BEGGING TO PLEASE BE LET GO and that he'll do anyhthing to get out from under there which I sense he may be there (maybe I'm seeing his soul) for all eternity! He I sense is in a Deep Underground Military Base where reptilians, aliens and US military are at, doing what they do!"
NO AMOUNT OF MONEY IN THE WORLD IS WORTH YOU LOSING YOUR SOUL (THIS AIN'T NO DEVIL AND HELLFIRE SHYTE I'M TALKING ABOUT either). After reluctantly giving up his moms (I sense he argued with himself and told himself she would be proud to see him "fly" and so thus – reluctantly – allowed her to be murdered) I feel he wasn't the same, lost his way but bits and pieces of his true self were still there.
BECAUSE HE WAS A TRUTH TELLER (I say that cause his soul is in limbo) THEY PUT HIM THROUGH HUMILIATION RITUALS LIKE HERE:
AND THEN THE ULTIMATE PROVERBIAL STRAW THAT BROKE THE CAMEL'S BACK CAME when they could not change in effect who hd is: a truth teller like here:
So now they got him trapped deep underground in a place which I sense is like limbo where his body I sense maybe in a "suspended animation" cryogenic state and his soul, consciousness was immediately transferred out of it and into a jar, or cup somewhere maybe where he will live I sense for all eternity.
It's a scary fate and one that befalls and will befall MANY hip hop stars, SELL-ebs who are made mostly (not all of em) into sacrifices for the highest elite like the Rothschilds (to save them from similar fates) in which I saw a demon skeleton whom they make deals with torturing their illuminati FALL PEOPLE in the after life as I tell here:
https://toplessinla.org/2017/12/20/i-saw-the-horrible-fate-of-the-rothschilds-afterlife-in-a-vision/
I'M TELLING YOU! YOU DO NOT WANT NAN OF THAT! NONE OF DAT!
That's why I say: they can keep their lil Earthly trinkets and I'll continue to live out of my car – comfortably – chill and not let all their pressure in the form of spiritual attackers, etc. get me to that side cause once you on they side you fucked and the fate I saw in the link up above is where your ass will end up at!
Stay on the side of right, OF THE LIGHT!
Oh, btw look at the number in word count that popped up (usually that shit changes real quick but that mofo stayed staring at me for a real good long time like it wanted me to acknowledge it):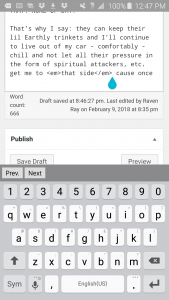 – That tells you EVERYTHING you need to know!