First thing that came to my mind that such a beautiful purse (not that I'm big into fashion and shit) HAD TO HAVE BELONGED TO A PERSON IN DISTRESS, who got taken, snatched up and dropped her purse in the process…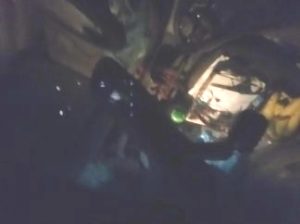 Bare with me, the light on my camera doesn't work so I lightened it as much as possible so you could see what I saw…
I saw a nice looking, "fashionable" handbag with a bunch of conventional contents you'd find in a purse strewn about (that's how based on that I intuituvely felt that it couldn't of belonged to a houseless person or someone with stable shelter) with trash bags strewn all about it…
First intuitive feeling that came to my mind was that someone was kidnapped.
Based on the article I wrote here: https://toplessinla.org/2017/11/24/man-says-there-is-a-cover-up-of-women-going-missing-in-malibu-involving-sheriffs-and-local-government/  and this SECOND (first of Mitrice Richardson) story of a young lady from a "good" (I say that in parenthesis cause people associate it with middle class without considering that poor people can make good homes, too.) home with a good family who care about her who went missing in Malibu (Imma meditate tonight to see what happened) which you can read right here: http://ktla.com/2017/09/15/new-500k-reward-offered-in-case-of-missing-glendale-woman/  SHOWS, given what we know about pizzagate, we know that many elites make their home in Malibu. As pizzagate has revealed to us:  the elite engage in occult rituals – often involving human (esp. child) sacrifices to get in good with Demon Lords like Moloch, Pazuzu and all these types who require blood sacrifice – esp. those of "pure" huemans like children and ESP. of those rich in melanin such as when head of Clinton Foundation' Laura Silsby tried to traffic 33 (A VERY SIGNIFICANT NUMBER TO FREEMASONS MEANING – AND IGNORE THE NEW AGE "FLUFF BLUFF" SHIT HERE: https://www.sunsigns.org/angel-number-221-meaning/ WHICH MEANS it means, "trinity," of I am guessing AND sensing cosmic, powerful energies [hence why the sacrifices occur for the energy] and the calling of POWERFUL DEMONS ["Master Teachers"] to make this happen) HAITIAN KIDS OUT OF HAITI (Note the Clinton Foundation sets up shop in countries that don't hand out birth certificates so that the KIDS THEY KIDNAP FROM THERE WON'T BE TRACEABLE AND THUS FOUND which you van read about RIGHT HERE: https://www.reddit.com/r/The_Donald/comments/5dfc9v/this_is_not_a_drill_folks_the_national_center_for/ )!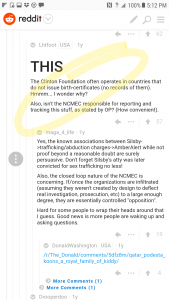 HELL, IT'S REPORTED THAT 100,000 MISSING KIDS ARE UNDERNEATH THE GETTY CENTER IN ROWS OF CAGES WAITING TO BE USED FOR RITUAL SACRIFICE ACCORDING TO WHAT STEVEN KELLEY AND A NEW AGE AUTHOR TALKED ABOUT!
HERE IS A GREAT ARTICLE DONE ON THE EXPOSER – STEVEN KELLY – WHO EXPOSED THIS:
https://jandeane81.com/showthread.php/2773-Dark-Secrets-of-the-Getty-Museum-Exposed
– He even says as I have said that the illuminati worship EGYPTIAN, BABYLONIAN GODS, NOT that hodgepodge fake fantasy bs known as HYPOchristianity which STOLE from real spiritual systems, such as the fact that "amen" was taken from ancient Egyptian God, Amun:
https://en.m.wikipedia.org/wiki/Amun
Reddit (as much as they try to discredit em you can learn alot from their site) touches on it:
https://www.reddit.com/r/conspiracy/comments/5kg2sn/the_getty_in_la_is_supposed_to_be_the_capital_of/
Voat touches on it, too:
https://voat.co/v/pizzagate/1500196
Alot of occult rituals like that go down in Malibu. Hell, a film from the 80s (WAYYYY before any illuminati talk became popular in mainstream or even fringe consciousness) called "Society" which was coincidentally filmed in Beverly Hills was about this and talked about how – like Sgt. Foss or is it Richard Ross (white boy got that name, lol!) of the Lost Hills Sheriffs station is NOT HUMAN – IT SPEAKS OF HOW THE ENTITIES THERE ARE NOT HUMAN!