Okay, it's been awhile since I rode on these…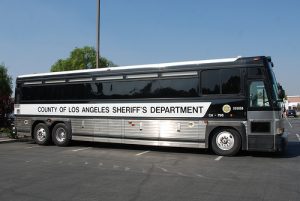 …Ole dirty, funky, NASTY ASS BUS!
MAKE A LONG STORY SHORT, I witnessed the bus driver of said bus exit and go into what appears to be a liquor store tho. to stay open they serve other items.
Buy vid here [purchase_link id="29894″ text="Purchase" style="button" color="blue"]
That said, in the past I overheard a discussion take place where a drunk ass sheriff over at the Twin Towers asked a female dep., "If she wanted some beer." These mofos are crazy!!
Anyways, I didn't get enough time to go in and investigate as I couldn't switch lanes plus she was coming out AFTER I turned around which you can see here:
That said, sheriff's do alot of crooked shit. EVEN WORSE! Read here about Mitrice Richardson and how they tried to set up a mountain man FOR HER MURDER (WHICH HAS NEVER BEEN SOLVED!!!) HERE: https://toplessinla.org/2017/11/17/lost-hills-malibu-sheriffs-tried-to-set-up-itinerant-homeless-man-for-mitrice-richardsons-murder/
Thank you!!!