*NOTE: THE 99 CENT STORE DID CALL BACK (CUSTOMER SERVICE) AND THEY SAID THEY ARE TAKING CARE OF IT!
Before I begin, I just wanna take the time to state that: Maria at the Burger King on 1250 S. La Brea Blvd in Los Angeles from what I overheard called me a nigger – I know what I heard so I am calling it for what I see it as. I made a complaint and have yet to hear from Burger King itself on this matter. That said, hopefully they resolve it! If I were you all I WOLD NOT SUPPORT IT given they won't even call me back over this matter (spread this around and under SLAPP Law I am allowed to speak of my experiences with impunity esp. regarding customer service). That said, let's get to this ghetto ass bum here: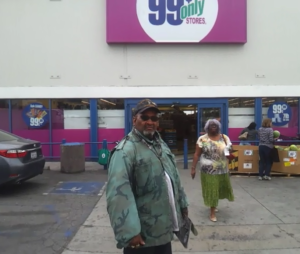 Look at this mofo acting like he is disabled: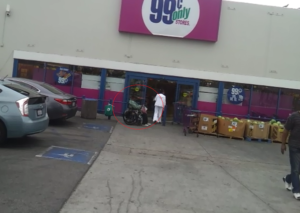 Buy vid here [purchase_link id="29075″ text="Purchase" style="button" color="blue"]
You can witness the miracle here – along with him calling me every bitches – I call him a nagger bitch and east – and every other psycho thing under the sun!
Anyways, I want to go ahead and talk about this butt munch here. This bastard, when I was walking out the 99 cent store on Fairfax Ave and Wilshire Blvd, harangued me for some change. I told the black bastard, "No!" that is when he got snippity with me and threatened my life and everything.
Then the cops were called. When I told the on site manager, CARLOS, what happened, not only did he allow the nig beast back into the store to run away from the cops which is technically aiding and abetting, saying there is nothing he can do, but he said that he wouldn't protect the customers and said he has no control over what goes on in the store – all of which you can see on the tape above 🙂 WTF!!
Anyways, here is footage of my calling the cops and them arriving and trying NOT to come cause I called as you can see them still going about their way:
AND THE BUM IS STILL ALLOWED TO BE THERE AS CAN BE EVIDENCED BY THIS TAPE TAKEN WEEKS AFTER THE INCIDENT ON 6-23-2015!
Now, this isn't the first bum fights experienced going here: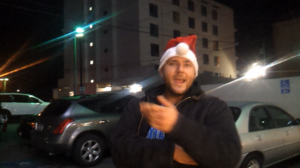 Check out my fight with the cluckerbeast here: https://toplessinla.org/2015/01/01/night-of-the-crakkkas/
Let's be real here for a second: That event up top is notable BECAUSE IT IS RARE FOR WHITE PEOPLE (ACTUALLY, ONE IS A JEW AND I HAVE HAD MY EXPERIENCES WITH THEM WHERE THEY TEND TO ACT "NIGGERISH" BUT ARE VERY INTELLIGENT BUT AT THE SAME TIM CAN HUNT WOMEN DOWN LIKE MOST NAGGERBEASTS DO) TO COME AT ME LIKE THIS (ALSO, THE OTHER ONE IS A SOCIOPATH REPTILIAN)!
I like this 99 cents store: it sells cheap ass fruit for my cheap ass. That said, they need to do something about this. I don't believe in knocking a person's hustle but when you are coming for me and I am a paying customer and I didn't do your black ass DIDDLY SQUAT you best believe you need to handle this shyte cause I have NO QUALMS ABOUT PUTTING YOUR BIZ ON FRONT STREET! Enuff said! There is also this pervy ass black dude with a bald head who works there who shouted something to the effect of "viagra" – I do not like his aura that he gives off. That said, call the info down below if you have had any issues with him as well.
Here is their address:
6121 Wilshire Blvd
Los Angeles, CA
323-939-9991
If YOU have had a problem with homeless bums as I have shown you standing and or/ sitting outside the 99 cents store with their fake ass wheelchairs begging for change and then threatening YOU CAUSE YOU DON'T WANT TO GIVE THEM SHYTE AND THE MANAGER THEIR WHO IS SUPPOSED TO PROTECT YOU REFUSES, call this hot line here: