I don't know WHAT department this lil nigga works for, but I just know he did it!
Just this past weekend, I was the victim of sexual harassment.
I was the victim of sexual harassment by this lil nigga right here: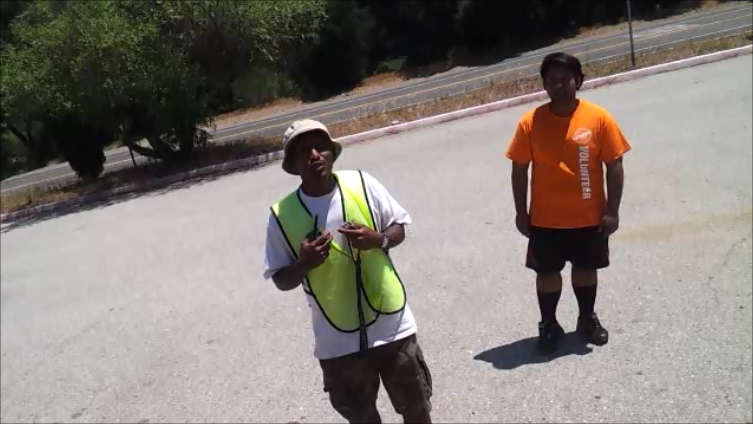 Now, before I get into details, I know I may sound "politically incorrect" but I don't care. I tell the truth as I see it. at the end of the day – as an African American womyn – I come across a lot more violence coming from black men then a little bit when you "reject" them, refuse their sexual advances which, the way in which they come at you – is tantamount to SEXUAL ASSAULT/ ATTEMPTED RAPE! They will get animlatistic on you in a NEW YORK SECOND if you refuse them, so THAT is why I come off as harsh as I do when dealing with them. They come from a culture in which they are taught NOT to have any respect for females: they are taught that simping – ie taking care of a womyn – is bad – but having a bunch of "bad bitchz" in your stable who you use and abuse for sex and put down for the privilege is the correct, defining point of "masculinity".  Their warped sense of "masculinity" – which is marred by them thinking that they have the right to beat up on a womyn if she rejects their advances – is exactly why alot of providers in the field of sex work aka as this womyn so eloquently here stated won't see them, this is why they lead the FBI stats in VIOLENT crime, especially violent crime against BLACK WOMYN, which is why I am thankful I am not attracted to them (I am attracted to white men, as I so told this mayate male who you will see in the video that, and notice how he bows his head down to booth, lol).
Anyways, this black bastard (yes, I use that word, I don't care) came up to me, started advancing towards me as I was walking up the steep incline towards the porta potty in malibu state park. What this negro mayate male said at around 0:39 in the video tape PISSED ME OFF, not shocked me (as I am used to hearing the rapist justifying mentality of many subhuman black males). In response to my saying, "I saw you all looking at my breasts, including the hispanic male who gave a "thumbs up" gesture before I took the left turn into the parking lot"), this negro mayate male subhuman says to me: "It seemed like you were expecting something" in response.
Frankly, I'm not shocked. I am not shocked by the subhuman mentality taken on by this subhuman creature when it comes to justifying rapist type acts and actions against other people, especially womyn which so often gets condoned in the so called "black community", but basically what he was trying to say is no different than a man justifying a rape of a womyn late at night by using her miniskirt – and the time in which she was walking out – to justify raping her.
See, what he got here is the rape mentality; the belief that whatever a womyn wears SIGNIFIES her sexual accessibility. So he presumed that because I was prancing around – topless – that that meant I was open to HIS black ass and that ain't true, ain't so!
Just because I wear little to next to nothing on top – or, in my case, pasties 😉 – does not MEAN we are doing it for the sexual satisfaction or titillation of the male viewer – no matter how you may objectify or sexualize my body in the view of your male gaze.
Now, I understand that it is unusual to see a topless womyn prancing around – I understand – but when you are advancing towards me, walking towards me, leering and ultimately trying to make a sexual move because I am topless, we got a problem and that is where the rapist mentality comes into play!
See, the rapist mentality is instituted upon the very belief that if a womyn wears scantily little to no clothing, she is deserving of rape and that is EXACTLY what this mayate male said here when he said, "It looked like you expected something…" when he ASSumed I wanted his negro ass (he got shut down when I told him I like WHITE BOYS, lol).
No, you CAN'T assume things about me just because of my choice of clothing, or little thereof! You can't ASSume that I sexually want you or that my damn near being nude indicates my sexual availability – just as the slavemasters ASSuumed that because black womyn were prancing around butt ass naked in the hot ass sun of Africa that they wanted "sex" too, in the form of rape – you can't assume that, just because I choose to walk around topless in damn near almost 100 degree (well, 86 degree) weather that that means I AM OPEN TO YOU; I AM NOT INTO YOU AND MY NUDITY, MY DAMN NEAR NUDITY IS NOT A SIGN OF SEXUAL AVAILABILITY! NOT EVEN ONCE! Don't get it twisted; if I am walking out in public damn near nude does not mean I WANT YOU (or your black ass for that matter); maybe it means that – it is hot outside, the weather is approx 100 degrees or that I just want anybody else but YOUR BLACK ASS; My nudity is not a sign, an indicator of my sexual availability or my accessibility TO YOU; just as you don't take a male traveler's or hiker's "toplessnes" for granted to mean that he deliberately wants sex, so should you not take my toplessness – or nudity – for granted to mean that I want sex or sexual advances as well, just as this gentleman here so pointed out: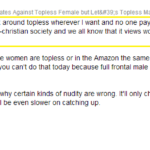 The problem is living in culture that instantly equates nudity – especially female nudity – with sex and sexual availability and openness to it, along with shame or any other whore virgin complex principle you can conjure up out of the counterfeit council of nicea version of the "Bible". Most importantly…
STOP MAKING ASSUMPTIONS THAT WHAT I DO WITH MY BODY IS BASED ON WHAT YOU – THE MALE VIEWER – WANTS FROM ME, WHETHER IT BE SEXUAL HARASSMENT, RAPE OR SEXUAL ADVANCES WITHOUT TAKING INTO ACCOUNT WHAT I AM DOING, WHY I AM DOING IT, OR WHAT I AM DOING IT FOR OR, IN THIS CASE, I AM DOING IT CAUSE IT IS FUCKING HOT SO I TOOK OFF "ALL MY CLOTHES" – HEE, HEE, AT LEAST MY TOP 😉