For years people been saying that mug got RAPED when he was a child (I won't him "mofo" out of respect cause of what he's endured).
I kinda believe he may not have been raped by Michael Jackson (who was on some weird MK Ultra, re-living his lost youth himself) given how vehemently he denied it (it coulda been a defense mechanism of denial to save what little he has of his sanity) but I sense he would still send behavioral cues giving SOMETHING AWAY! That said, look at his new video, "Bunny Ears":
The lyrics are FUCKED UP! He talks about "rape me" with SHIT ON THE WALLS behind a backdrop of child innocent imagery and props – such as rabbits!
Here are screenshots taken from the video.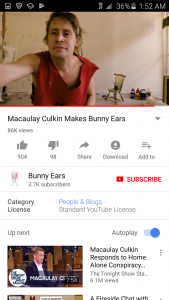 LOOK at how dark his eyes are, which indicates possible demonic possession. Also, look at all the excrement on the walls, indicating a fucked up childhood!
His blog trying to be "satrical", but we can SEE thru your shit (or is it schtick) bruh, your All Seeing Eye and all…
https://bunnyears.com/macaulay-culkin-bunny-ears-website/
That said, his video and OBSESSION with bunny ears reminds me of Alex Podesta's "art" which features pedophiliac subject matter relating to children and rabbits…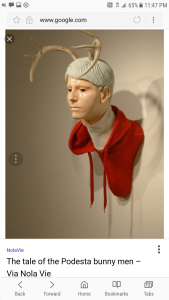 – Look at the black eyes in the doll. Note the disturbing statue of a hanging young man with antler horns – indicating that they do this to young people – hang them up like taxidermied animals – after KILLING THEM in mk ultra rituals!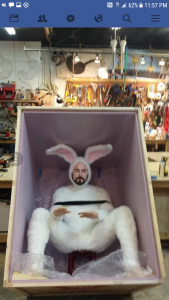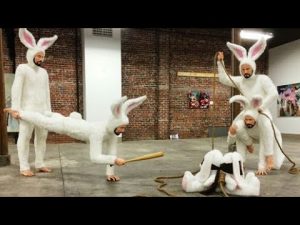 Here are similar themed programmed sexual rabbits being used in the Stone Temple Pilots vid, "Sour Girl" – my fav!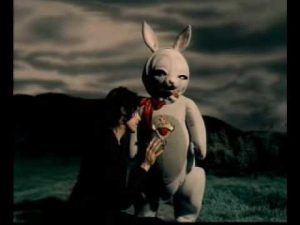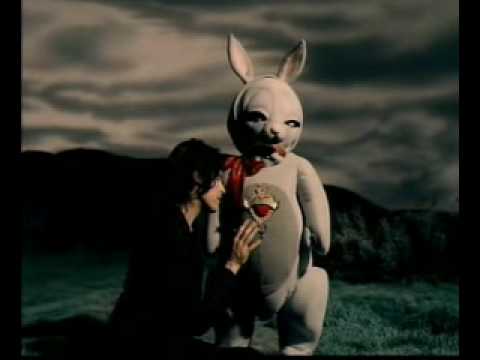 I talk more about the correlation between his "art" and mk ultra here:
https://toplessinla.org/2018/01/07/pizzagate-illuminati-rape-of-children-exposed-with-proof-in-pictures/
As can be evidenced by the Sour Girl Stone Temple Pilot's vid screenshot, rabbits are a common theme in MK Ultra programming used to feed children mental, subliminal cues in an effort to train ie BRAINWASH their minds via sexual sadistic torture to do whatever they want. The concept of rabbits being used in MK Ultra programming was taken from Louis Carroll's "Through the Looking Glass." Louis was himself said to be a pedophile as evidenced by the distant, 1000 yard trauma stare of the lil girl he is believed to have raped, Alice Liddell: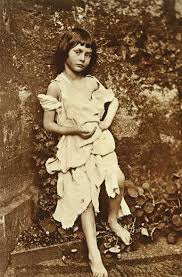 – She look mixed. She don't look likd jo English person…
THIS NEXT ONE IS REAL MAD CREEPY!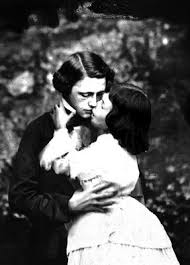 Here more creepy shyte: You can see here the lil girl scared of him, the way she hunkering down like she don't want him to kiss her in a defensive manner!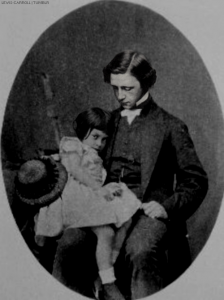 – This girl had a daddy; her dad was a professor or I think THE HEADMASTER for Oxford University in England! UNLESS HE WAS A PEDOPHILE loaning her out to this sick bastard – which I sense he did – WHY HE LET HIM TOUCH THAT CHILD MOLESTING ASS UGLY CREEPY MOFO (My third eye just palpitated!).
Here she is as an adult with that 1000 yard stare showing MAJOR LIFELONG DAMAGE AND TRAUMA FROM CHILDHOOD ABUSE: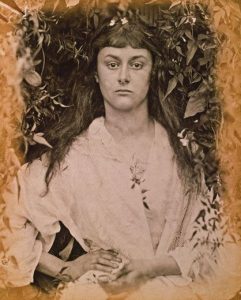 – Man, as an empath, I just looked at that picture AND I CAN FEEL THE HALLOWNESS, THE DEADNESS IN HER SOUL, IN HER, LIKE IT'S DONE LEFT HER BODY!
Here she is, as an old lady, finally smiling cause I guess she no longer had to put up with sexual harassment which I KNOW she faced when she was younger ON TOP OF THE ABUSE METED ON HER BY CARROLL: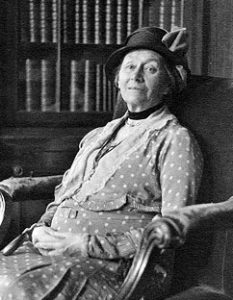 – Granny looking ALLL content. She like, "Dem dayz of niggaz touching me IS OVERRR!!!!" LOL
AND LOOKA THIS SICK MOFO IN THIS UK RAG (AKA FAKE NEWZ) JUSTIFYING THIS SHIT!!!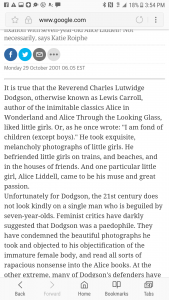 Now, here's how the whole Alice in Wonderland (the book was named after ya girl, Alice Liddell, who Louis molested up above) narrative with white rabbits work in MK Ultra abuse land:
Basically, it is used as a trigger word to indicate "follow a programming" according to discussions on MK Ultra programming. I don't feel like explaining it, so read here): https://thenarrowgateweb.com/2017/03/01/35-butterflies-and-rabbit-holes/
There was also said to be a house designed for child sex slaves in Manhattan Beach, CA which is connected to a child rape ring (I ain't calling that shit sex):
https://vultureofcritique.wordpress.com/2016/11/09/looks-like-podesta-is-linked-to-the-white-rabbit/
– Which you can read more about, up above!
– The rabbit hole runs deep… Mad deep!