LOOK AT THIS (IN MY MAG UGLY TRUTH VOICE) HIDING IN PLAIN SIGHT!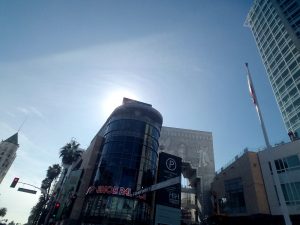 – THOSE are the ancient SUMERIAN GODS – along with other ancient deities – whom Hollywood makes sacrifices to, which includes Moloch, who you sacrifice KIDS to (See #pizzgate here for more info: https://wikileaks.org/podesta-emails/ and "Conspiracy of Silence" down below):
That said, the two gods in that mural is Ninurta – the eagle headed deity who is of an ancient interdimensional race known as the Carians who – along with the Lyrans, a cat like race – seeded our dimension with life, with the Carians begotting (creating) the reptilians and the Lyrans creating us! Here is a closeup:
Pic taken off a "cunieform" from ancient Sumer (Sumeria):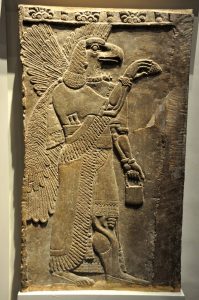 Pic taken at the Hollywood and Highland Mall: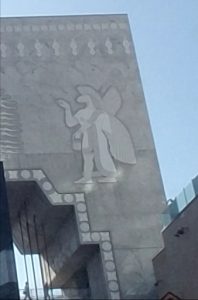 – Ninurta was worshipped as a WAR god and as a "wind god". Who else does that remind you of: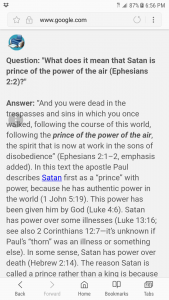 Also, PEEP THIS! LOOK AT THE WINGS!!! Who else does that remind you of…
PAZUZU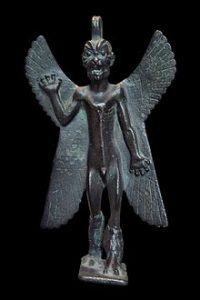 Pazuzu was the Mesoptomian God (I've seen him in the astral dreamscape and he kinda funny 🙂 who was a monotheistic god who was a "demon" with the head of a dog or a lion (MUCH LIKE THE CHRISTIAN/ISLAMIC GOD AS THE DEMIURGE IS ASSOCIATED WITH):
Here is a drawing: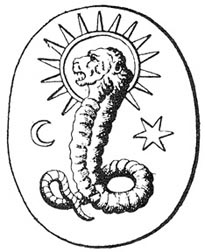 Here is an Egyptian coin depicting him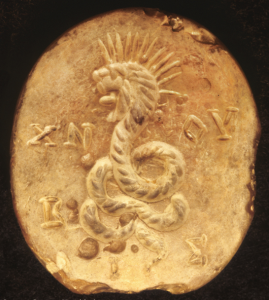 You can read more about the Demiurge here:
https://toplessinla.org/2017/05/29/god-is-satan-the-demiurge/
Now, to draw parallels between the HYPOchristian god, Pazuzu and ya boy, Ninurta (thought that was a pretty female name :-), aside from having the head of a lion – like god – he was also known as the chief of the demons whom you sought protection from other demons and he would provide it to you as long as you worship solely under him cause he a jealous god, as he says (trust me – I've seen him in the astral – I know!). The christian and islamic god said the same thing. He – Pazuzu, like Ninurta and satan – were all known as rulers, gods, princes and shit of the Air. See how they are all interrelated?
Here is more on Ninurta:
https://en.m.wikipedia.org/wiki/Ninurta
Now, peep the other person/dude/entity with the wings.
Taken from the Hellyweird and Highland Mall:
Ancient cuneiform depiction: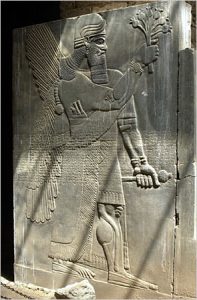 His name is Ashurnasirpal II (I had to copy that shit). He was a Sumerian ruler who did nothing but WORSHIP Ninurta.
I also peep they got a cuneiform depiction of a "sea roach" I guess to exemplify the dinosaurs (fossils) = REPTILIANS they worship or some other spiritual shit!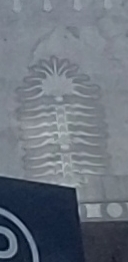 Let's talk about ancient Sumer. It's said, according to Zechariah Sitchin (look him up) that Sumer (hence the word "Summer" for the hottest season of the year, arid, etc. and I will explain the occult significance of that) was, like most civilizations of course founded by aliens – in this case the Annunaki! The Annunaki I sensed ranged from a diverse group of alien species – everything ranging fron giants to reptilians – just as was depicted in the movie, "Bright":

Here's evidence of giants from that civilization here (imagine that man who is seated standing up to get an idea of how big he is):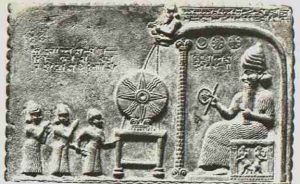 Now, that said, there was a war that occurred between Enlil (who in a way reps the christian god) and his half brother Enki (who is said to rep the christian "satan") cause Enki wanted to save the human species after Enlil ordered the destruction of his sister, Ninshurag's creation (humans were created in labs) – which is us after we via the "Tower of Babel" tried to become "too much like them". Also, there was a bit of a riff due to Enki – although being the first born, cause his mama was a concubine he could not claim the throne. Their daddy's Anu – the sky god. That said, and this is what I wanted to say earlier – this where it gets scary! SEE, in ancient Sumer, NO MATTER WHAT THE FUCK YOU DID, YOU ALLL WENT TO THE SAME PLACE – AN ARID PLACE CALLED KUR (WHICH SOUNDS ALOT LIKE THE ISLAMIC "KAF" – THE PLACE WHERE DJINN WERE BANISHED TO) WHICH WAS RULED BY AN DEITY NAMED ERESHKIGAL AND SOMETIMES HER FRIEND, NARGAL! That said, down there, it was said that ALL YOU CAN EAT IS SAND FOR THE REST OF ETERNITY! That's their consensus reality in the astral.
Here's anothr interesting factoid I found (READ THAT DESCRIPTION):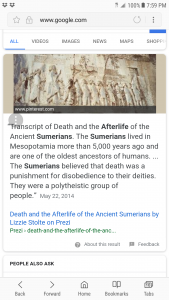 THE ANCIENT SUMERIANS BELIEVED THAT DEATH WAS A PUNISHMENT FROM THE GODS MEANING ON AVERAGE THOSE PEOPLE LIVED FOREVER THERE AS IF DEATH WAS AN UNUSUAL OCCURRENCE IN THEIR SOCIETY (MAN, I STAY FINDING GEMS!!!).
Anyways, what you are looking at is EXACTLY what I had been saying they worship at Bohemian Grove FOR YEARS! They don't worship no damn "satan" – satan is a bs conglomeration of REAL living gods (from my experience, after hearing "hissing" noises when I used to worship under THAT, I can't help but deduce that plenty of entities will take on his persona, ESP. reptilians since he is portrayed as a reptilian in THE BUY-BULL) AS I HAVE PROVEN UP ABOVE (BITS FOR HIS CHARACTER WERE TAKEN FROM PAZUZU, NINURTA, ETC.). Note C.I.A. creations like Isis which references an ancient Egyptian deity:
https://en.m.wikipedia.org/wiki/Isis
That said, it's their slick way of paying homage to em, giving that energy! Notice the statues are placed strategically in a mall with alot of people = energy.