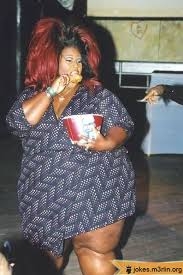 – This HONESTLY makes me wanna get some chicken!
I talked about how evil and cruel black women (Esp. DARK SKINNED BLACK WOMEN) can be in the past, here:
https://toplessinla.org/2017/07/21/black-women-are-inherently-evil/
– Hell, ALL MY REGULAR JOBS WERE LOST DUE TO BLACK BITCHES (OUT OF ENVY) WHICH IS WHY I CAN RELATE TO TOMMY SOTOMAYOR!!!
To be honest, when I did this; I'm starting to think that all the shit I got was the result of a psychic attack!
That said, I recall throughout the ENTIRE having other mofos talk shit like these two passing white fat BITCHES who said some shit about, "Why she here?" Ole passive aggressive asses and before then this GOOFY lil nigga at the bus stop with this light skinned lil equally goofy nigga said something to the effect of: "She goofy!" And I could tell by body language and whom he was looking at (me) he was DEFINITELY DIRECTING THAT SHIT AT ME (…AND I AIN'T NEVER SEEN THE NIGGA IN MY LIFE!).
That said, that whole fucking DAY was weird and just – off for me! That said, I'm talking about fat black bitches cause while being partially topless (I was wearing a blue windbreaker in the 99 cents store) THE ONLY MOFOS LOOKING – WITH ENVY – TOWARDS ME WERE FAT. BLACK BITCHES! NO ONE ELSE… Including this black BITCH from Belieze who passed by, playing "Driving Miss Daisy" FOR SOME OLE WHITE BITCH SHE TAKING CARE OF (REMINDS ME OF SLAVERY) WHO SAID, "SHE WANTED TO TALK TO ME ABOUT THAT!" I approached that bitch and told her, "She remind me of slavery days with that shit!"
Here the rest of the video:
Buy vid here [purchase_link id="29814″ text="Purchase" style="button" color="blue"]