Went thru some shyte the other day…
Let me touch them WITHOUT OUR PERMISSION AND WATCH THEM DEVILS GET UP IN ARMS!!!
I'm saying this cause – yesterday – a white BITCH was about to put her hands on my flourite (Who know where her dog paws been) and WHEN I BLOCKED HER, THE OTHER CRAKKKAS GOT AN ATTITUDE LIKE: "HOW DARE THIS NEGROE PRACTICES BODILY AUTONOMY!"
– These mofos STILL THINK THIS IS SLAVERY AND THAT WE ARE THEIR SLAVES = WE ARE THEIR PROPERTY TO DO WHATEVER THEY WANT and it's up to US to straighten them out…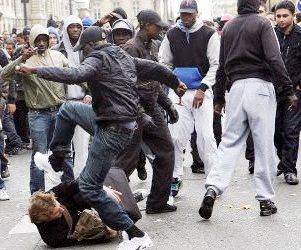 By laying them out if need be (I was about to catch a charge yesterday if that bish woulda went further…)
THEY DO THAT SHIT TO DEMONSTRATE CONTROL AND TO TEST AND SEE IF YOU ARE A GOOD NIGGER – Which I ain't!
That's why if you – esp. if you are a black man – were to do it to em, all hell would break LOOSE and they'd call the cops for assault!
That's why some years ago when I did a reality show they got PISSED cause I wouldn't talk to some white girl or more recently got pissed THAT MY BLACK ASS REJECT A HOMELESS WHITE BUM which you can read Here:
https://toplessinla.org/2016/10/06/white-punks-pissed-cause-i-am-not-a-bedwench-to-homeless-white-cluckerbeast/

THEY NEED AND WANT OUR ENERGY, HENCE WHY THEY CREATE SOCIETIES OF MISERY AND OPPRESSIOB AS BASED ON THEIR PRINCIPLES OF WHITE SUPREMACY!
That said, NEVER SLEEP ON THESE DEVILS!
The most EFFECTIVE way of dealing with them is like dealing with the walking dead, dead zombies: "Do not be fooled by their appearance. They may look nice but remember WHO YOU THINK YOU ARE DEALING WITH IS NOT IN ACTUALITY WHAT YOU ARE DEALING WITH!!! (Looks can be deceiving)."
Never sleep on them caveapes!