…or any other woman for that matter. That said, the pic up above (and video down below) are what I am referring to:
Buy vid here [purchase_link id="29168″ text="Purchase" style="button" color="blue"]
A couple of weeks ago I got sexually harassed by that driver you see in the featured pic up above as well as in the video, which is above as well. Basically, I was minding my own business when all of a sudden he made some comment, some gesture and next thing I knew it came from that truck. Now, I am not somebody with a flight response: I FIGHT! I attack to defend. However, I AM VERY cautious and strategic in how I do such things which I won't reveal too much here to the public. That said, I took video and the a SCREENSHOT from said video so as to preserve in hopes that the same nasty bastards that probably read this blog for "sexual titilation" CAN GET WHERE I AM COMING FROM!
Sexual harassment IS NOT MERELY LIMITED TO TOPLESS WOMEN, like for instance, a couple of years ago, this buffoonish, but rather very malignant individual (I get the sense that he has issues, severe ones with women and he is not above groping or raping a female in the "right" – but albeit, WRONG IN ANY CONTEXT MORALLY AND ETHICALLY – circumstances) who works for the Papa Johns' pizza store at 5962 West Olympic, Los Angeles, CA 90036 (323) 934-8484: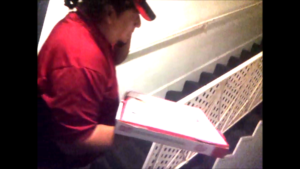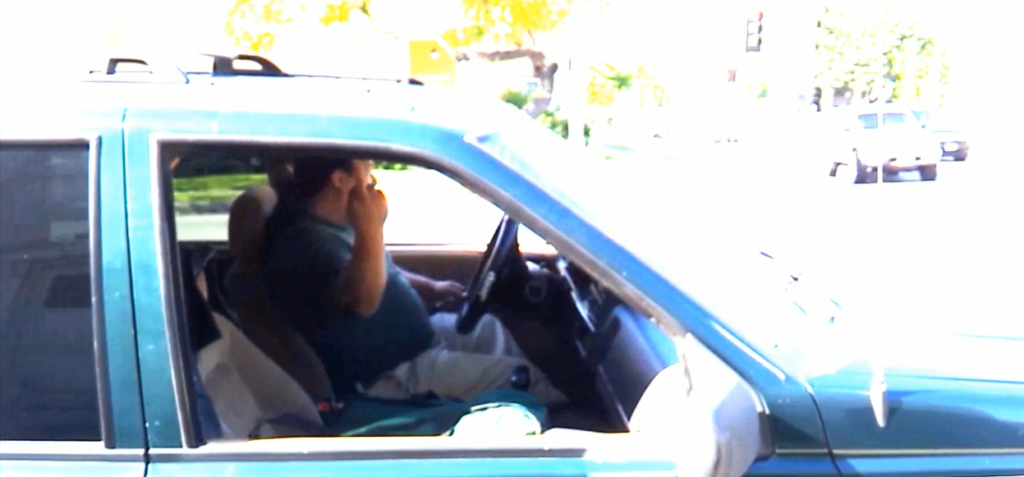 …sexually harassed me I was NOT ONLY NOT TOPLESS BUT YET FULLY FUCKING CLOTHED, which you can see here a couple of years ago:
Buy vid here [purchase_link id="29172″ text="Purchase" style="button" color="blue"]
That encounter started as a result of him making a very prurient gesture towards me which caused him to confront him cause I don't play that shit. That said, the above video is what ensured during the confrontation.
To this day, he still works for that Papa Johns as you can see below when he recently came into MY building:
In another instance, as you can see down below, I am fully clothed and next thing I know I get hollered at by an uber driver asking "If I was working?" I knew he meant and no and I told him I am not interested anyways and he exploded. I didn't get that on tape but I did get his car (his car is the gray one driving off):
That said, when topless, I am not someone who feels that the body, well, the breasts and other body parts that are NOT sexual organs such as the vagina or penis are sexual things. However, I feel you STILL have no right to touch someone SEXUALLY without the bearer's permission, especially when it concerns someone placing their tongue on your breasts and that includes a man's nipples (which, based on my 7 years of having worked in the sex industry, MANY men get off – erotically – on having their nipples SUCKED and I don't know why). Now, me personally, if someone puts hands on my breasts without my permission I'd slap or PUNCH your ass in the face for that as I came close to doing a while back to someone I merely thought may have passed and/ or touched that area with his hands and done that DELIBERATELY for pervy reasons (I DID confront, tho).. That said, considering how society is now, I would say keep the laws on the books regarding sexual assault with regards to groping of breasts, buttocks, etc. At the same time, however, I feel that the law – though it has good intentions – can contribute to sexualizing o reproductive sex organ body parts by making them a "forbidden fruit" of sorts which is the same effect that the "War on Drugs" have had on drugs: by basically illegalizing it you make it more "desirable." I also think it's funny, too, that as I stated earlier I find that many MEN get off on having THEIR NIPPLES SUCKED yet their bodies and esp. I think in addition I can understand WHY the law are on the books because we still live in a whore virgin complex having culture in which movies, tv, PORN, etc. contributes to the overall automatic sexualization of female bodies without our permission and so creates a rape culture in which men who have been PROGRAMMED to feel "stimulated" by them also feel entitled as well and so thus in effect creates a culture of violence against women for domination over the right to access to OUR BODIES! Thankfully, as society progresses and shifts and changes towards a more female congruent society where the divine feminine is finally and thankfully becoming more accepted we will see LESS sexualization of the female breasts and body and the lack of justification that has steered our society towards rape victim blame and the dehumanization of females as evidenced within the confines of our own western, catholic, patriarchal normative society, which, thankfully is dying out. That said, you have people in the topless "movement" who basically sees it as one big fucking orgy and sexualizes to the point of seeing it as full of "loose women with no morals" by conflating bare breasts WITH sex like this bastard here, Destin Gerek: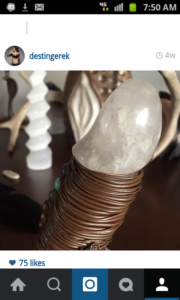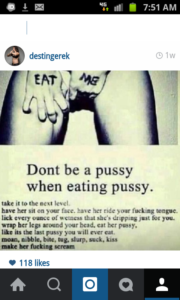 NOTICE HIS OBVIOUS OBSESSION WITH SEX….
Now, note here: Doesn't this here:
Remind you of this….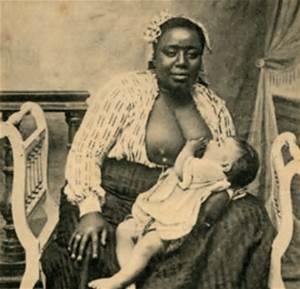 Or this…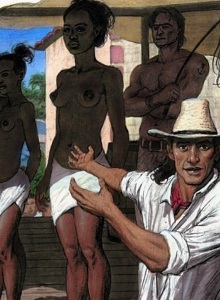 Or how about THAT: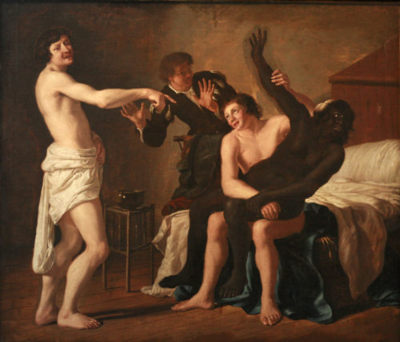 …THAT is why I keep to myself and stay away from the Raelian topless movement shyte at Venice Beach and all the other so-called "topless movements" which merely takes the European warped propensity to sexualize the human body and see this whole topless movement thing as one big "sexual freedom movement" (sickos)! All of that shit goes AGAINST WHAT I AM TRYING TO DO WHICH IS TO DESEXUALIZE THE BREASTS! That said, doesn't that remind you of the overt sexualization of black and other women of color's bodies simply because we have/ had our breasts exposed and out as our indigenous foremothers did in Africa as well as in North America (which is where Black Americans are native to) by sick, fucked up ass Europeans with a sick perception of the human body based on their judeo christian PATRIARCHAL culture (read "History of Dirt" to see how fucked up the lengths Europeans went through to avoid taking baths and showers causing they felt that exposing the human body is a "sin")? I will tell you something in the long run, tho. The fact is is that, having worked as a prostitute for 7 years (I am still in the midst of transitioning out), I can tell you WHY men act the way they do.
There is something called pussy power or as Alexyss K. Tylor put it, "Vagina Power!"

Women have it. Not too long ago, I saw a client who told me about the REAL TANTRIC ARTS (not the fucking oversexualized, really "watered down due to the SOULESSNESS of the Europeans perpetrating ass fucking "tantra") and he told me that the "Goddess Cali is in the vagina of every woman". Basically, WHAT HE SAID is that a man needs to enter a woman's vagina to "awaken his sixth sense." I don't know if I believe that shit or not (he is a practicing Hindu of East Indian descent). That said, IF TRUE, I think that configures PARTIALLY into why we have male entitlement running rampant in the western world and even in the Eastern and African world now, too, as a result of their interactions with white Europeans and their perverted AND overt sexualization and fetishization of the human body, ESP. the female human body. That said, I AM NOT JUSTIFYING RAPE but what I am saying is that there is a power in the pussy. I used to think that it was about control over women for their reproductive benefit. I still think that is one aspect of the male pursuit to dominant females and our bodies and another aspect I think is wanting to compete against women for attribution and control of the creation of life, hence why a male deity is attributed to for creating life while "goddesses" get condemned as witches and warlocks and WHY there is the WAR against abortion and the right to choose, etc with regards to a woman's body and what we decide to do with our own bodies. But I think what I stated earlier about the client saying that the Goddess Cali energy is in the vagina of every female may be another aspect in the war over OUR BODIES! I believe it is to control the soul of the Earth as women are the forebearers, the MOTHERS: we make the kids so we have CONTROL over life and death and with this whole male reptilian agenda thing going on (misogyny comes from them) there is a condemnation of the power of the feminine which you see perpetrated in the form of rape victim blame and attacking females, in particular in the vaginal cavity as you can read about here regarding female genital mutilation since that is where babies are birthed and come from: http://www.feminist.com/resources/artspeech/inter/fgm.htm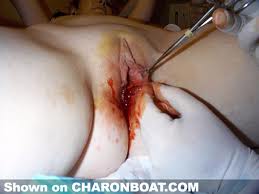 We can see this in our society in which women are called "sluts" for enjoying sex and then RAPED and have their slut status blamed since the weakling ass pos "male" feels that since she was easy and can easily get sex – something a hetero male CAN NOT – then how dare she passes him up or how a hooker is condemned for NOT easily making her body accessible to all men as I have seen and noted countless times in my occupation when black males attacked ME and other ladies cause I WILL NOT SEE THEM. Also note how women in the sex trade get ATTACKED by men who want a "free" woman, a woman they will simultaneously call a "slut" for making themselves "free" and available to em. Notice the sexualized and misogynistic labels placed on women's bodies based on HOW and what we use sex for: slut/ whore then you got the "whore/ virgin dichotomy" as well. When you think about it, it almost sounds like men in our patriarchal woman hating misogynist and racist, whore virgin complex society RESENT WOMEN AND WISH TO BE US and they feel we have so much more – access to the 6th sense at birth, control over having the children, etc. – that they ENVY THAT so they make it a "man's world" to easily control us, rape us and abuse us and TAKE AWAY OUR BIRTHRIGHTS BY TELLING US WE NEED TO BE MORE LIKE THEM TO SUCCEED IE VIOLENT AND PATRIARCHAL, UNEMPATHETIC AND UNCARING! It is all designed TO PUT US IN OUR PLACES and as many a woman on youtube who can attest to the comments we get when we talk of rape, or violence against women or any feminist issue (or just BEING female on youtube): the "males" "feel" as if they have to remind us everyday that they are dominant and will use violence conveyed via voices, such as street harassment or even physical to let us know that we are female and that they control this world and we are "beneath them" nevermind that we are THEIR MOTHERS, DAUGHTERS, the same very essential women who gave THEIR asses LIFE! Old school women will tell you to "stroke the male ego" and never piss men off even if it as the expense of YOUR OWN inner child asking for retribution for sexual harassment, sexual assault etc. because they have been so beaten down by a male misogynist patriarchal society that teaches YOU to worship the male ego in the form of a deity and so thus see man instead of rightfully THE WOMBAN AS GOD! That is why our patriarchal, misogynist society gives credit for creating life to a male deity as can be seen here:
But let a man actually get pregnant. As the great Gloria Steinem said, abortion would become a sacrament, lol, smdh!