The sense I get is that allll this push towards homosexuality, transgenderism, etc. is designed as a way to return us back to the days of Ancient Greece where these behaviors along with bestiality, pedophilia and ultimately – HUMAN SACRIFICE – were accepted. Here is why: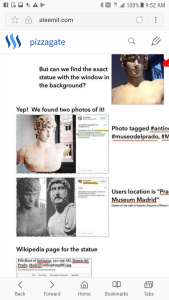 Okay, what made me write this is because while researching #pizzagate I discovered the story of Antinous who was by all intents and purposes a forced boy "lover" to Greek Emperor, Hadrian! To note, Hadrian later on had Antinous "SACRIFICED" AKA MURDERED WHICH IS THE ELITES OF TODAY'S ULTIMATE GOAL: LEGALIZE ALL THE SEXUAL PERVERSIONS: HOMOSEXUALITY, TRANSGENDERISM, BESTIALITY, PEDOPHILA TO MAKE WAY FOR WHAT WAS ULTIMATELY EMBRACED IN ANCIE T GREECE: HUMAN SACRIFICE! That said, Ancient Greece was known for these perverted behaviors: they're known for taking boys and young men up and in many cases FORCING them to dress and act like women and girls: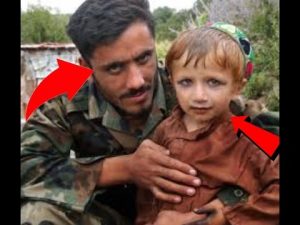 They doing that shit now in Afghanistan. Look at that pedophile in the above picture with that lil bitty boy all made up, dressed like the stereotypical perception of a "female" – it was once the domain of only whores in Middle Ages Europe to wear makeup – cuddling up to him, ready to rape that child!
Here another sick photoOP: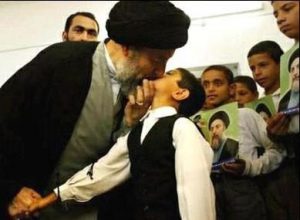 That said, the whole purpose I believe of the NWO is to get us to reject the Divine Feminine (what I mean by Divine Feminine is by using the feminine energy/ component in us to access the Spiritual Realm which is what really the Divine Feminine is all about) by first getting women to reject NOT the stereotypical "feminine" aspect created by mostly white (let's not lie) patriarchal, misogynist societies designed to oppress you – which was the purpose of the Salem Witch Trials and Grand Inquisition which were designed to PURGE us of the true Divine Feminine aka Spiritual aspects of ourselves since Divine Feminine merely means accessing the spiritual realm, the spiritual part of ourselves hence why ghost energy (yang energy) in Chinese Feng Shui is associated with the female. Naw – I'm not talking about stereotypical "femininity" such as being told you can't work on cars cause you female (I find my "women's intuition" – note intuition IS ASSOCIATED MORE SO WITH THE FEMALE MEANING WE/ OUR ENERGY IS THE TRUE CONDUIT TO THE SPIRIT WORLD – works VERY WELL with fixing cars and helping me figure out which parts go with what) or that you have to be demurred and wear makeup (which is part of the eradication of the True Divine Feminine in order to make us look more like trannies so thus they can replace us since you won't be able to tell the difference) but I mean Divine Feminine as in telling us to reject our energy. For instance, mostly women get put on these toxic ass drugs designed to suppress your emotions which are the keys to opening up your psychic powers such as manic depression (which they say leads to "schizophrenia" ie having psychic powers and seeing shit, anxiety disorders (ie feeling too much for our sick society to get), as well as birth control that suppress your natural cycles designed to open the True Divine Feminine = your psychic powers! Not only that, but we live in a sick perverse society that discourages women from opening up their true psychic potential by putting down the menstrual cycle and so thus menses (period blood) by telling you it's "dirty", this and that tho. I can tell you I harnessed the most psychic energy when I had it as well as from drinking it (hence why my skin stays so young). Meanwhile, in our psycho-patriarchal culture we are INcouraged to IMbibe men's "jizz", "cum", and "sperm" which has no spiritual value which you can hear mentioned in every rap(e) song today:
Meanwhile PERIOD BLOOD was used as an elixir of the Gods to maintain their Youth, their beauty (fountain of Youth). They even stole the concept of the Womb and our blood (BLOOD AFTER ALL GIVES LIFE) AND ATTRIBUTED OUR LIFE GIVING FORCE TO A MALE ENTITY: JESUS CHRIST, CALLING IT THE "EUCHARAST" AND BASICALLY SAYING – cannibalistically – "we partake in his body and blood." That said, women are discouraged from having hair – a true sign of feminine adulthood – and told to shave so that we can look like lil girls which along with being called "girls" – WHICH IS WHY I ALWAYS OPPOSED THE TERM BEING APPLIED TO ME CAUSE I AIN'T NO FUCKING CHILD AND NEITHER IS ANY OTHER WOMAN WHO FOUGHT TO GET TO ADULTHOOD) – are designed in part to deny true Divine Femininity in all it's forms and also push pedophilia as well (a double whammy)!
That said, that along with mass mind control in the form of mass religion (christianity, Islam), flouridated water, etc. are designed to keep you dumbed down and away from your fullest potential meaning opening up the Divine Feminine that is within all of us: both male and female.
That said, they are ALSO LOOKING TO LITERALLY REPLACE FEMALES WITH TRANNIES AND HOMOS JUST AS THEY DID DURING THE DAYS OF ANCIENT GREECE )OR AS IS CURRENTLY GOING ON IN AFGHANISTAN) WEAR WOMEN WERE TREATED AS "BROADMARES" IN WHICH WE WERE ONLY USED TO KEEP THE SPECIES GOING BY REPRODUCING WITH US AND THAT'S IT hence why The Roman Catholic Church – which came out of the same culture as ancient Greece complete with debauchery, misogyny, etc. – which is also used as a form of mind control as well push the "pro life" agenda while their elites rape lil boys as was done in Ancient Greece:
This is why you see all these "women" – REAL WOMEN DRESSING LIKE TRANNIES, WEARING HUGE AMOUNTS OF MAKEUP (WHICH DOESN'T MAKE YOU A FEMALE) JUST AS TRANNIES DO TO HIDE THEIR REEAL MASCULINE APPEARANCE, WHICH WAS IN A WAY EXPOSED AND ENCOURAGED BY THIS MOVIE THAT CAME OUT YEARS AGO:
That movie STRAIGHT (pun intended) EXPOSED IT, GOT THEM WEARING EXCESSIVE MAKEUP AND LOOKING LIKE DUDES IN DRESSES (TRANNY) AND ALL!
Another example: Here is a naturally pretty girl with all that excessive makeup:
vis a vis up against AN ABOMINATION (no matter how you cut it):
Can you tell the difference?
OR THIS MOFO HERE WHO SWEARS IT'S A "SHE" DESPITE HAVING BIG ASS MANLY HANDS AND A FOREHEAD – THREATENS TO BEAT UP REAL WOMEN – AND EVEN JUSTIFIED POLICE VIOLENCE AGAINST BLACK PEOPLE (THIS NIGGA GOT MULTIPLE PERSONALITIES AND ALL THEIR NAMES ARE "BECKY"):
Here's it's channel:
https://www.youtube.com/user/ancientegyptianmagic/videos
Here another…
Here how CLARENCE, OOPS, I MEAN TASMIA VASQUEZ USED TO LOOK BEFORE HE STARTED CATFISHING EVERYONE:
They got us thinking that being real women – no makeup, hairy, even HAVING A WOMB (hence why pregnancy is looked down upon hence why whites have low birth rates) and being pregnant (which many companies see as a liability) ARE DISCOURAGED IN OUR SOCIETY!
That said, here is another reason behind why they're pushing pedophilia, transgenderism: it's because they are a conduit towards PEDOPHILIA, the next big deviant act they are going to "complete" by legalizing. People have said that legalizing homosexuality then transgenderism will lead down a slippery slope. Now, I honestly don't give a fuck what people will do BUT I WILL EXPRESS MY OPINIONS AS I SEE FIT! That said, for the longest people have noted that homosexual pro rights groups have LONG HAD AFFILATIONS WITH PEDOPHILE GROUPS. Here is a proof positive example:
http://www.voiceofrevolution.com/2011/11/15/the-pedophile-elephant-in-the-gay-activist-closet/
They're starting…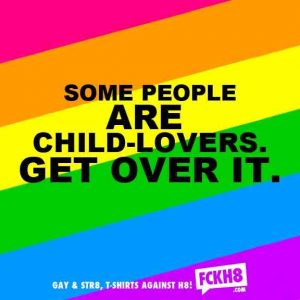 Wikipedia used to mention the link but now – interestingly tho. not surprisingly – they erased it but they hint at it sonewhat and I took a screenshot to confirm this and here's the link: https://en.m.wikipedia.org/wiki/North_American_Man/Boy_Love_Association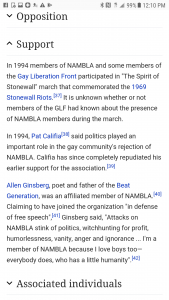 It states basically that they removed NAMBLA for political (read: political correctness) and not for personal, moral reasons so they won't look bad!
Here's one showing a direct link between the movements:
Below you will see screenshots of how Bill Andriette – who started working for NAMBLA at the age of 15 years old – is associated with BOTH GROUPS as he once was Art Director for Baltimore gay magazine "Outloud" and features editor for Boston based gay magazine, "The Guide." Note too despite working for these seemingly "small" publishers who I surmise were brought and paid for by George Soros (or even created by him) at the time all these types of people tend to have these big degrees coming from these even bigger ivy league schools! Makes you think they are pushing these people as per their think tanks to push certain agendas, etc. by paying them to push em! Well, here are the screenshots: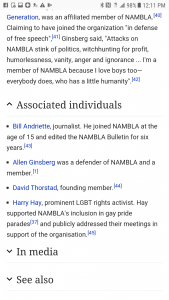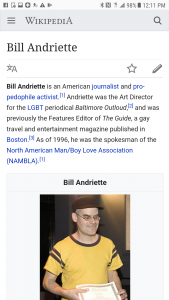 Here's another screenshot I took that is BLATANT in illustrating this slippery slope to say the least: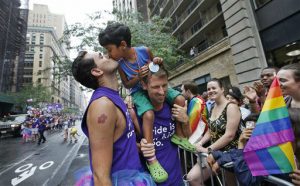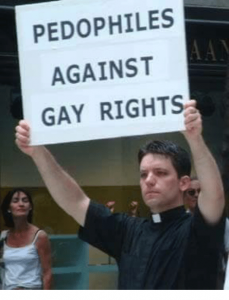 Now here is the video from one of my favorite channels – thescariestmovieever – revealing how transgenderism is now being used to push the next phase, pedophilia. This is a must watch!
(I posted it here cause so many channels on Youtube are getting shut down for showing it)!
Note hear how the lamestream media is already fattening us up to accept it with articles like this on in wikipedia calling NAMBLA an "advocacy" group (they also removed a part in the article directly associating them with mainstream gay "rights" movements):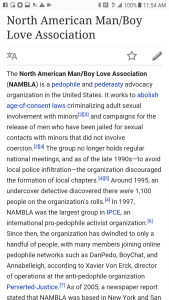 LISTEN to this lamestream media report on "The Most Dangerous Pedophile" which is designed to throw you off from what about to hear and note at 5:52 to 6:12:
Basically, they hinting at LEGALIZING IT!!! Here's another one:
In it basically you got a grown tranny flirting with a sexualized young boy tranny which blatantly shows the slippery slope we are headed to. Just like I am now starting to believe with #pizzagate so many years ago the Elites so called tested the waters to see if we will accept pedophilia by associating it with the burgeoning homosexual and trans rights movements just as we are now being tested to see our acceptance of human sacrifice which is what the ultimate goal is leading to and in which the long time showing of violence (but not sex) has been leading us to:
http://www.aafp.org/about/policies/all/violence-media.html
RichieFromBoston was the first to point out the direct correlation between #pizzagate and it possibly being used as a "feeler" to test the waters to see how "accepting" we will be of human sacrifice:
LOOK AT BY "WORD COUNT" THE NUMBER SEQUENCE THAT I GOT (AND WHAT KEPT ME FROM POSTING THIS):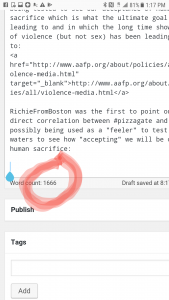 Don't get me wrong, I think more than likely John Podesta was the voice in that video which you can see here:
Buy vid here [purchase_link id="29353″ text="Purchase" style="button" color="blue"]
That said, when you look at Bohemian Grove NOTE the Ancient Roman, Greek, Babylonian statues that they worship.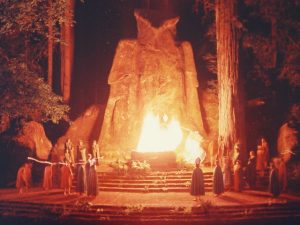 Interestingly, I've seen this "bug" they call P.J. (don't know what it means) on the Bohemian Grove pamphlet in the astral realm with my own two eyes: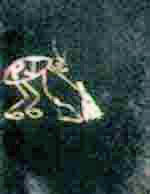 I personally hate when people say they worship "Lucifer" when Lucifer is more a christian thing and the deities they worship are MUCH OLDER, MORE ANCIENT (PLUS, THEY DON'T FUCK WITH THE SHIT THEY FEED THE MASSES AKA HYPO-CHRISTIANITY) PLUS LUCIFER IS A FALLEN ANGEL, THE "LIGHT BRINGER" AS QUETZALCOATL IS KNOWN AS:
https://en.m.wikipedia.org/wiki/Quetzalcoatl
You can see a screenshot calling him the God of Light, Justice and Peace here: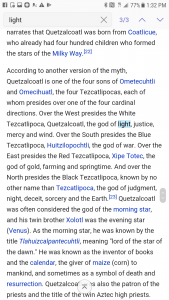 – That's why they don't worship Lucifer or Ra (who is similar to Quetzalcoatl) cause they are akin to Jesus WHOSE GOOD BUT THEY DO WORSHIP EVIL DEITIES LIKE SET AND MOLOCH WHO HAS HORNS and like so many other deities like Minerva of ancient Greece is associated with the owl in which the owl in turn is associated with magic AND IS THE "god" YOU SACRIFICE KIDS TO: https://en.m.wikipedia.org/wiki/MolochI also wrote a blog article on it here:
https://toplessinla.org/2017/07/10/the-illuminati-does-not-worship-lucifer-satan-they-worship-moloch/
THAT SAID THE ANCIENT GREEK, ROMAN AND BABYLONIAN DEITIES ARE THE MAIN ONES YOU DO RITUAL SACRIFICES TO and I believe they are doing this so they can openly sacrifice us to the Alien Gods they worship without fear of having to hide it or the Alien Gods whom they are paying these deadly homages to as well as no longer having to hide themselves since some of them are either hybrid "Star Gods" of the Annunaki or full on straight up "Alien Gods" themselves: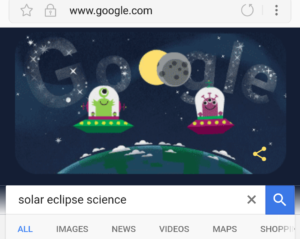 Google Doodle letting you know what's up!
Here's a vid exposing how the Queen of England – a reptilian – kidnapped and ate Canadian aboriginal kids from an abusive boarding school as told by an eyewitness named William Coombes who died not to far off from exposing (even stranger I could barely find videos now on this with his interview whereas years ago I could find beaucoup): https://inpursuitofhappiness.wordpress.com/2011/03/13/the-queen-and-missing-kids/

Strangely, down below, for such a "fake" video, Google's sure been covering up the video and story of a young man witnessed escaping from Buckingham Palace – naked (real fake news ass lamestream media):
HERE'S THE SMOKING GUN (dead body turns up on Buckingham Palace of young woman):
http://abcnews.go.com/International/body-found-queens-estate-highly-died-natural-accident/story?id=15281474
I screenshot the story in case they remove it: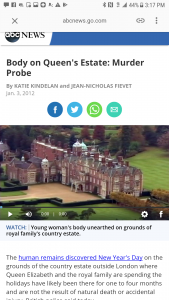 I also have a belief – going back to Ra (Horus), Quetzalcoatl, Lucifer and Jesus Christ being good deities – that the Roman Catholic Church is the true seat of the "devil" as you call it or rather more accurately Ancient Egyptian Deity Set who was opposed to GOOD (he personified evil) and is opposed to the TRUE CHRIST – THE TRUE MESSIAH SEED – who will free people of this evil one world rule who is what the Roman Catholic Church and other evil christian "authorties" will call The Antichrist who will be an iconoclast ie someone who goes up against this One World System, a concept talked about in the HBO series, "The Young Pope": https://en.m.wikipedia.org/wiki/The_Young_Pope
iframe width="560″ height="315″ src="https://www.youtube.com/embed/6we2blItR4s" frameborder="0″ allowfullscreen>
They say Jesus Christ = Ra, Quetzalcoatl, Lucifer – is coming back with a sword: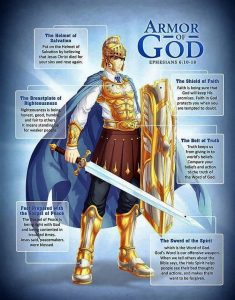 (Now that I think about it I had a dream in which the Knights Templars came to me and placed me on a blanket that was sky blue with clouds and called it "the blanket of God." – just writing what I wrote before triggered it.)
Max Speiers, a milab super soldier, UFO researcher and conspiracy REAList who was murdered, explained the concept further of how when you see "celebs = see-lebs (as in "p/lebs") doing the 1 eye hand gesture, it is their way of mocking Ra as Ra lost his eye in a battle with Set before coming out victorious and since the celebs all worship Set and other evil deities, they mock Ra = Good by making fun of his one eye with the symbol AND THEN harnessing the energetic power as gained from exploiting the symbol of his one eye.
Here is Max Speiers talking about it:
Here are sick ass See-lebs exploiting it:
Here is the Eye of Ra (also known as the Eye of Wadjet):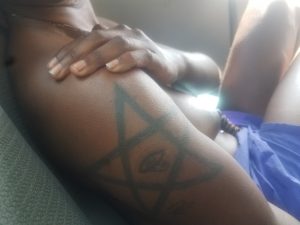 Here's a better pic: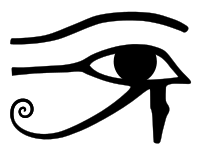 That said, there are alot of deceptions in this world. Alot of people don't know this but Christmas was based on Saturnalia – a WEEK in Ancient Rome where you could murder, rape, pillage and steal – just like in that film, "The Purge":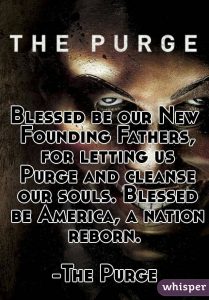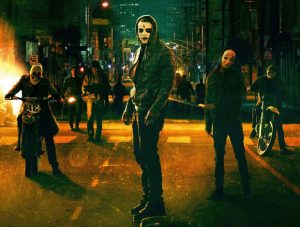 They're getting us ready!