******JUST NOW******
Another undercover cop car with FUCKED UP ASS MULTI LIGHTS just rolled up on me, which you can see – and watch – here:
Buy all 8 vids here
JUST RIGHT AFTER I PUBLISHED THIS ARTICLE!!!
I know the title sounds funny but it's true!
Just this weekend, I saw this nigga who ALWAYS seems to be ashamed – FAKE AFRAID EVEN (I think he gets off on it) to see me topless, SLOWLY FUCKING MEANDERING PAST ME IN AN EFFORT TO GET A BETTER LOOK (Prob. even fucking film his own damn self) AT MY BREASTS aka "patrol."
Buy all
Anyways, the mofo drove back again which you can see here THEN STOPPED – strangely – in the middle of the intersection:
HE WAS THE SAME ONE WHO SAID, "GLAD TO SEE YOU WITH YOUR TOP ON" down below. I seriously think he says that SO I WILL TAKE OFF MY SHIRT AND SO HE CAN SEE MY HERSHEY'S KISSES!
Buy vid here
Look at this nigga's facial expression and tell me I ain't lying: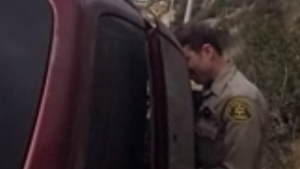 It almost kinda looks like the nigga was on the slick peeking in my direction:
Nigga got a smirk on his face, he know he getting off on that shit and he says that dumb shit knowing I'll do the opposite!
That said, all last week esp. I've been getting harassed by Los Angeles Sheriffs. In one instance I had one who I believe to be Deputy Garcia yell at me to, "GET OUT!", LIKE THE FILM (LOL), and Deputy Thieme stare me down with thise evil blue eyes (FUCKING BLUE EYED DEVIL), and one, I think his name is Millegas like the name on this be ticket here: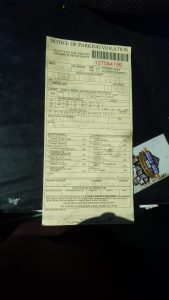 Yelled from his loudspeaker, "NO PARKING FROM 12PM TO 5AM." Then said, "No magic" in reference to me cause I practice shamanism and once did withcraft. I even heard the bikers saying shit like one said, "Go home!" and some ole WHITE BITCH yelled, "Lock her up," (punks do it when they think I am asleep) and early this morning one said, "Witch!" loudcapping me and another said "tiddays" – lol – etc. etc.
Here some more examples of LA Sheriff harassment I witnessed throughout my stay (Now I am starting to look like them crazy gangstalking people you be seeing youtube, hiding from red cars and shit, lol):
This nugga in the intersection after passing me by…
This nigga here was staring DEAD AT ME with one of them fruity-fruit power drinks in his hand (ain't that illegal):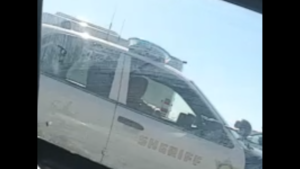 Here sheriffs FUCKING WITH ME AGAIN, this time bringing the LAPD via one of their helicopters along (more on that later):
Buy both vids here
Here, they are (as I was gonna mention above), SENDING OTHER PEOPLE TO DO THEIR BS WORK:
SENDING PARKING AUTHORITY, HERE:
Buy vid here
LAPD HELICOPTERS, HERE (I remember when I was working on the Mitrice Richardson thing YEARS AGO they sent an LAPD BLACK AND WHITE MOTORBIKE COP WAYYY IN THE THICK OF MALIBU TO PULL ME OVER CAUSE THEIR COWARDLY ASSES DIDN'T WANNA DEAL WITH ME):
Here they sending Coast Guard (Howard Lukens NOTICED THE SAME EXACT THING BEING DONE TO HIM):
Buy vid here
Here Howard Lukens talking about THE SAME EXACT THING:
They even brought one of their BROKEN DOWN ASS, ONE LIGHT WORKING (Shit they out here in Malibu with BROKE ASS UNDERCOVER VEHICLES?) ASS GREY TRUCK – with only one light working (LOL, AIN'T THAT AGAINST THE LAW) WHEN I PARKED IN A NEW AREA which you can see here:
And here them lightening up the vehicle and there you can see only ONE TAIL LIGHT WORKING (I guess CHP 'll fix it):
Buy all 3 vids here
They even got the fucking YOGI BEAR, FOREST RANGERS after my ass:
Buy vid here
Here more examples of selective enforcement against me:
Buy vid here
Buy vids here
The first one above was taken not too long after they committed selective enforcement against me, which you can read here:
http://toplessinla.org/2018/02/13/proof-of-lost-hills-sheriffs-pulling-selective-bias-last-night/
And, NOTICE, they ain't fucking with that food truck which is supposed to be there for 1 HOUR but is usually there UP UNTIL 12am:
Buy vid here
I'm done!