LOOK at this weird shit that happened when uploading a small vid to youtube (it says "private" as indicated by the locker icon but when you click it on it says, "PUBLIC" as indicated by the "world/globe" icon):
SHOWING IT'S "PRIVATE" AFTER LISTING IT: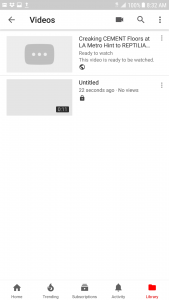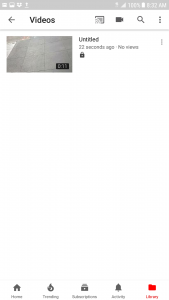 HERE IT IS SHOWING THAT IT'S PUBLIC WHEN YOU CLICK IT: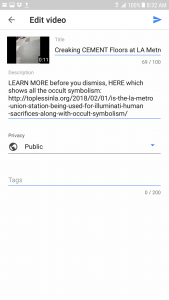 * NOTE THE TIMESTAMPS BEFORE YOU DISMISS WHAT I SAY!!!!
HERE THE SMOKING GUN: YOU CAN HEAR "CREAKING" NOISES AS I WALK ON THE SEEMINGLY STABLE CEMENT TILE AT THE LA UNION METRO TRAIN STATION!
Buy all three vids here
[purchase_link id="30733″ text="Purchase" style="button" color="blue"]
Why is that??? Makes me think there is an underground tunnel like under the airport in Denver where they carry kids for murder and rape and for ritual sacrifice purposes just as they did in pizzagate like in Tony Podesta's home which you can read about here: https://www.sott.net/article/335512-Pizzagate-Podesta-pedo-perps-and-Clintons-international-child-sex-trafficking-ring-exposed
You can Washington POLITRICKian elite John Podesta TORTURING a kid (presumably at Comet Ping Pong) HERE:
Buy vid here [purchase_link id="29353″ text="Purchase" style="button" color="blue"]
It's also well known that there is one under the Getty Museum in L.A. where 100,000 kids are HELD for ritual torture and sacrifice:
http://sananda.website/pedogate-getty-museum-home-of-the-cabals-underground-city-of-child-sex-slaves-threatened-by-fire-december-8th-2017/
– There's ALOT of weird energy there – hell, all throughout L.A. I recall while walkinv through there after seeing these things (this is after filming and taking pics of what I saw during the time I was coming into knowledge of Self aka "inner-standing" a reporter looking dude with glasses looked at me and kinda spat in my direction which wasn't the first time that happened AND IT WAS OUT THE BLUE!).
NOW I want you to look at the symbolism I FOUND inside the L.A. Metro system…
AFTER coming out of jail (it's funny the guards while in jail kept saying, "Don't I know you?" and "Weren't you a copwatcher?" And "You a celebrity!!" AS IF THEY WERE NEW TO THAT – something that I don't do which makes me wonder WHY NOW are they saying that since I've been to jail numerous times and they never brough it up) I noticed this…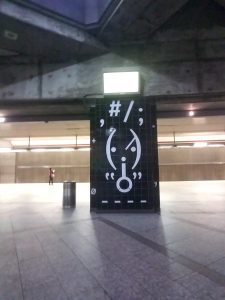 These faces of shadow people here…
This creepy ass face right here (I feel like their's a spirit in there…)
I feel like this supposed to symbolise something, something to do with the baphomet:
And this I don't know what the fuck it is weird shit, here: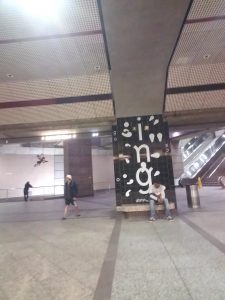 I talk about it more, here:
LOOK AT THIS WEIRD SHIT RIGHT HERE!!! NOTE how it says the time is January 31, 2018 (which is correct) YET it says this was last edited on FEBRUARY *I SWEAR I DO NOT REMEMBER FEBURARY BEING SPELLED WITH AN "R" NEXT TO THE "U" AS IN FEBRUARY – that's some Mandela Effects shit there!* 1 2018 which you can see down below in both the unmarked and marked forms so you KNOW I ain't lying):
UNCIRCLED: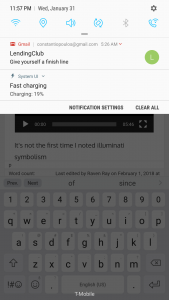 CIRCLED VERSION:
It's not the first time I noted illuminati symbolism. I recall seeing something similar back in 2017:
Here they are showing SATURN (of all the planets why they choosing this one? Think about it!) which represents SATAN and goes back to ancient Saturn worship such as Saturnalia in ancient Rome which was a lawless one week "holiday" where you can rape, steal and murder just like the film, "The Purge":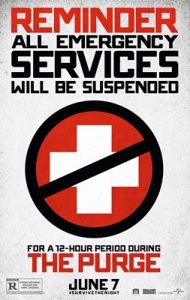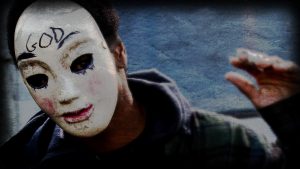 – THEY'RE TRYING TO TELL YOU SOMETHING WITH THAT MASK WITH "GOD" TATTOOED ON IT!
Here is more info on Saturnalia:
https://www.simpletoremember.com/vitals/Christmas_TheRealStory.htm
https://www.sefaria.org/sheets/51928
Here is more info correlating Saturn worship with Satan:
https://theoutline.com/post/2382/the-sadness-of-saturn?zd=1
EVEN THIS WIKIPEDIA ARTICLE HERE BREAKS DOWN WHAT SATURN REPRESENTS, BEST (look undr organizations and "Fraternitas Saturni" in said article): https://en.m.wikipedia.org/wiki/Luciferianism
I TOOK SCREENSHOTS OF THE PARTICULAR PART OF THE ARTICLE IN CASE WIKIPEDIA TAKES IT DOWN: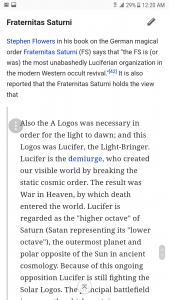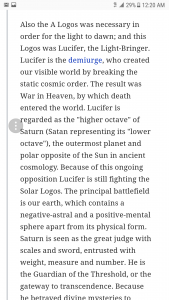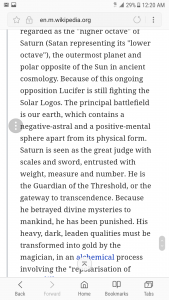 NOTE the BLACK AND WHITE (MEANING DEMIURGE DUALITY) HYPNOTIC EYE (USED FOR MIND CONTROL), THE VOODOO MASK IN THE MIDDLE, AND THE NUMBER 2 (AS A FORMER SATANIST, THAT IS ALSO A NUMBER USED TO REPRESENT THE DEVIL AND ALSO IN NUMEROLOGY "22" MEANS MASTER BUILDER: https://www.numerology.com/number-22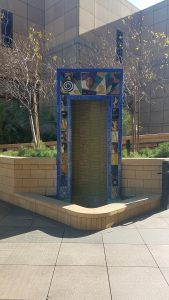 Also, look at the use of astrological symbols which DEFINITELY shows an occult bent with these people (they are used to help summon things as per rituals):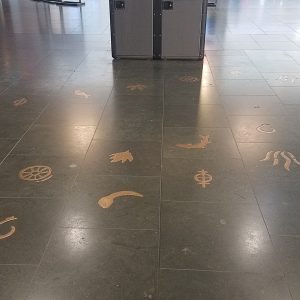 Now, LET ME BREAK DOWN THE SYMBOLISM of some of the other symbols they got down there!
THIS is Elegua, the santeria orisha: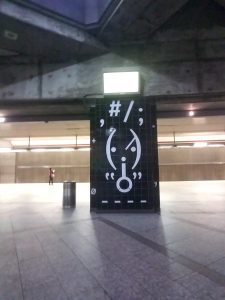 Wanna know how I know? Look at this:
It's an evil, demonic mofo used in santeria practices. Here is more info, here:
http://santeriachurch.org/the-orishas/eleggua/
That said, THIS right here represents the shadow people, the true leaders of the archons and affiliate of god, the demiurge whom they work closest with:
I've seen them – along with reptilians, crocodilians, dragons and some humans – wearing hooded robes (emphasis on that) that ranged from red, brown, yellow (don't know what that symbolizes) and black – walking from apartmemt builing to apartment building on museum/media row (which coincidentally ain't that far from media cos like TMZ, etc.), seemingly "discussing" something which I kinda sensed had something to do with certain people (my hands and fingers are suddenly – and strangely – hurting as I write this – NOW MY BACK ALL OF A SUDDEN STARTED HURTING AND NOW I FEEL WHOOZY, DITZY!!!).
The shadow people figure IMMENSELY in UFO studies which you can read about, here (I was told they got my baby brother whom I believe THEY killed trapped and possibly even eaten on the other side, smdh):
https://www.dailystar.co.uk/news/latest-news/586316/Alien-UFO-Life-on-Mars-CIA-Psychics-Declassified-Files-Stargate-Project-Shadow-People
There are also very powerful entities (I heard from psychics that they represent "gods" like the god of islam and christianity cause you can't see their faces) that are robed but wear EXECUTIONER LIKE HATS like THIS: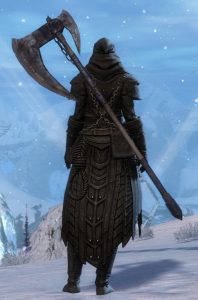 Now, it is said that they represent "Darkness" which is what the "devil" figure in Legend was interestingly enough, called:
This article REVEALS how these shadow people are AT THE TOP OF THE ARCHON HIERARCHY (I've seen them take on the form of people – saying they were once like us – in the astral, riding a Ford Bronco one time in the astral so I can see them) and how they control the archon energy harvesters like Ra as it states here:
http://evelorgen.com/wp/articles/military-abduction-milabs-and-reptilians/horus-ra/
As for the "XO" here I feel in some way, on the slick, it's used to represent the Baphomet (Male as "o" and female as "x", rebirthing into evil as well perhaps?):
The whole thing kinda reminds me of the film, "The Midnight Meat Train" where people were MURDERED in the subways like in the film and fed to reptilian like entities:
L.A. HAS A HUUGE REPTILIAN POPULATION. Just read this about an underground city filled with reptilians found – you guessed it – UNDERNEATH DOWNTOWN L.A. OF ALL PLACES (WHICH IS RIGHT WHERE THE CREAKING CEMENT BOARDS ARE):
http://www.metatech.org/wp/reptilians/underground-city-reptilians-aliens-los-angeles/
And here:
http://cryptozoologynews.com/los-angeles-judge-turned-reptilian-humanoid-says-man/
– Wouldn't be surprised if the judge I had was a FUCKING REPTILIAN! THEY PROB. ALL ARE!
That's why they eat babies and shit like this pizzagate wikileaks email exchanged between California Attorney General Kamala Harris' sister, Maya "Lakshimi" Harris, indicates: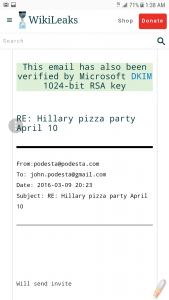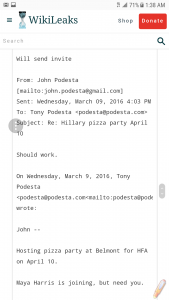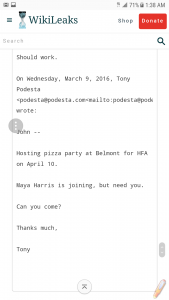 – Interestingly, her middle name is Lakshimi like the Hindu goddess = occult, archon symbolism!
LOOK AT KAMALA WITH A LITTLE GIRL: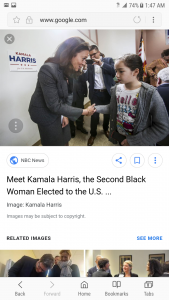 "pizza" according to pizzagate codewords refers to RAPING LITTLE GIRLS, btw, more of which can be read here:
I wouldn't be surprised like as shown in the film "Midnight Meat Train" WHERE PEOPLE RIDING A SUBWAY (NOTICE THE CORRELATION BETWEEN THAT AND THIS ARTICLE) ARE BEING FED TO REPTILIANS IF SOMETHING SIMILAR IS HAPPENING UNDERNEATH L.A., HENCE THE CREAKY, CEMENT FLOORS AND OCCULT SYMBOLISM!
There is ALOT of symbolism down there that can be broken down but this reveals how the illuminati basically uses sigils to influence the dumbed down populace (two reptilian young men who worked for the station shook their heads cause of what I was revealing. I EVEN HEARD THIS FAT, SPIC AND SPAN ASSHOLE TRY TO CALL THE COPS ON ME FOR "FILMING", fucking fat, taco tico eating reptilian mofo). That said, there is alot of weird shit going on and the creaky ass concrete cement tiles cement my suspicions enough for me!