LOL!!! THESE MOFOS STAY ON SUM BS!!! LOL!!!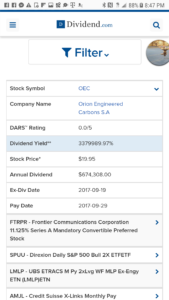 Here's me talking shit about the stock's inflated price:
Buy vid here [purchase_link id="29476″ text="Purchase" style="button" color="blue"]
And looka this one here (this the stock that started it all for me):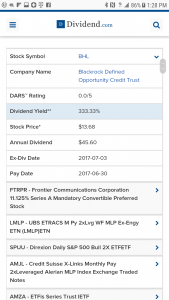 Now I see they done changed it: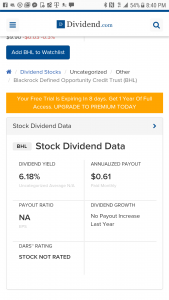 You can see the stock here: http://www.dividend.com/dividend-stocks/uncategorized/other/bhl-blackrock-defined-opportunity-credit-trust/
Here's the video in which I erroneously praised the BHL stock, not knowing any better:
Buy vid here [purchase_link id="29480″ text="Purchase" style="button" color="blue"]
This all started cause I was looking for a stock that paid triple digit dividends (when I saw that wasn't happening – not even with the "aristocratic" stocks that charge ya $125 fucking dollars per share yet pay your azz -$0.0000000345 cent dividends per share) I decided to settle on "more modest" YET STILL FUCKING UNREALISTIC DOUBLE DIGIT (not "yield") dividends (I found a few at $11 annualized dividend payouts but they're like at $29 (to buy) per share, etc.) so happened upon the "miracle" you see above and – DESPITE BOTH COMMON SENSE (after seeing their actual dividend per share rate on NASDAQ.com) AND MY FUCKING INTUITION, I purchased the stock at $13 (AND MY INTUITION/SPIRIT GUIDES TOLD ME TO "WAIT A FUCKING DAY" AND EVEN WENT AS FAR TO OBSTRUCT A POTENTIAL TRADE) then only to find THE PRICE DROPPED – DRAMATICALLY – TO $9 PER SHARE (it seems BHL been on the decline and going down and down in terms of price, progressively!). Not only that – common sense AND intuition – WARNED ME THAT THE DIVIDEND PAYOUT WAS NOT THE HIGH AND I WAS STUCK WITH A LOG (it's a mere .061 cents PER YEAR, NO MONEY) so now (and this time while listening to my spirit guides) I am gonna wait and determine what my strategy will be next time for a more successful – and beneficial trade.
Now, DIVIDEND.COM, WHAT IS UP WITH THESE OVERINFLATED STOCKS (it seemed only after my video on BHL which you can see down below went up did you alter the dividend rate)???
Are people PAYING YOU to inflate that shit to increase investor interest (I kinda doubt it) or is it a stupid, dumb error on your end?
Let me tell you all about OEC stock! That $153 bazillion dividend payout number may be true but HERE IS WHY:

* NIX THE NEXT SHIT I SAID ABOUT OEC STOCK CAUSE I COULD NOT FIND THAT ARTICLE SAYING THAT AS IF SOME MANDELA EFFECT SHIT CAUSED THE ARTICLE TO "DISAPPEAR" JUST AS SOME OTHER INCIDENTS THAT HAPPENED TO ME IN THE PAST SUCH AS THIS HERE: https://toplessinla.org/2015/08/10/alien-federations-ascended-masters-video-change-in-music-proof-of-time-rift/
THEM MOFOS AIN'T PAID THEIR STOCKHOLDERS OUT SINCE 2007. As a result, the dividends accumulated and accumulates until you got that monstrous ass beast of a dividend payout you saw above, well, here it is again: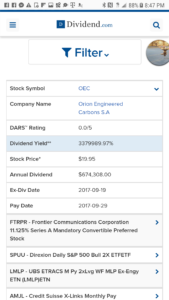 That's said – unless your azz was with em – that company, Orion Engineered Carbons S.A. (OEC) since 2007, you ain't seeing that payout!
Anyways, to dividend.com, you all gotta stop pulling that bs and start accurately depicting the truth about these stocks. It's kinda like when a tranagenders doesn't reveal who they are until it comes time to take off that dress (in you all's cases thank goodness we got google to check on the stocks cause with trannies you can't easily do that lest you look at the hands but then if they've been taking hormones since they were boys they can REALLY throw you off)…
Anywayz…
Stop deceiving people. You all had me hyped up on that stock – even going against common sense – until I saw the real dividend payout and then you all FINALLT UPDATED IT!! You all get people's hopes wayyyy too high much like the analogy of the tranny in the dress until it's too late and the truth gets uncovered in an inconvenient way that can get ya killed out "in dese skreets" of Wall Street, lol!