LOL @ the featured thumbnail images…. Lady look like a straight Karen at the end ??
The thing I miss about myself before I fully healed was that my energy was such that people would run from me and be repelled by me and I could put out an energy which would alone run mofos away…..
The new energy I am putting out now…. I can't stand it! I want that hellfire to come back ???? Problem is that energy was gonna consume me. I had to let it out before I hurt someone or I get into a bad situation but, to be honest, that fire – it's complicated to break down – was like a safety blanket, a gate that kept intruders who wanted to harm me, OUT! It kept malicious people OUT! It allowed me to steal energy from energy vampires who wanted to steal from me.
Though my light shines brighter now (the reason why I was so miserable before is because I was absorbing people's shit – I sensed an entity was making me do it – their subliminal energies) and I gotta learn how to navigate this new energy and to be sensitive to people (for my own protection so I can continue to be an empath and sense folks motives) without "letting them into me"…..
Now, this here was taken before the healing progressed, last weekend to be exact. I overheard a homeless mofo wearing a MAGA hat (Imma be getting two myself) talking shit about me, saying, "She think she the antichrist" after saying he didn't like seeing my being topless – him and some fake homeless scaming couple from Alaska with that fake ass sign – last weekend:
Here their fake ass sign:
With that said – okay – I walk around with the border patrol tee shirt, proudly: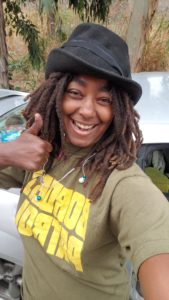 I let these wetbacks know how I feel about them, proudly!
Now, I love his hat! Don't get me wrong. I love what it reps cause I rep it, too, but – it's more than a coincidence that you got two seeming patriotic bums (I am kinda not I just hate wetbacks ??) coming together in the same area.
I been here longer. Why you coming around now I'm here!? Almost kinda copying me! The Make America Great Again hat = border patrol shirt = is ME!
Here another instance! This Italian dude was right around here during the glory days (for homeless folks) on the pch! He didn't like my ass being around then. I 'woked him! That said looka how he booting up to me like I am a man cause I am a black woman:
He wouldn't of done or said this if I were a topless white woman though I'll admit that joke telling me to go and suck some dick was funny even though he has fucked around with prostitutes and cocaine with his eyes round as flying saucers as can be seen here….
I heard him coming around with the other old man here (I feel sorry for this dude here cause my 'woke fucked him up – bad):
Sexual Predator Still Stalks Me Even Though I Whipped His Ass
….talking about "nappy headed" etc. Now the guy half Cuban half Italian. He ain't NOWHERE near as bad as the wetbacks (that's why – even though my current healing strangulates this – I CAN'T WAIT to wear my MAGA hat and Border Patrol tee) which is why I stay talking on those demon seeds and educating the public on em here:
and here
And here:
The Rules of Engagement That Blacks Should Undertake When Interacting With Mexicans
The Difference In How Mexicans Treat A Hostile White Lady Vs A Black Lady
I won't give up exposing these demon seeds. Though I go thru these changes and may come off as weird and contradictory as I heal, just know what I say is true about them because it is not sentimentality that bore my judgements but pure empirical observation and experience, the experience of others, research and esp. spiritual knowledge!
That said, right after his seeming wetback friend who claims he "white" then came around to falsely "apologise" only cause he wanted to get a knife to cut up lines but this the only shit he getting from me:
….I really don't want to go back to being in hell in my mind but some people make you.
Now that I think about it, by imbibing their bullshit into me, their energy, I was allowing them to control me, manipulate me by getting inside and pulling me down to their level energetically, emptionally…..
It is hard to be "nice" when this is what you deal with…..
While in this high vibratory state I gotta figure out how to stay "high" without letting mofos energies mar and mix with and thus bring down my energies by letting it in…..
Ego is a mofo and ego will have you concerned with how "brave" you look – people who are inferior to you and whose opinions should not matter – and allow folks emotional baggage to literally enter into you via esp. the heart chakras…..
Just now I had a wide bytch who was trying to low key run me out on some gossip shit:
With that said, and I believe I figured it out last night – it has to do with a strong inner sense of self worthlessness deep within and a feeling of total inner isolation held in the subconscious mind.
While deep in thought and maturing my healing, an ephiphany came to me: my mom said something that knocked my heart chakra right out (I was always an open loving kid) that made me feel unworthy of true love and valueless and made me kinda rebuke it ??❤
Imma talk about it in depth in the next blog but that and what that teacher said took me away from me – but the other shit was the start while what the teacher said was the straw that broke the camel's back!
All in all, the folks who gravitate to you are a reflection of what is going on within YOU! It is representative of whatever inner turmoil you face and issues that you need resolved!
That said I got more shit to work on to heal but I gotta say I am a much happier person and am leaving behind that darkness that engulfed me for years that threatened to fuck up all sorts of things in my life…..