Read it…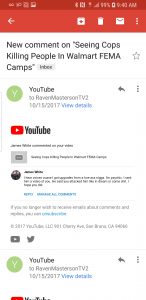 That's how powerful I am! I can get you through a computer screen ::witch's cackle::
That said, I AM VERY POWERFUL! I AM ALSO VERY VINDICTIVE! Tread lightly with me – don't fuck with me, ESP. you crakkkaroaches and some spic and spans cause MANY OF YOU ARE NOT PROTECTED AND I KNOW IT!
I got better examples; but my spirit guides are telling me to hold off on SHOWINF THEM!
One includes a dude who, RIGHT AFTER DOING A RITUAL his new 2013 car STOPPED WORKING (He needed a jump), lost hos job, DROVES OF BAD SHIT HAPPENED! He was one of those who thought he could use and abuse me and take me for granted – yeah, he a bald headed crakkkaroach – I DON'T PLAY! Another I witnessed was in jail while his Dodge Charger was parked by the gas station for three days until it got towed (they live out of it and I would see it there ALLL DAY AND ALLL NIGHT meaning them niggaz staying in it WEREN'T THERE)! I threw cards: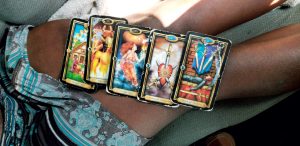 That ten of cups with the two ladies DON'T APPLY TO THEM as they weren't two females (a double male card or something along those lines woulda showed from my experience as an intuitive reader).
That said, I don't play around! I'LL BE CURSING ANY FUCKING WHITE DUDE OR SPIC AND SPACKER WHO COMES UP TO ME (Only lesbians and black dudes can 🙂 ?
YOU SEE WHAT I CAN DO!!! I'VE BEEN PRACTICALLY BODYING MOFOS IN THE SPIRIT REALM (I ENJOY IT AND I GET SADISTIC PLEASURE)! That's why I DON'T GIVE A FUCK ABOUT WHAT PEOPLE SAY SINCE I HAVE THE POWER to condemn your ass to hell and fuck up your afterlife.
I don't respect most people to be honest anyways; I see them as stupid and pawns for the spiritually enhanced.
That said, don't fuck with me! That's all ask! Don't get in my fucking space, intrude in my shit cause – again – you are dealing somebody who – with just a thought, using the power of energy (that's why I don't teach this shit) I can come through your cellphone/computer screen and attack you. With just a thought!
Try me and I'll feed you to the VERY SAME DEMONS (That are protecting me) that Christopher Case was fed to:
Here the article so you can see it's real:
http://community.seattletimes.nwsource.com/archive/?date=19910504&slug=1281135