And down to your lower Self as was done here…
Look at these FUCKING IDIOTS (I KNEW there was something wrong when I saw em…)
Buy vid here
[purchase_link id="30822″ text="Purchase" style="button" color="blue"]
There energy vampire asses TOOK OFF when I said, "protective stones", lol!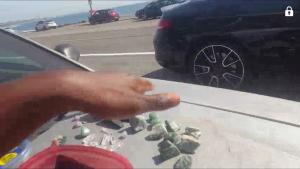 Here a couple of more instances (BOTH happened a while back): One involving some drunks, pot (meth?) heads – an odd couple – in this raggedy ass car like here:
Buy vid here
[purchase_link id="30827″ text="Purchase" style="button" color="blue"]
And this other mofo (I think he works somewhere out here at one of these parking lots) but with the anonymous plate I kinda wonder if he was CHP (I saw them pull up not too long after):
Buy vid here
[purchase_link id="30833″ text="Purchase" style="button" color="blue"]
That said, I feel THIS IS NOT BY COINCIDENCE that this happened THE SANE DAY I FELT ALIGNED WITH THE ARCHANGEL MICHAEL ENERGY AND WAS MOVING MORE INTO MY HIGHER SELF AND AWAY FROM MY LOWER SELF AND AWAY FROM ALL THE ADDICTIONS AND URGES (THAT REPTILIAN MANIPULATED PART OF ME) WOULD BRING!
NOTE THEY ALLL had something to do with propositioning me for sex (believe me, the topless thing ain't got nothing and shouldn't be associated with it as an excuse for how they act since people don't be coming to me like that when J'm like that). That is because REPTILIANS who focus on the lower Self of yourself FEED OFF THAT ENERGY BECAUSE SEXUAL ENERGY IS THE EASIEST FOR THEM TO DRAIN YOU OF YOUR ENERGY and thus energetically enrichen them since they are of the darkness and have no souls, no light something we humans have (in the first vid above thr bald headed dude was a FULL BLOWN REPTILIAN, the last was possessed and in the two other vids the older dude driving the raggedy car WAS A REPTILIAN while his friend had an attachment and the last vid had two reptilian attachments!). This article consummately (pun intended) explains how they feed off your soul-force energy: http://evelorgen.com/wp/category/articles/spiritual-warfare-and-the-human-soul/
That said, here is how I deal with em:
THE BEST WAY TO DEAL WITH THEM is to not give them your energy! Ignore em! SINCE I KNOW THERE ARE ALOT OF REPTILIANS OUT HERE IN L.A., I KNOW NOW (with the stakes being so high) that if I hear cat calling just to ignore them since it is an attempt to DRAIN me of my energy and divert my attention towards them. Yesterday, I was doing, "Om" exercises (while having my citrine out which raises your vibratory level and the vibratory level of an entire area) and that is when I (note the timing) GOT HARASSED BY THOSE IDIOTS! BUT there are times in which you gotta do what you gotta do…
That said, you gotta recognize shit for what it is! There are many reptilians in the L.A. area, esp. as revealed here: http://www.metatech.org/wp/reptilians/underground-city-reptilians-aliens-los-angeles/ and here: http://cryptozoologynews.com/los-angeles-judge-turned-reptilian-humanoid-says-man/ so knowledge (the minute they KNOW you are aware of em you become a problem to em as their hivemind will send a signal letting everyone know what's up – with you!) is the first key! The next step is PROTECTING, DEFENDING yourself from them as their are many drones – unwitting humans along with organic portals working with them as well, too!
Stones help but I feel it is imperative to protect yourself spiritually, psychically, and physically since they got so many ways to come at people… But knowledge of WHAT IS REALLY GOING ON is the most IMPORTANT STEP!