Here is L.A. city government, as of late, using the LAPD as of August 29, 2017, to steal homeless people's shit!
Buy vid here [purchase_link id="29336″ text="Purchase" style="button" color="blue"]
I know one of the cops there! He's nice!
I am what you would call, "homeless." I live in my car. Thankfully, cause I don't live on the streets I haven't been exposed to the worst of how homeless people can be treated tho. I have heard from friends who do live on the streets: beaten for being homeless, treated like shit, have the cops called on you just for being (that happened to me) and all other manner of acrimonies people face just for being homeless, dehumanized cause you don't live the lifestlye – whether you choose to or not – live which sadly comes from mostly people who are just one paycheck away from being homeless themselves…
That said, throughout my journey in life – going from being raised middle class to being homeless and living in my car and going to jail (based on trumped up charges by the LAPD due to selective enforcement and bias) I can honestly say that the most woke people I ever came across were those living on the streets (not necessarily, literally) but "unconventional, unorthdox housing" like cars (where I'm at!), tents, rv's, minivans and honestly the most "woke" mofos I ever came across, Really, was in jail which is why they want the homeless population locked up, enchained, enslaved cause that is where the majority of your free thinkers are at along with medicated with medicine they don't need and this neutered of their intellect and mind! A free mind is a threat to this beast matrix system: that's why they're shutting down and going even so far as to illegalize PEOPLE GROWING THEIR OWN GARDENS WHICH YOU CAN READ ABOUT HERE:
http://www.dailymail.co.uk/news/article-2012640/Woman-faces-jail-growing-vegetables-yard.html
ARRESTING PEOPLE FOR GOING OFF GRID:
http://thefreethoughtproject.com/man-fought-country-facing-arrest-living-off-grid-property/
This man pretty much is emblematic of WHY the system jails people for victimless crimes: this man's whole entire LIFESTYLE IS AN EXAMPLE THAT YOU DO NOT NEED THE SYSTEM AND THUS DON'T HAVE TO SUBJECT YOURSELF TO THEIR RULES (AND BE SPIRITUAL ENERGY FODDER AKA BATTERIES TO WHATEVER DEITY THEY ARE WORSHIPPING) AND THUS THAT IS A THREAT TO THEM!
Here are more examples of this, including LA County (mostly antelope valley)!
Even a commentator in the comment section if saud video up above admitted she once worked for LA County and the LA County office was geared towards harassing those deemed "politically unpopular", including me: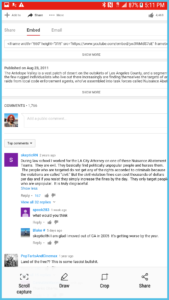 Here's more so you can see she credible: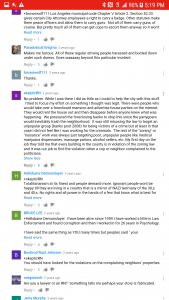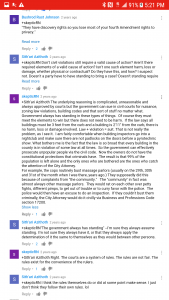 AND EVEN SELLING NON BS "FDA APPROVED" BS AS WHAT HAPPENED IN VENICE, CA WHEN THE FBI, CIA, FDA, AND THE ROYAL CANADIAN MOUNTIES – ALONG WITH LAPD – SET UP A FUCKING "STING OPERATION" (REALLY MAFIA "HIT" STANG FOR THE FED. GOVERNMENT AKA SATELLITE BRANCH OF THE ILLUMINATI) – AGAINST A VENICE BEACH CO-OP ACCUSED OF SELLING NON PASTEURIZED, NON GMO MILK TO CONSENTING PEOPLE (KINDA REMIND YOU OF THE LAWS AGAINST PROSTITUTION AND DRUGS, EH?) WHO WERE AWARE OF IT'S CONTENTS:
– They had this man, James Stewart of "Rawesome Foods" in solitary fucking confinement, a lil bitty ass cell, treating him like he was some dangerous criminal (I know how that feels cause I went thru shit myself cause they don't like me.).
IT IS NOW AGAINST THE LAW TO SELL ANYTHING NON-GMO – JUST ASK THESE FARMERS:
– That said, in light of all this INjustice, I rest my case!
That said, you hear about cops throwing people in FEMA camps and so forth (in my old neighbourhood I've known of "homeless" people we've seen for years go missing):
As the video before the other states, homeless people are being removed cause they are WOKE! That said, let me tell you about the point of this video:
A while back there was a man named Elvis Sommers whose more like "Jesus Christ" in my opinion – I revere this dude so much I DON'T WANNA HEAR ANY "CRAKKKA CHRIST" JOKES, NONE OF THAT! That said, this man is like the modern day Jesus Christ: sans any money himself (he was once homeless) he befriended a poor black homeless lady, saw she needed shelter than came up with the idea of creating "tiny homes" for his best friend and other homeless folks he came to know, including a black war veteran who constantly had his medicine supply stolen by local NIGGER AZZ THUGZ and his wife RAPED BY THESE FUCKING ANIMALS (it sickens me to even write that) every night. Like a True Boss (I deliberately put it in all caps) and unlike these spineless ass cops who are just on the job to collect a paycheck, fuck with harmless innocent people like me (I was told by a young man who had his car jacked that the LAPD cops were scared to help him because the dudes who jacked it were MS13 and they were scared of reraliation from the Mexican Mafia – hmmmm makes you think? Reminds me of what a cop wrote):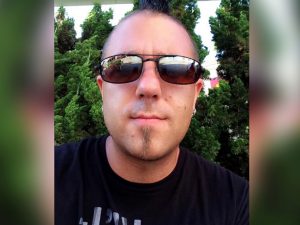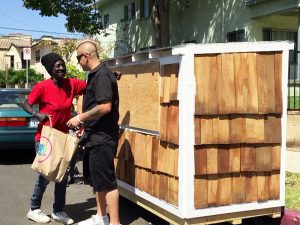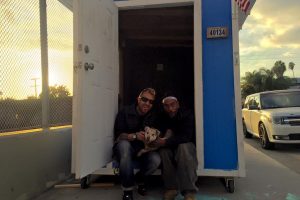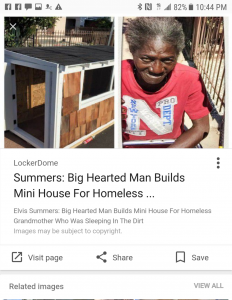 – What happened to this poor lady after some UNEMPATHETIC BLACK BITCH AND SOME POLITRICK-IANS TOOK HER HOME AWAY KILLED ME!
– Anyways, "Elvis" – fuck it, I'm calling him Jesus Christ – BRAVED the mofos wearing only a bulletproof vest, NO GUN AND NO AUTHORITY AND TOLD THOSE MOFOS TO CALM THE FUCK DOWN (this is the stuff of Legends):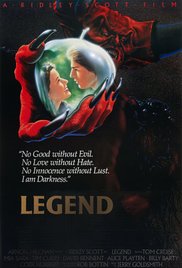 And he accomplished what no other L.A. police officer could, well, did not want to do as one of the homeless gentleman he helped out, Mr. Willie Hadnot, an engineer, stated that an LAPD "officer" said to him with no compassion or shame that, "Why don't you get a job?" while stealing his stuff despite the man's frail old age, as if Mr. Robot Policeman was given a script to say that (bet that coward wouldn't say that to MS13). Here is more of Mr. Elvis Sommer's along with Mr. Hadnot's and all the other homeless folk's [horror] stories of dealing with the city here:
NOT ONLY THAT BUT HE TOOK A MERE $100,000 AND WITH HIS OWN HARD WORK AND LABOUR DID WHAT THE FUCKING CITY OF L.A. WHO ACQUIRED BA-TRILLIONS UPON BA-TRILLIONS IN GRANT MONEY OVER THE YEARS "TO HELP THE HOMELESS" NEVER – HELL, REFUSED – TO DO AN ACCOMPLISHED THE TASK OF BUILDING BEAUTIFUL $1200 TINY HOMES LIKE WHAT YOU SEE DOWN BELOW OUT OF THE KINDNESS OF HIS OWN HEART AND NEVER TOOK THE MONEY FOR HIMSELF (EVEN THOUGH HE STRUGGLING):
That said, that's why this man is a modern day incarnation of Jesus to me! That said, in response, a mean ole black bitch backed by city council poli-trickians who you can see in one of the vids above tore down the encampments the mostly black denizens were living in. The lady in the above picture I showed earlier living in one of em – she died later after these heartless creeps did what they did and the Veteran, Mr. Hadnot reportedly stated: "He lost hope!" That said, "mayor" Eric Garcetti and Creepy Co. have $1.2 billion to spend on homelessness. Note what this SOB says in this article here: http://www.scpr.org/news/2017/02/20/69174/la-officials-poised-to-spent-12-billion-on-homeles/
Los Angeles city leaders, flush with $1.2 billion in voter-approved bonds for homeless housing, are now trying to figure out how to spend that money as quickly as possible.
Here is the article (don't that sound fishy? I mean homes for the homeless can't be erected quickly overnight so WHERE IS THAT MONEY REALLY GOING TO?):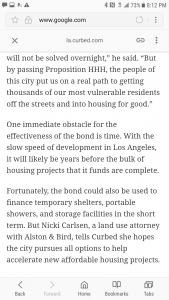 Now, here are some articles talking about Mayor Eric Garcetti CRIMINALIZING THE HOMELESS, the same mofo we expect to fairly and LEGALLY spend the 1.2 billion bond for the homeless whom it's intended for (fat chance on that):
https://www.arletanc.org/l-a-is-warned-of-possible-suit-against-homeless-sweeps-law/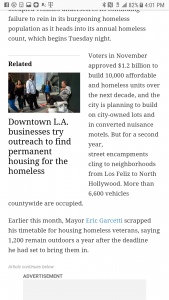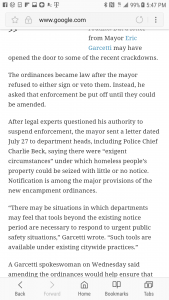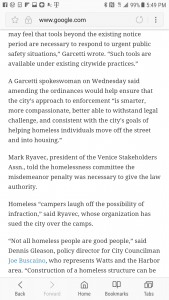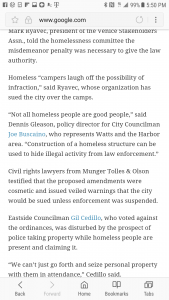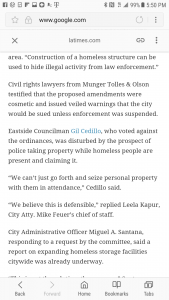 HERE THESE MOFOS BELOW talking about "putting up a bond using folks' property taxes but yet in the screenshot right after talk about basically LAUNDERING IT into "temporary housing" after they STEAL THE REST!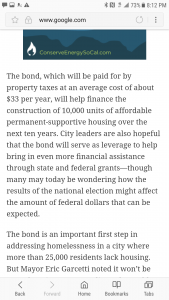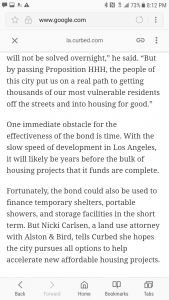 Even this guy – General Jeff – is querying where would the money go: http://www.citywatchla.com/index.php/the-la-beat/11943-say-no-to-hhh-homeless-ballot-initiative-is-just-bad-math
Back in 2015, the Mayor of Los Angeles, Garcetti, acquired 12.5 MILLION TO HOUSE THE HOMELESS FOR THE EL NINO STORM which you can read here:
http://www.latimes.com/local/california/la-me-el-nino-homeless-20151210-story.html
Now, if Elvis was able to pull a measily $100,000 and use it to help people and make tiny homes and solve it somewhat, L.A. has conversely received TRILLIONS FOR YEARS TO HELP SOLVE IT BUT….
Where has that money gone!
That said – in light of Pizzagate – look at this shit: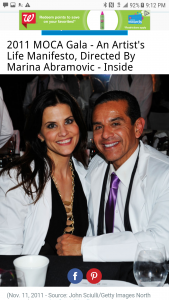 THIS IS THE SHIT HE ATTENDED – A MOCK FUCKING HUMAN SACRIFICE BASICALLY BEFITTING OF ANYONE WHO WORSHIPPED THESE DJINN/EVIL DEITIES SO THEY CAN GAIN WEALTH AND FAME AND BECOME THE SOULLESS INDIVIDUALS THEY ARE: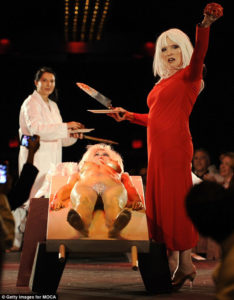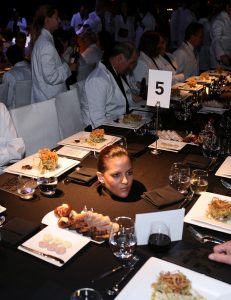 Evidence Villaraigosa attended this shit: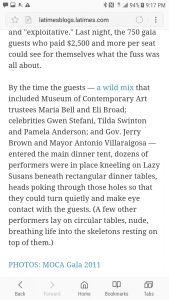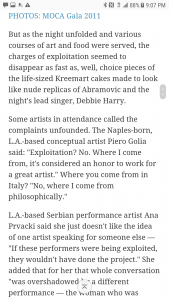 Abramovic and Deborah Harry REALLY want us to believe those are effigies of them – bishes, please!
Here where some of that LA County Homeless money went: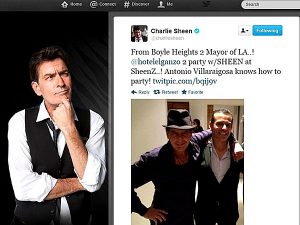 Paying to party with Charlie Sheen with Hookers and Blow (a jewish dude I used to see as a client – fucker raped me while I was asleep well, blacked out – told me this mofo – Villaraigosa, likes to fuck alot of women and party! Go figure! And this pic proves it!)!
Anyways, being homeless myself – being in the know – having stayed at shelters, etc. I WILL TELL YOU! While staying at one shelter I was told that at the ones downtown on Skid Row they spend ALOT OF MONEY on food, have gourmet chefs come down and serve the people as per a show yet they don't build adequate housing, housing capacity is limited, many of the people who run em take luxurious trips in and out the country (I heard this amongst clandestine shelter talk abour the other shelters), meanwhile the people on skid row HAVE TO LEAVE THE NEXT MORNING – THEY CAN'T STAY THERE, the places are funky, infested with rats – THERE ARE WAITING LISTS FOR SHELTER DOWN THERE!!! NOW HOW THE FUCK CAN THERE BE WAITING LIST WHEN THE CITY HAS BEEN GIVEN FUCKING KA-TRILLIONS OVER THE YEARS TO "SOLVE THE HOMELESS PROBLEM"? Cause they don't wanna solve it and like with "legal" drugs they make their money off the "come back" ie KEEPING THESE PEOPLE POOR AND MAKING MILLIONS IN FEDERAL GRANTS FROM MONIES DESIGNED TO "SERVICE THE HOMELESS" WHICH NEVER REALLY GETS DOWN TO THOSE PEOPLE AND USING THE MONIES TO LINE THEIR OWN POCKETS AS WELL AS PROFFER "KICKBACKS" TO THEIR FRIENDS IN CONSTRUCTION, ETC. Hell, this PIG in the Central Division basically says that their task is just to contain the homeless problem there (I can tell you for A FACT esp. in light of what I am going through that LAPD Skid Row Central Division don't do shit as evidenced here: https://toplessinla.org/2017/08/10/lapd-central-division-caught-sleeping-on-the-job-making-gang-signs-and-more/):
That said, I WAS TOLD BY PEOPLE WHO WOULD KNOW THAT THERE'S A CRACKHOUSE RIGHT ACROSS THE POLICE STATION (bet cops frequent it all the time).
Returning back to Elvis Sommers – the "struggling" Jesus Christ like TRULY CHRISTIAN musician who with only a $100,000 raised to selflessly help people out (he took none of that money himself) – after City HOLE SELFISHLY TORE DOWN THOSE TINY HOMES SAYING THEY WERE "unsanitary" though they were a big improvement from the tents those people had – Elvis stated that when he went before the mayor and all these POS POLITRICKIANS TO DEFEND HIS ACTIONS (LIKE HE A FUCKING CRIMINAL AND DID SOMETHING WRONG – I SWEAR THIS WORLD GOT SHIT BACKWARDS HENCE WHY I DON'T WANNA BE APART OF THIS SYSTEM), they told him in no uncertain terms, "They don't give a fuck" and "They just wanna 'contain' the problem." Well, that's where your money went! In their pockets and pocketbooks to include the females as well.