THIS FAKE KHAZAR jeWISH is LITERALLY TELLING YOU ALL WHAT THE DEAL IS……
A member of the synagogue of Satan decided to send me this hateful post cause these demon ass mofos – and their goyim minions – can't exploit me……
I blocked his ass I don't have time for that bullshit…..
I didn't read that wall of bullshit…. well, actually I skimmed it and was LAUGHING my HEBREW ISRAELITE ass off…..
Here, send this lonely ass hymie a message since his fake jew khazar ass is obviously lonely enough to write that bullshit…..
I blocked him cause I wasn't gonna entertain him. But he better not come his ass out to where I'm at and start some shit….
Hear 👂🏻📣 my response…..
I even was kind enough to send the oven magnet a picture of my favourite hero of all time, Der Furher Adolf Hitler…..
I honestly wanna kill this mofo just for diverting my attention towards this bullshit but certain shit needs to be said and certain folks are gonna have to end up sacrifices…..
That said these "jews" walking around claiming that they are jews are fucking Khazarians…..
https://www.palestineremembered.com/Acre/Maps/Story800.html
https://addisonsarter93.medium.com/how-european-jewish-people-stole-our-identity-b212d5ef1ebb
Imma just give a brief synopsis of the story of the Khazars but evidently it was an empire set up in around modern day Russia in which these fake jews, at the onset of the fall of their empire, converted – well, stole – judaism as the Romans had converted their people to christianity so these mofos had to steal the "leftovers" from my people…..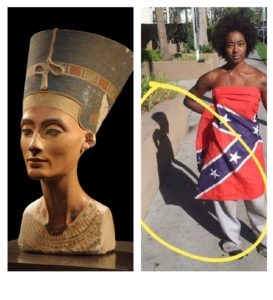 – Queen Nefertiti is an ancestor of mine and she was letting me know from the spirit realm back in 2012, 2 years before I even started my spiritual journey…..
That said they don't call themselves jeWISH for a reason, implying that they are like but are not the true owners of hebrew re-ligion:
– These are depictions of the REAL hebrew israelites from ancient times…..
– Hair like wool and skin like bronze 👉🏽 👨🏾‍🦱
I mean, think about this for a sec…. how the fuck do you go from calling yourself a hebrew israelite to saying you are jeWISH???? Them mofos ain't the real jews as many people, including white supremacists, have been proselytizing…..
That said I didn't wanna get on these mofos but I guess I have to…..
I sit back, I watch whole groups of mofos, people, and I discern.
Let me comment on these KHAZARS…..
THIS MOFO WAS A KHAZAR GUARANTEED…..
Nasty Ass Sexual Predator Parks Right Behind Me To Masturbate And I Run His Ass OFF
– AND his khazar ass showed THE VERY DAY I was calling on jeWISH ancestors to help me in a spiritual battle I was in….
I'll never forget years ago when I was at Venice Beach and a hymie walked up on a goyim young white lady I was conversing with and just felt up her fucking back….
I never forget that!
As a former sex worker who did sex work for 9 years, I will say jeWISH MEN ARE PERVERTED! They are fucking perverted and into some sick shit, all sorts of paraphanilias BIG TIME! That jew didn't do that shit to me cause I woulda cut his ass and thankfully us HEBREW ISRAELITES got a reputation for being violent ✏🗡🩸
– As an offbrand statement jeWISH men are cute and got big dicks so I'll give em that…..
Also, their Grand Rabbis also suck lil baby boy dick as part of their circumcision rituals……
https://www.haaretz.com/jewish/.premium-what-is-oral-suction-circumcision-1.5311796
They have even given babies STDs (fucking nasty ass mofos) doing this shit…..
https://www.timesofisrael.com/two-infants-diagnosed-with-herpes-after-metzitzah-bpeh/amp/
I even heard from actual jeWISH that the torah ain't got nothing to do with the original judaism of the hebrew israelites. They a bunch of fucking pedophiles
THERE IS A REASON why Hitler hated them!
I used to read ANY book I can, voraciously, on him in high school. I'm not gonna lie – cause I wanted to blow up my school like the Columbine killers I was a big fan but even to this day I admire him….
That said a fake jew raped his grandmother, Klara Schicklgruber.
https://www.flintobox.com/blog/east-west-soqirj/maria-schicklgruber-rothschild-cbece5
His grandmother from what I understand worked in the Rothschild household and got raped then impregnated while there. She was later fired (probably for speaking out) than married an itinerant labourer named Johann Georg Hiedler, whose name got basterized into Hitler, as we know it today…..
The Rothschilds set Hitler, who was homeless for two whole years, up to KILL THEIR OWN resulting in the Holocaust which led to the creation of the zionist state of Israel:
https://history.state.gov/milestones/1945-1952/creation-israel
The end.
That said, as I get spiritually stronger – I saw this morning a gangstalker, probably a KHAZAR jeWISH take off like a light – these mofos are PISSED that they can't get to me AT ALL now!
You can't even use me as a sacrifice cause, BECAUSE OF MY REAL HEBREW ISRAELITE/EGYPTIAN BACKGROUND, YOU CAN'T FUCKING TOUCH ME AND YOU KNOW I KNOW IT SINCE THE SAME SHIT YOU WAR-SHIP IS PROTECTING ME……
– These mofos actually war-ship "god" the demiurge properly via blood libel with kapparot…..
That said, I DARE you to fuck with me, spiritually or even physically cause I GUARANTEE you'll lose a relative or your own life.
Fuck with me!