…..yet dehumanise and degrade us, as they have done me…..
I notice these wetbacks and crakkkas are PISSED cause I cut them off from being able to disrespect me!
I'll tell you the real reason why…..
The envy us. They want to be around us to degrade, dehumanize and humiliate us to make themselves feel superior and to use our powerful spiritual energies.
This is why I keep them out with a vicious inhumane passion which I direct to only those two groups….
Throwing Rocks At White Supremacist Crakkka To Make Sure He Understands The Decree of Not Speaking or Looking At Me
Drag Me To Hell Is REAL And These WETBACKS Are About To Find Out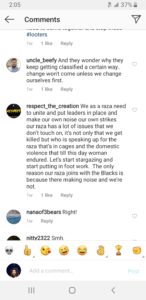 Read that last sentence in the big paragraph above…..
Still savour that "black and brown unity" with beings inferior to you…..