The name of the place was Jabro or Jacirra something or Jacquirra (I've heard it before). It was showing me a map with 6.0 outlined then I saw some idiot online say, "Can't wait for the Big One to hit!"
That being said we have a fake ass fucking FLU fucking plandemic, then fucking psyop riots – then a major fucking brush fire on Supulveda. Everybody was asking what's next and this shit maybe it – but it won't afflict us.
That being said, I saw this shit posted on Eligio Natureboy (now the "immortal.babaji") insta-heaux account: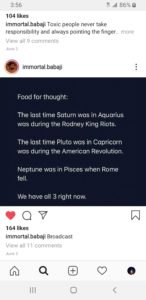 We in for some shit based on these planetary alignments. Hopefully for the sake of that small town – it was supposed to have 6,000 (keep seeing that "6"), 10k – shit don't happen.
****JUNE 13 UPDATE: I felt rumbling in the middle of the night early this morning at around 1am or 3am****