I heard what I can guess was this dude here: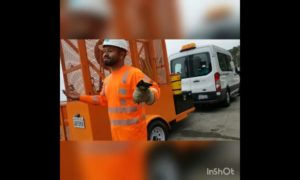 Who I spoke on here:
https://toplessinla.org/2018/06/30/spiritual-confrontation-with-misogynist-caltrans-employees/
Talking shit about me… talking shit about me last week, talking about some crazy lady, etc. OUT LOUD enough for me to hear so I'll respond….
Then while sitting in my car and writing this article here:
https://toplessinla.org/2018/07/16/found-a-pedophile-subculture-on-youtube/
I hear him yelling, "MOVE LADY" AND THERE IS NO WOMAN THERE SO I KNOW IT IS FOR ME then mad dog me as he passes by which I give him "the stare" back then stops like he was gonna do something…
BRUH, LEAVE ME THE FUCK ALONE! MY BROTHER IS A TRUCK DRIVER WHO MAKES DELIVERIES IN L.A. HE IS A BIG FUCKING DUDE! I know you think I am a lil bitty woman whom you can take advantage of but not me, bruh! After some of the things that happened, I ain't taking chances!
YOU COME UP TO ME, I WILL HURT YOU! I ain't fucking around this time! LEAVE ME THE FUCK ALONE! HAVE YOUR PEACE AND LEAVE ME THE FUCK ALONE! I'M NOT BOTHERING YOU! LEAVE ME THE FUCK. ALONE!
I talk about it here (i'm tired of it…):
[purchase_link id="31648″ text="Purchase" style="button" color="blue"]