I SWEAR when you starting fighting off your demons they starting coming back LIKE THESE TWO POOR MOUTHING ASSHOLES MAKING DEMANDS ON WHAT I SHOULD DO WHEN THEY AIN'T PAYING FOR SHIT LIKE THIS STARTE CHRIST MOFO (THAT NUT I ALREADY COVERED) AND THIS KIERA BITCH: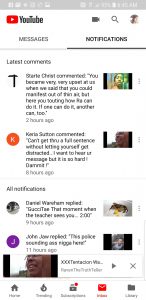 – Thank GOODNESS youtube BLOCKED THEY ASSES!
…AND THAT'S HOW IT ALLLL STARTS! They cause problems so that YOU WILL FEEL COMPELLED TO RESORT TO THEM FOR PROTECTION! It's like a protection racket! That's how I know Sell-ebs get "somewhere" with them.
Anyways, this gonna be a short one: while in between sleep and waking consciousness aka the hynagognic state, I HEARD A DEMON WHISPER INTO MY EAR!!! I then called on Archangel Michael to get rid of it. I then heard the bastard cussing at me after I called on Archangel Michael, etc. Lol (It was SOOO crazy and surreal to hear that)! LOL!
I wondered for the longest period WHY I could not astral project AND I LOOOONG FELT it was due to the fact that SOMETHING FROM MY SATANIC DAYS (I was once a "satan worshipper") WAS HOLDING ME BACK, KEEPING ME AWAY FROM SPIRITUAL DEVELOPMENT, the "Why" of which I discuss here:
https://toplessinla.org/2017/12/12/are-the-gods-and-goddesses-of-every-religion-and-spiritual-system-energy-harvesters-for-the-archons//blockquote>

Shit man, I've gone through some MAJOR psychic battles, enough to write a BOOK! THAT SAID I'm whipping they asses and winning where it counts to me…