That said, remember this video here:
Buy vid here [purchase_link id="29472″ text="Purchase" style="button" color="blue"]
In which the public defender can be heard TELLING ME UNDER NO UNCERTAIN TERMS THAT THEY DO NOT HAVE THE ADDRESS OF THE PERSON I AM SUPPOSED TO PAY RESTITUTION TO? (At one point OFF CAMERA he suggested I PAY TO THE ALREADY EGREGIOUSLY WEALTHY JUDGE!!!!)!
Not only that but at the time of sentencing YOU MUST PAY EITHER A RESTITUTION FINE – WHICH GOES TO THE STATE AND FOR MISDEMEANORS CAN ONLY RANGE BETWEEN $0 TO $100 – OR A RESTITUTION ORDER WHICH GOES STRAIGHT TO THE VICTIM AND SINCE I HAVE TO PAY $408 AS YOU CAN SEE IN THE DOCUMENTS BELOW THEN WHERE WILL THAT MONEY GO TO???
Here's a document explaining it: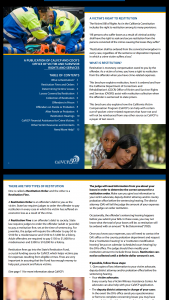 Here are the court documents showing how much I owe, etc.
That said, READ THE LIE HERE IN WHICH – basically, okay: THESE ROTTEN BASTARDS SAID THAT I HAD TO RETURN ON THE DATE YOU SEE IN THR DOCUMENTS ABOVE SO THAT I CAN PAY "ONCE THEY GET THE ADDRESS!" Now, DESPITE THAT CLAIM notice they are NOW SAYING THAT "MY PROBATION HAS BEEN REVOKED CAUSE I COULD NOT PAY" EVEN THOUGH AS YOU CAN SEE IN THE DOCUMENTS THEMSELVES THEY ARE STATING THAT I HAVE TO GO BEFORE A FINANCIAL RESTITUTION OFFICER TO PROVE WHETHER I CAN PAY OR NOT!
These are some cold, rotten mofos. See how crooked they are? THAT'S WHY I GOTTA EXPOSE EM!