HERE IN THE GOOGLE PLUS PROFILE YOU CAN SEE A POSSIBLE GOOGLE EMPLOYEE BOASTING OF EXTRICATING ALL OF MY CHANNELS…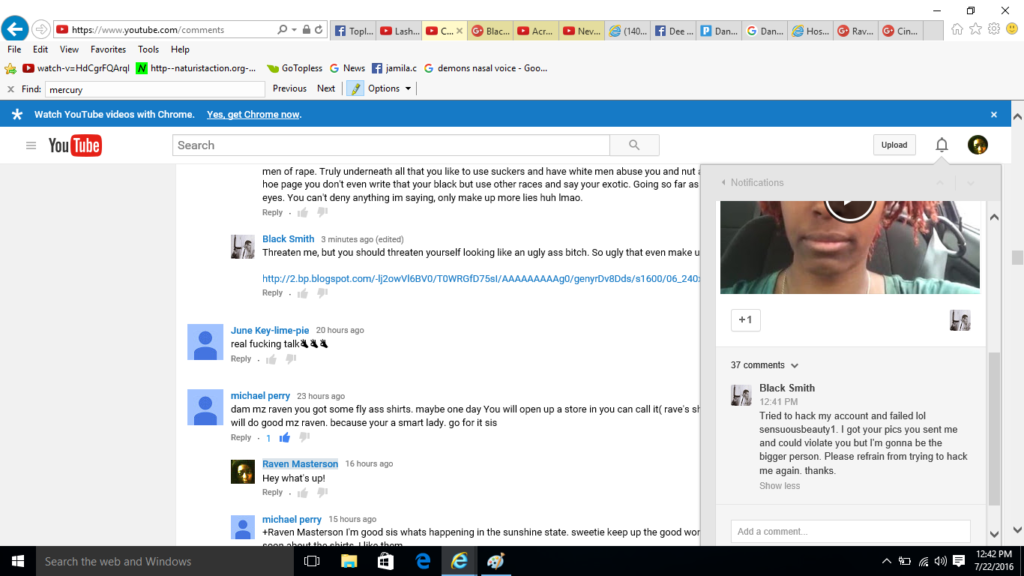 PERFECT EVIDENCE this is coming from Google YouTube as there are NO VIEWS yet these vids have already have DONVOTES and they weren't even VIEWED YET: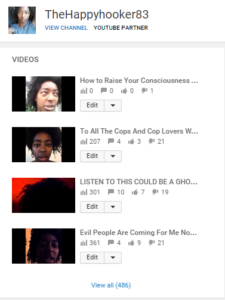 I never hacked this person or anyone's account but this is this person's rather "clever" way of admitting they did it for Google cause how else would they know that address unless they are a Google insider…
Wow, what you are about to see down below ain't even the tip of the iceberg…
Note here it says that the amount they owe is about 769.02 dollars…
NOW note here it says they only owe as a "balance" 92.32 dollars which you can see down below which goes against what you see above: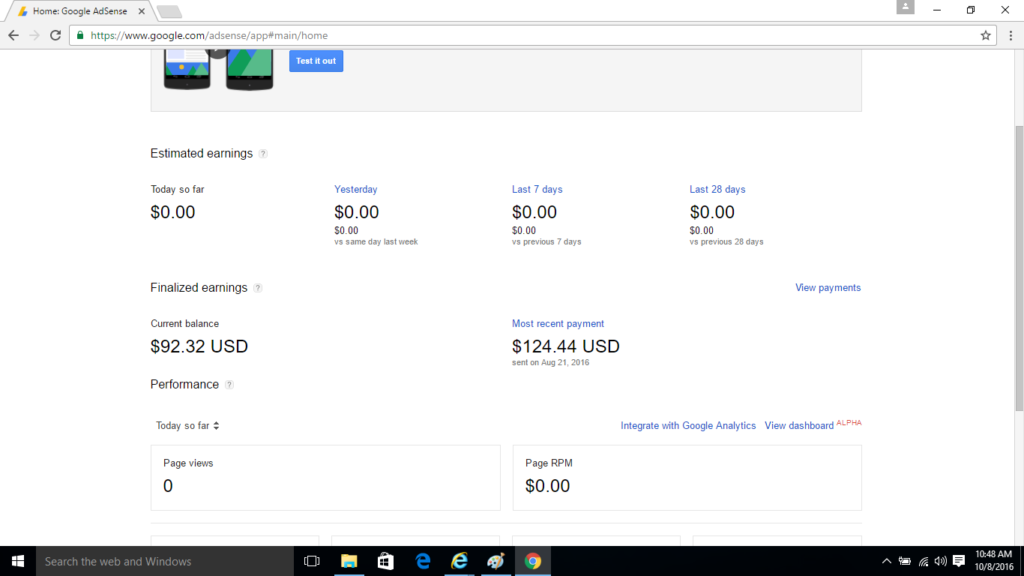 Here is more evidence of the fuckery: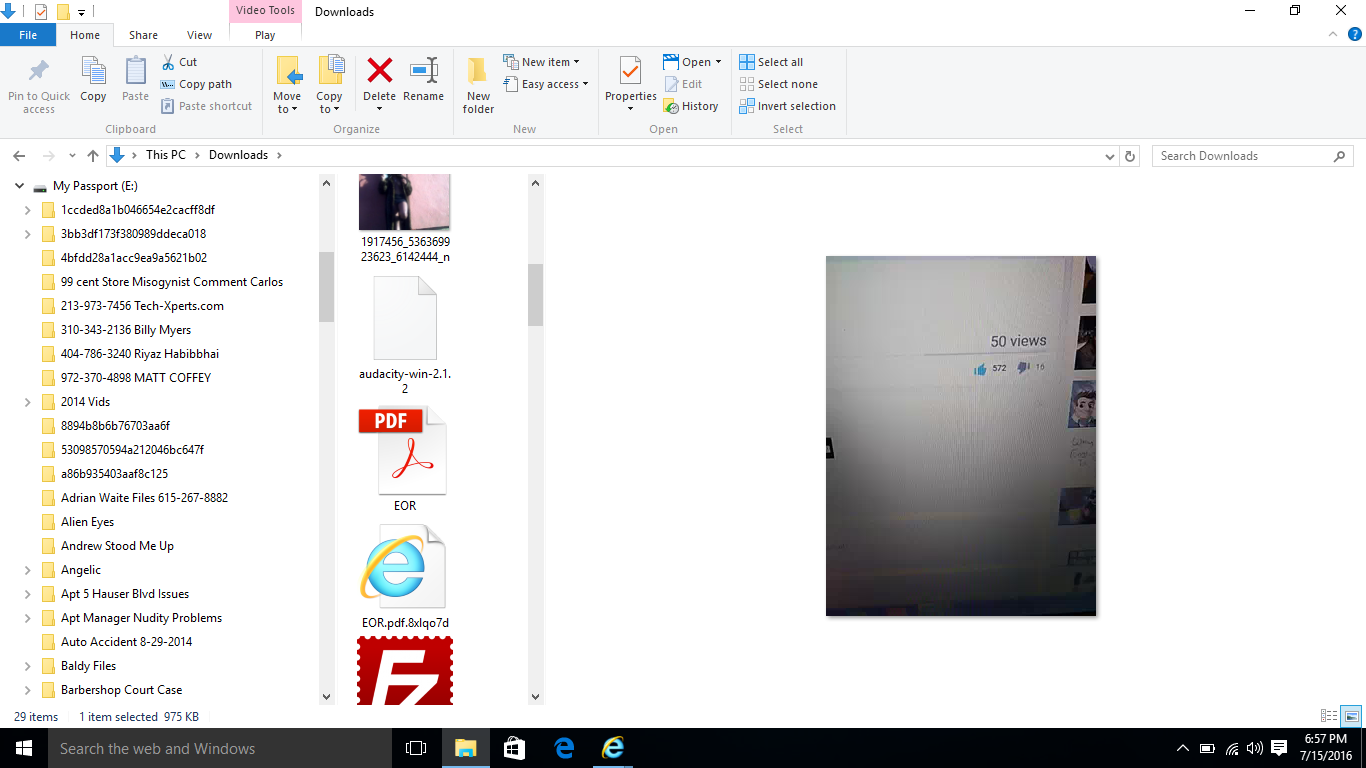 (There are only 50 views but yet it has 572 likes. How does that happen unless someone on the other side is manipulating it at Google which is not the first time such a thing has happened to me by them.)
I mean how who the fuck suspends all those accounts like that unless they got a personal grudge against me, one lone individual…
I still have my Google Plus page for "The Happy Satanist" up but note I CAN'T EVEN COMMENT (talk about discrimination):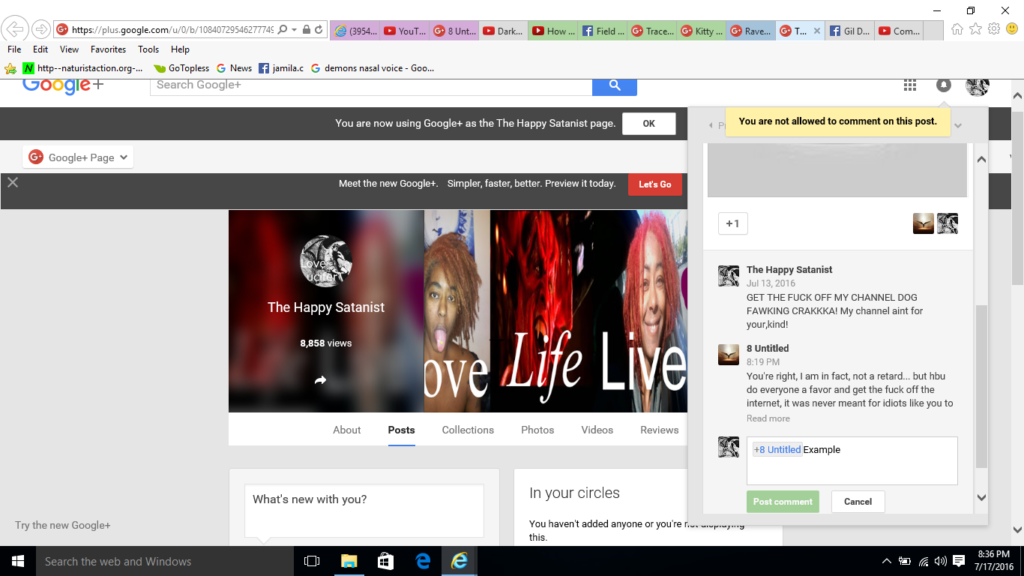 *   Note how it says in the upper right hand corner above that "I am not allowed to comment on this post" THOUGH I CAN STILL ACCESS THAT ACCOUNT!
YouTube/ Google is obviously stealing my money in addition to committing unfair business practices by unfairly targeting me in which my channels get unfairly taken down in many cases without so much as a warning which you can see down below: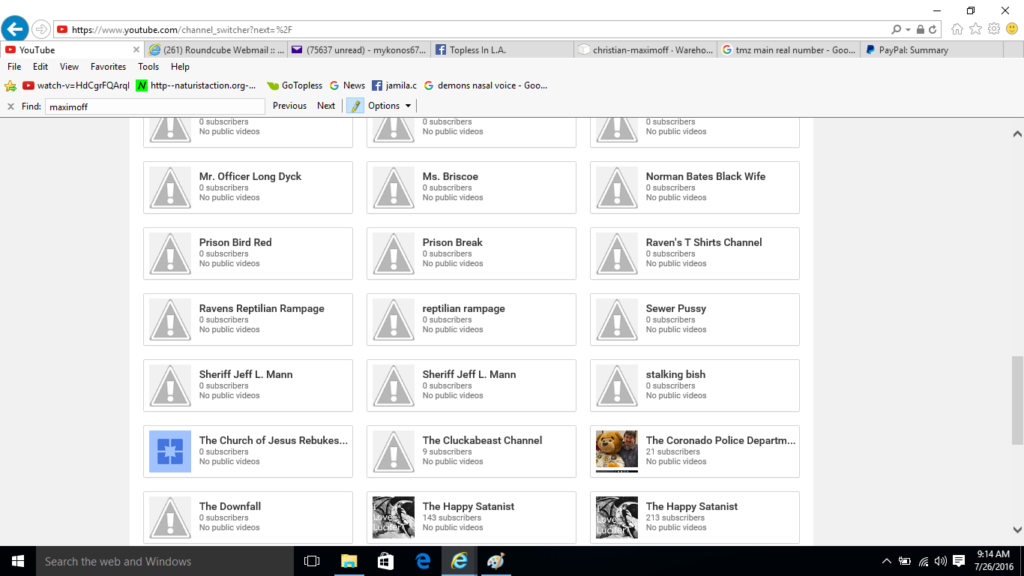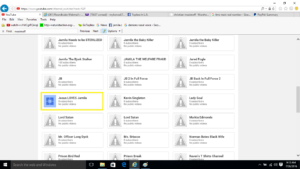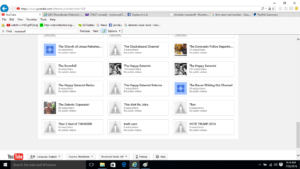 IS THIS AN EXAMPLE OF RELIGIOUS DISCRIMINATION BY GOOGLE RIGHT DEAD BELOW…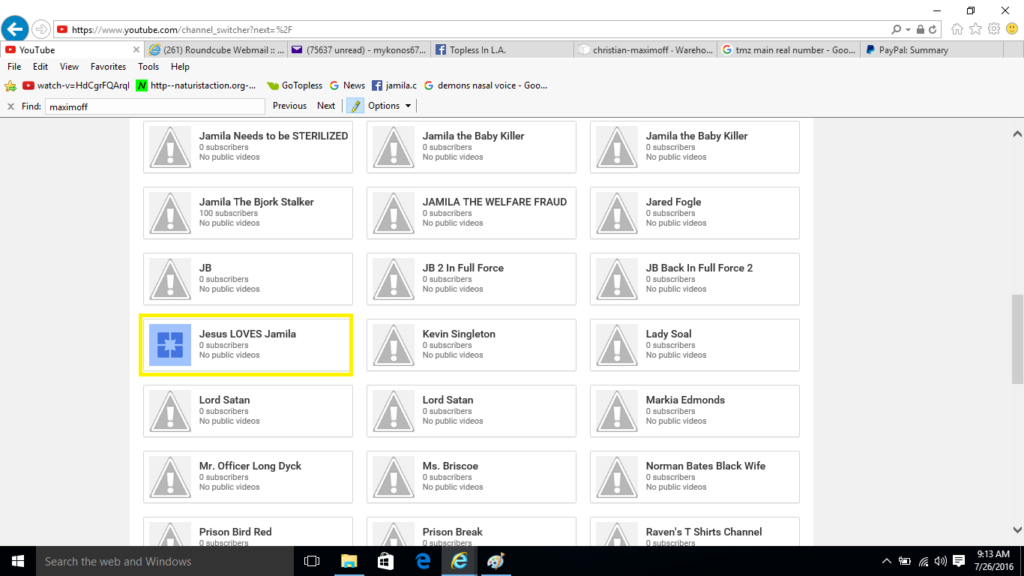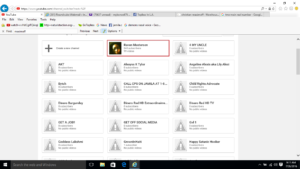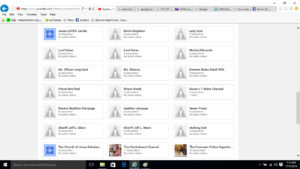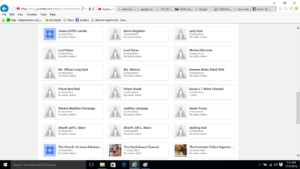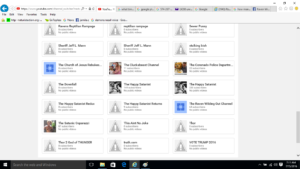 Note how some of the channels had NO CONTENT yet they were taken down. Even my t shirt channel WHICH SHOWED NOTHING CONTROVERSIAL got taken down!
As per their own policy they allow 500 accounts for youtube which you can read here: https://support.google.com/adsense/answer/9729?hl=en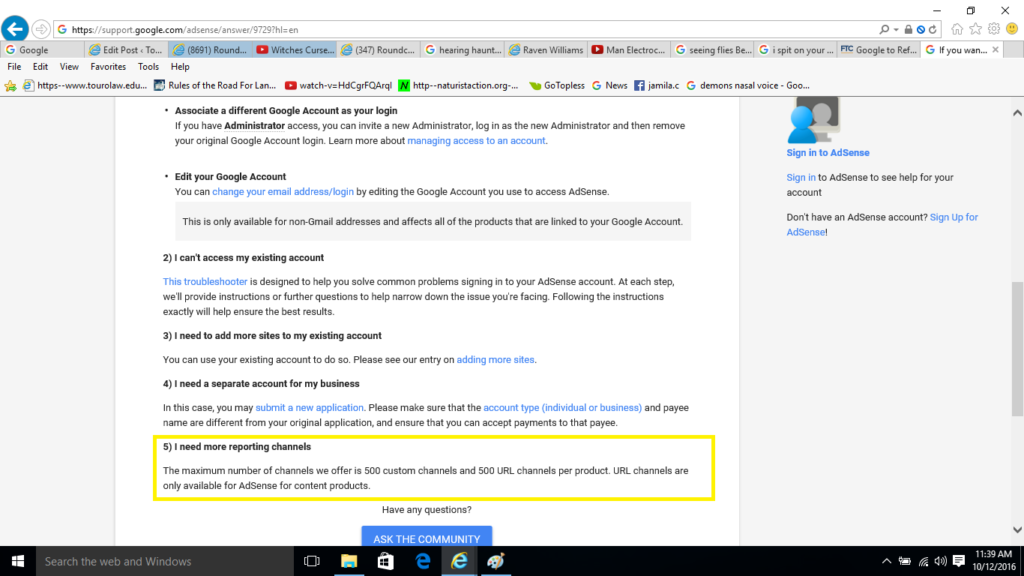 They even mess over other competition's internet browsers as can be seen here in which for me to view the google adsense account I must do it from Google Chrome and NOT from internet explorer which is anti trust and they are currently being sued in court as we speak for that now by the FTC: http://www.politico.com/story/2016/05/federal-trade-commission-google-search-questions-223078 and here too: https://www.ftc.gov/news-events/press-releases/2014/09/google-refund-consumers-least-19-million-settle-ftc-complaint-it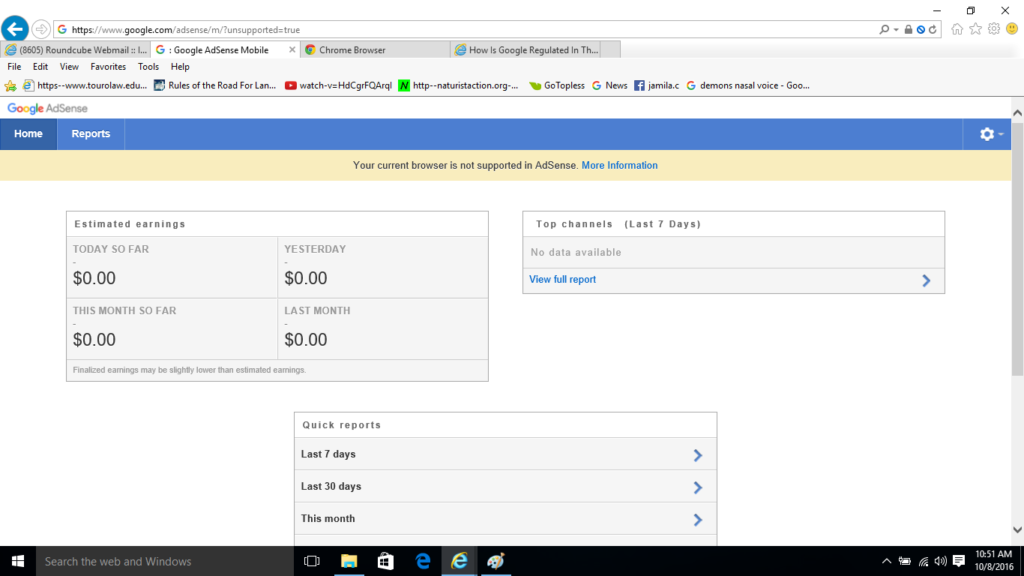 And they always hide behind "scams and commercially deceptive content" when taking my stuff down. There is no logical reason. The other channels I don't even really sell shit. I ask for donations via paypal and in the later part of my channel – Raven Masterson – I started charging for services as a spiritual shaman but other than that there is nothing commercially deceptive about any of this.
Here are more examples of messed up things they do when I try to go into my "nappyhoe" account to check my balance for adsense on THEIR GOOGLE CHROME BROWSER:
Note how they are trying to block me from being able to login in that first video up above and in the second I received some notification saying I logged from too many accounts which you can see below: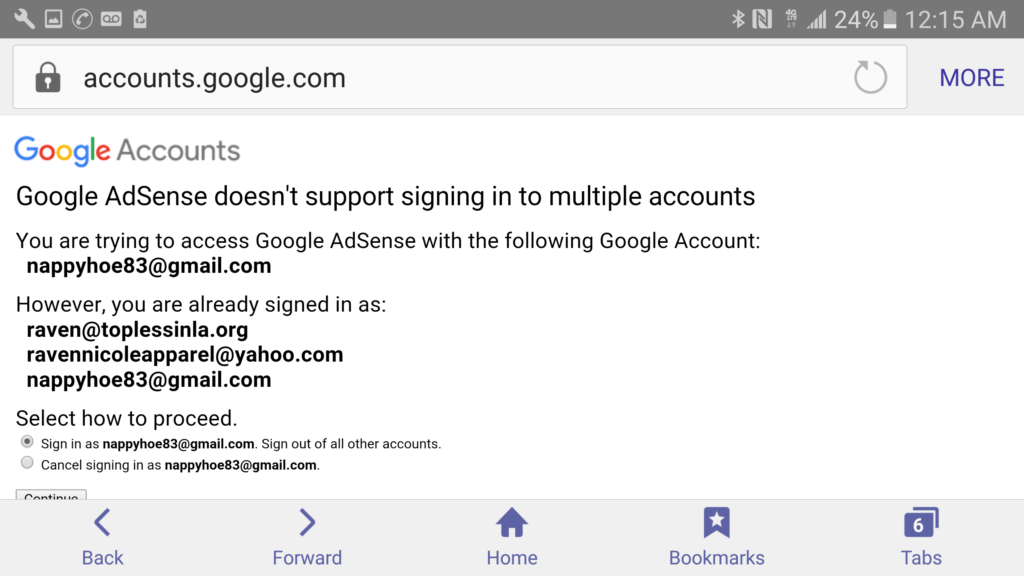 Now here is evidence below that you can add multiple accounts to your one google adsense account of which proof is down below taken from their own policy from their own page: https://support.google.com/youtube/answer/72866?hl=en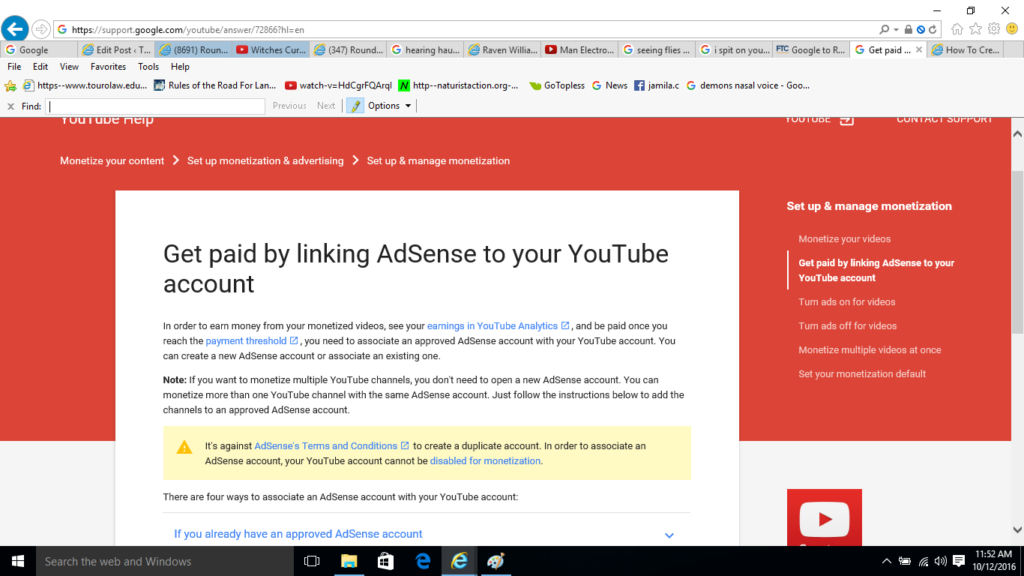 They are also not allowing me to create new channels under ANY account I have which is in clear violation of their own policies WHICH YOU CAN READ AGAIN HERE!!! https://youtube-creators.googleblog.com/2013/07/creating-your-next-channel-just-got-lot.html and here: https://support.google.com/adsense/answer/9729?hl=en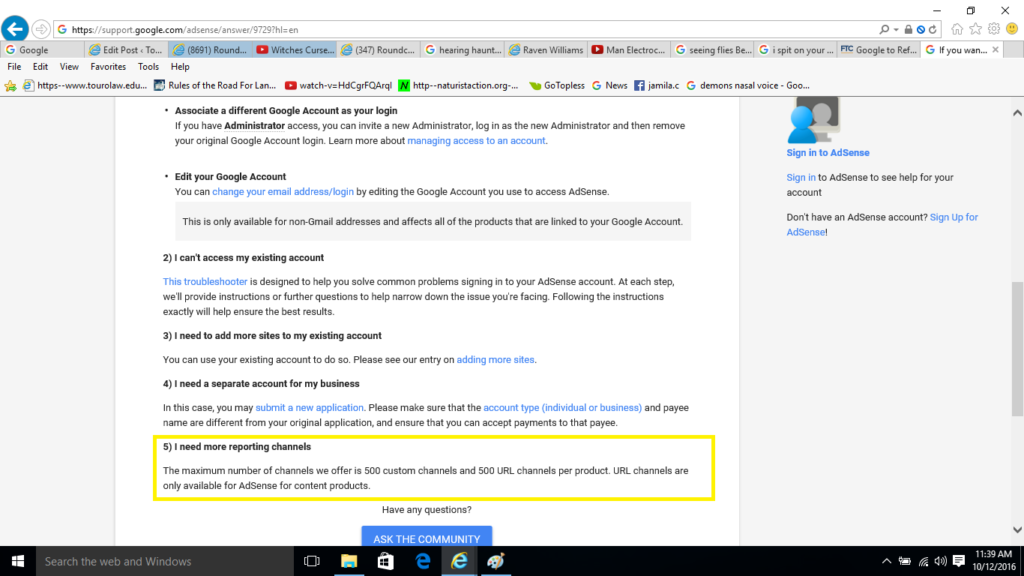 AND HERE: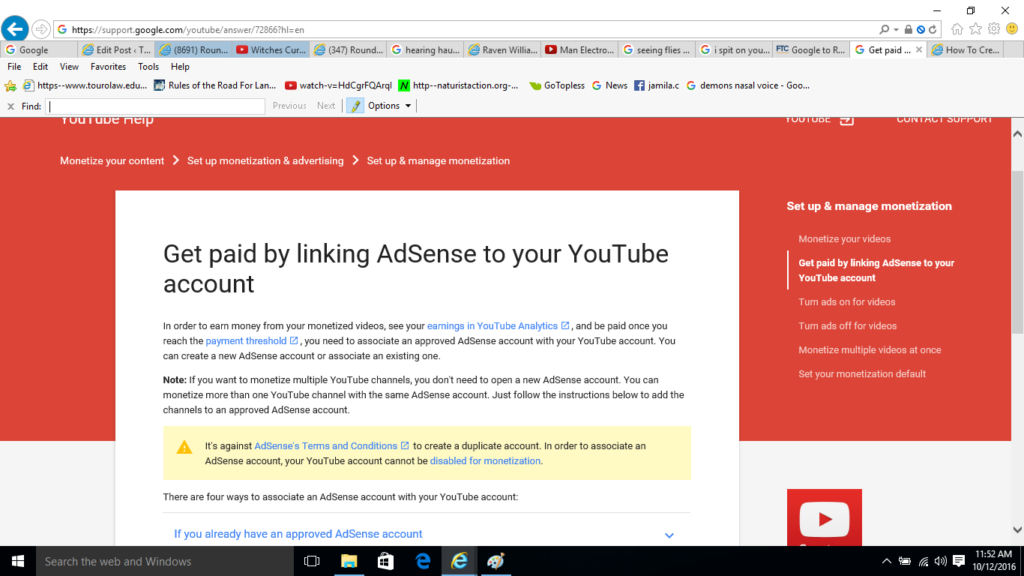 &
Here are some more examples going back to 2014:
Going back to 2014, as you can see down below, I uploaded a video called "Blacks Need To Stop With The One Drop Rule" obsession and note how DESPITE I HAD LONGER UPLOAD CAPACITIES YOUTUBE WOULD STILL NOT ALLOW ME TO UPLOAD SAID VIDEO (possible racial bias?):
Here is proof of when each video above was taken so people can see and correlate that one was taken after the other since it takes a looooong time to upload: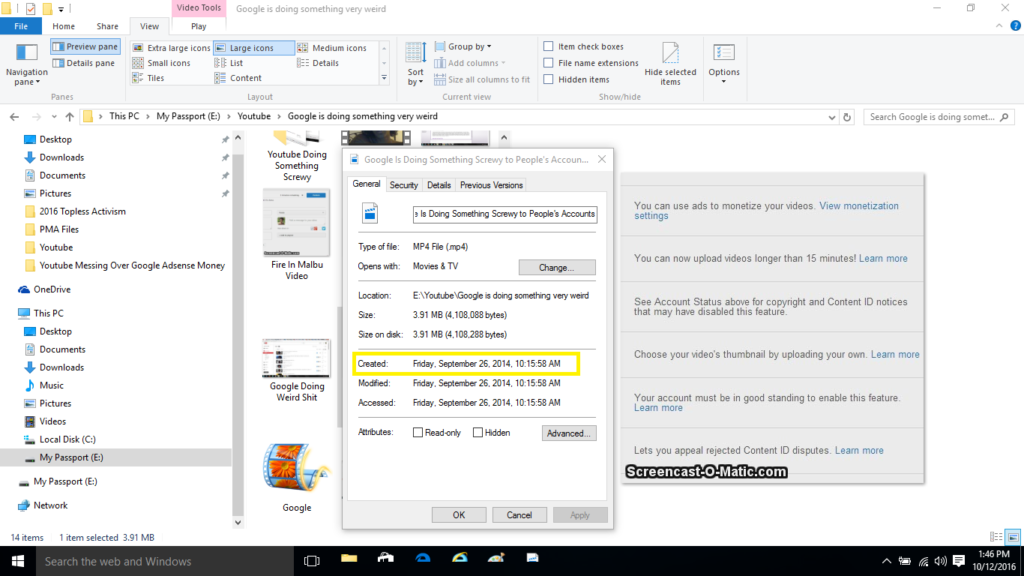 The second screenshot as stated up above showing times created and thus correlating to uploading time: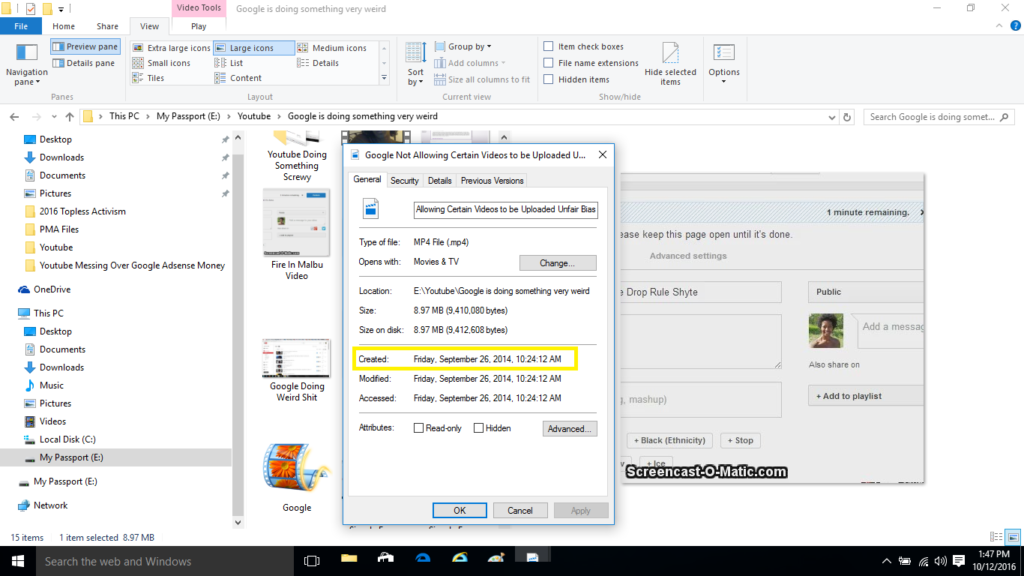 To make matters even worse, there are privacy violations being committed by them such as when back in 2014 Google basically removed an email which I thankfully was able to take a screenshot of in which said Google Employee went into my gmail account and practically removed a gmail email showing that a video had in fact been uploaded (I saw this take place before my very eyes) so they can justify UNJUSTIFABLY taking down my Google account.
HERE IS THE WORST!!!
Down below is evidence of how they took a video down off of MY OWN CHANNEL (taking the whole entire channel and capacity to create new ones under my [email protected] account) DOWN so I couldn't file a copyright to take down MY OWN REUPLOADED (Illegally) video to other channels down in which as you can see here, stated:
"We are concerned that some of the information in your takedown request may be fraudulent. "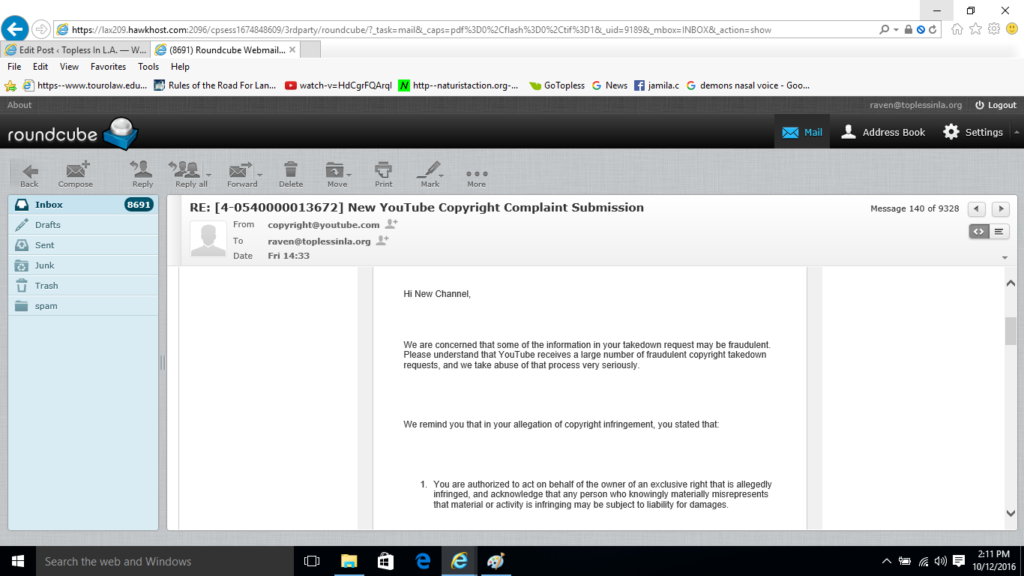 ….and here, the worst:
"If we don't receive a response to this email from you within 7 days, your YouTube account may be terminated. You may be able to avoid termination if you retract your takedown request. If you wish to do so, please reply to this email with "I hereby retract my claim of copyright infringement."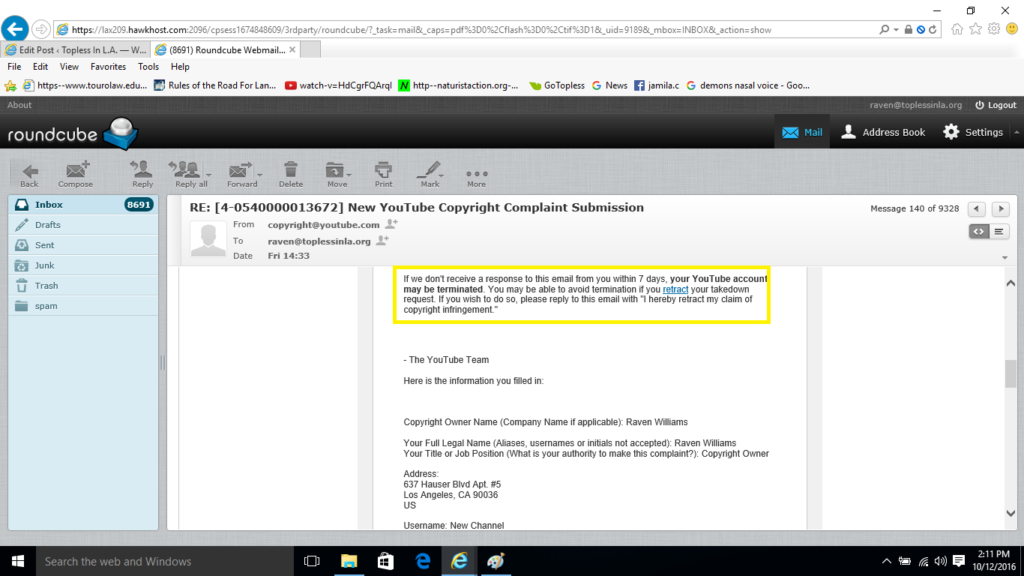 Here is the email in it's entirety:
Above is the channel they took down so I couldn't upload.
–   So basically they allow other users to reupload MY OWN VIDEO WITHOUT MY PERMISSION AND MAKE MONEY AT THE SAME TIME yet I can not only NOT reupload my own video but in conjunction I have to retract my fucking copyright complaint! As seen in their own rules and terms of service regarding this: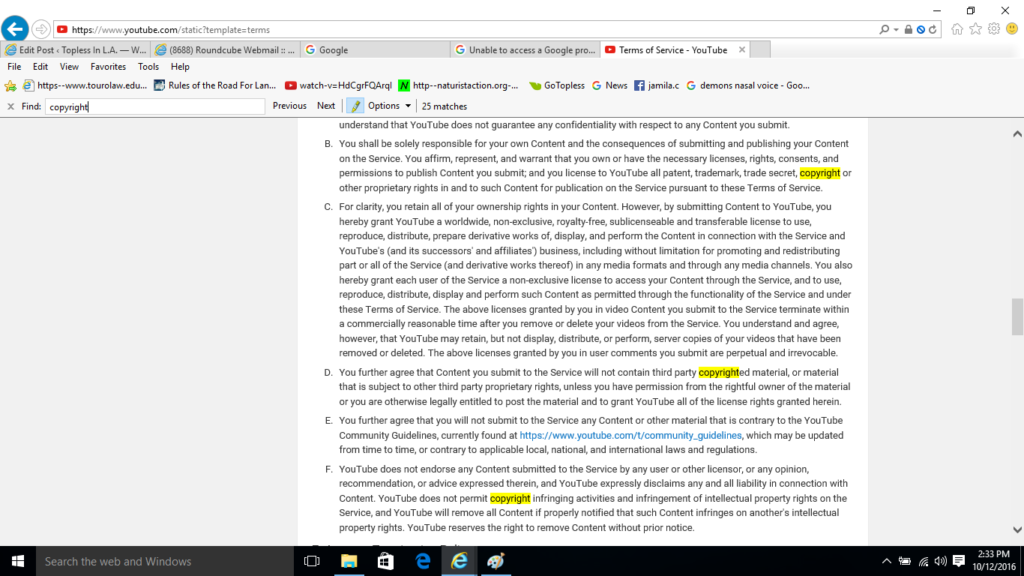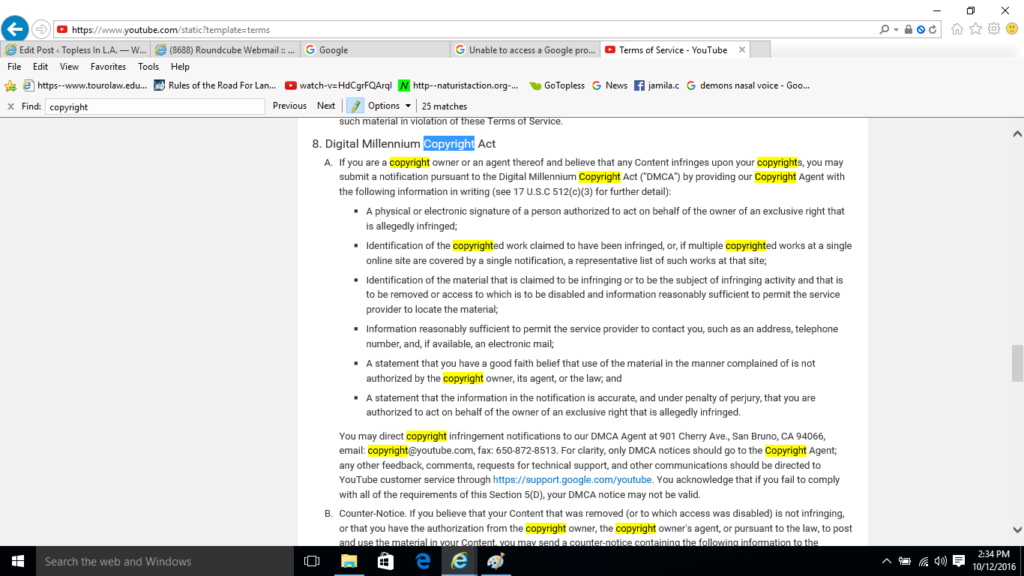 EVEN THEIR OWN FORM DOES NOT (IF I DID NOT THEORETICALLY POST A VIDEO) REQUIRE YOU TO SUBMIT A VIDEO TO SHOW YOU ARE THE COPYRIGHT OWNER AS CAN BE SEEN BELOW: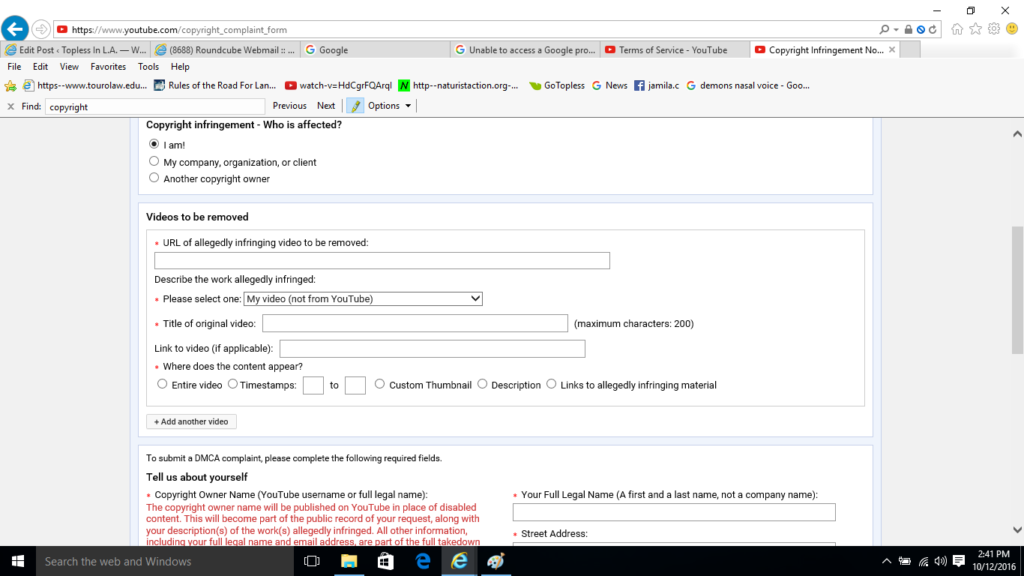 GOOGLE IS NOT EVEN ALLOWING ME TO BE ABLE TO SUBMIT COPYRIGHT TAKEDOWN NOTICES AS CAN BE SEEN BELOW:
Here is also another perfect example of youtube bias: They allow a transgender to show "her" tits yet not allow me to show mine EVEN THOUGH IT'S COVERED (gender discrimination):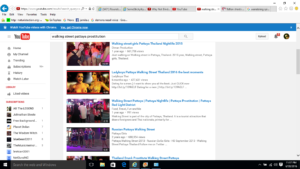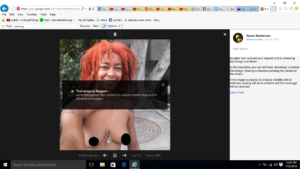 For anyone having problems with youtube/ google THERE IS a federal agency that regulates them: The FTC whose site is here: https://www.ftc.gov/ You can file a complaint on their site or call them here (for anti trust issues, precisely what youtube is doing): (202) 326-3300 or on their toll free number: 1-877-382-4359 Others have as evidenced here:
That said, we need to take a stand against Google/ YouTube and all the bs they are putting vloggers thru.
This entire blog is a work in progress….