THIS IS WHY IT'S SO IMPORTANT TO KNOW YOUR RIGHTS – AND THE LAW!!
Alright, here's another one coming at ya straight from the LA County courthouse:
>
Buy vids here [purchase_link id="29518″ text="Purchase" style="button" color="blue"]
(*I JUST LOOVE when they drop dimes on themselves: at first he suggested I PAY STRAIGHT TO THE JUDGE!!!)
Okay, basically according to case law the length of your probation is supposed to last the length you would of been sentenced to jail.
In the case of vandalism that would be 1 year which you can see down below (In this case I shoulda been given an infraction which you can read more about here): https://toplessinla.org/2015/08/20/attacked-by-new-millennium-barbershop-employees-in-los-angeles-and-selective-enforcement-by-lapd/
Here's the case law SHOWING WHAT I MEAN: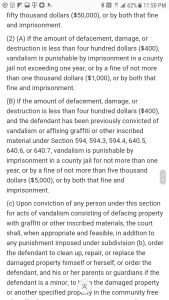 NOW… the reason why I say that is… at the end of the day, probation CAN NOT exceed the lenght of time you woulda spent in jail if sentenced to jail for the same thing! That said, according to case law, ONCE YOU ARE DONE WITH PROBATION (HELL, I WILL SHOW YOU CASE LAW SHOWING THAT RESTITUTION IS REALLY A CIVIL MATTER AND CAN ONLY BE ENFORCED AS A CIVIL MATTER, NOT CRIMINAL!) YOU DO NOT HAVE TO PAY RESTITUTION!!!
NOW, let's take a look at the DIFFERENCE between restitution ORDERS vs. RESTITUTION FINES! Restitution FINES are what you pay TO THE STATE: That said, legally if it is a MISDEMEANOR as was the case in my case (crooked ass cops tried to elevate it to a Felony since those cases can be "wobblers" given the arbitrary amounts victims can hold you accountable for in court, you can only be charged BETWEEN $0 – $70 (In my case THEY DISMISSED IT AND I GOT PROOF). YOU CAN SEE WHAT I'M TALKING ABOUT HERE: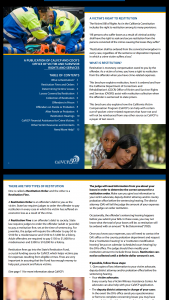 HERE'S THE CLOSE UP OF THE LEFT SIDE AS SHOWN ABOVE (MADE SURE TO SAVE IT!!!):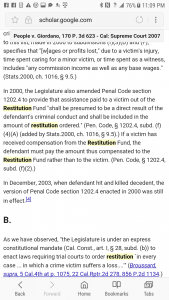 THAT SAID, let's get into the "Lent Criteria": To make a loooong story (verrrry long story), they are holding as a condition of my probation in this artist loft assault case to pay restitution in the vandalism case – TWO SEPARATE CASES (to go over the backstory of that, basically I was the first victim having complained in Nov. 2016 but because the LAPD has something against me for which you can see documentation of HERE:
https://toplessinla.org/2017/08/05/lapd-exposed-committing-cointelpro-tactics-and-surveillance-against-topless-copwatcher-activist/
THEY NEVER DID ANYTHING ABOUT IT and it was ONLY AFTER THOSE SAME PARTICIPANTS IN MY ROBBERY AND ASSAULT CLAIMED I WENT BACK IN DEC. 2016 TO RETALIATE DID THEY THROW ME IN JAIL (I HATE THE LAPD FOR THIS REGARDING THIS CASE). You can read more about that HERE:
https://toplessinla.org/2017/06/12/lapd-are-really-out-to-get-me/
YOU CAN ALSO READ ABOUT HOW THOSE CROOKS AFTER PUTTING ME THRU THE SYSTEM, FORCING ME AGAINST MY WILL, UNDER DURESS TO PLEAD how at one point THEY REMOVED IT FROM THE SYSTEM WHICH YOU CAN READ HERE: https://toplessinla.org/2017/06/28/someone-higher-up-in-los-angeles-government-than-lapd-gave-order-to-remove-crooked-case-from-system/
That said, returning back to the "Lent" criteria – basically the first rule is "(1) has no relationship to the crime of which the offender was convicted"… In other words… if they are holding it as a cobdition of my probation for the artist loft case that I HAVE TO PAY RESTITUTION IN THE VANDALISM CASE WHICH HAS NOTHING TO DO WITH THAT, that is illegal! Here is a screenshot of said case law HERE:

That said, here is case law ESSENTIALLY SAYING THAT RESTITUTION IS ESSENTIALLY NOT EVEN A CONDITION OF RESTITUTION:

Not only THAT, BUT HERE ARE CASE LAWS BASICALLY SAYING THAT – ESSENTIALLY – ARE CIVIL REMEDIES AND CAN ONLY BE ENFORCED AS SUCH: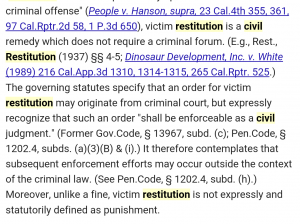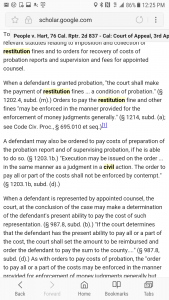 I GOT THESE MOFOS TREMBLING!!! Just recently I went BACK to the courthouse and in one of these vids down below you can here the employee ASK WHY I WANTED ACCESS TO THE "ARTIST LOFT FILE" AS IF WORRIED I WOULD GET ACCESS TO SOME REAL STRONG INCRIMINATING CHIT IN IT:
Now you can see WHY I am saying they are UP TO SOMETHING CROOKED!! I show here their bias against me: https://toplessinla.org/2017/08/05/lapd-exposed-committing-cointelpro-tactics-and-surveillance-against-topless-copwatcher-activist/ THIS IS WHY AS I SAID BEFORE IT IS SOO IMPORTANT TO KNOW YOUR RIGHTS ABD THE LAW AS WELL!! So many innocent people stay getting harsh and unjust sentences because they don't know their rights and they are often saddled with "public pretenders" who don't care and just wanna maintain the status quo – i.e. not solve the problem but keep you in your place so as to keep everything "maintained." They know you can't afford a lawyer so they keep you at the system's mercy! That said, this is why it is so important to learn the law yourself and I WILL teach you all more about it. Also, regarding LAPD, the LA County court system, I will be doing more exposing in the future!