Alright, this mofo – I have NO IDEA who this person could be – is obsessed with me. Look at this shit (here is his channel: https://www.liveleak.com/c/Black_Holes_Matter)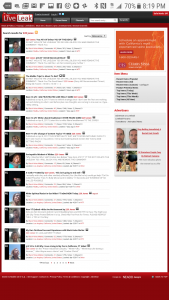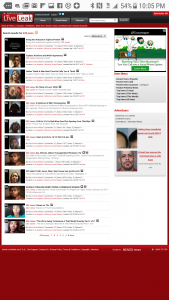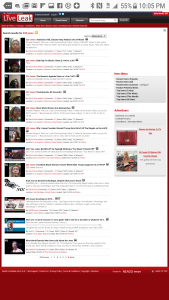 Then look at this shit HERE:
EVEN THE OTHER POSTERS CALLING HIM OUT ON HIS SHIT: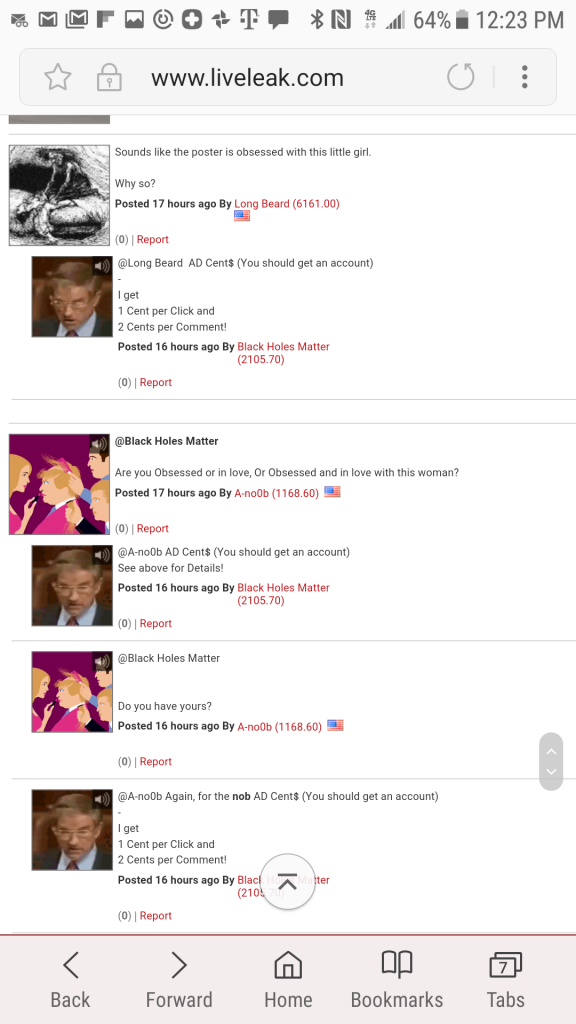 Plus I don't think Youtube allows that since the video HE EMBEDS is on my site and that can run into all sorts of problems – even with Youtube/ Google (who owns the search engine on which Liveleak DEPENDS ON FOR VISIBILITY) – if that were true.
And this bitch here, "paytoplay" – FUCKING SAD ASS, HAVING TO PAY FOR PUSSY WHICH IS A CRIME (I THINK PROSTITUTION AND SOLICITATION OF THUS SHOULD BE MADE A FELONY CAUSE IT'S ALL AROUND EXPLOITATION) PUNK HERE: https://www.liveleak.com/c/Paytoplay
IS TALKING ABOUT "HE CALLED THE COPS ON ME FOR BEING HOMELESS". HERE'S THE COMMENT AND LOOK AT THE RACIST ASS SHIT ON HIS CHANNEL: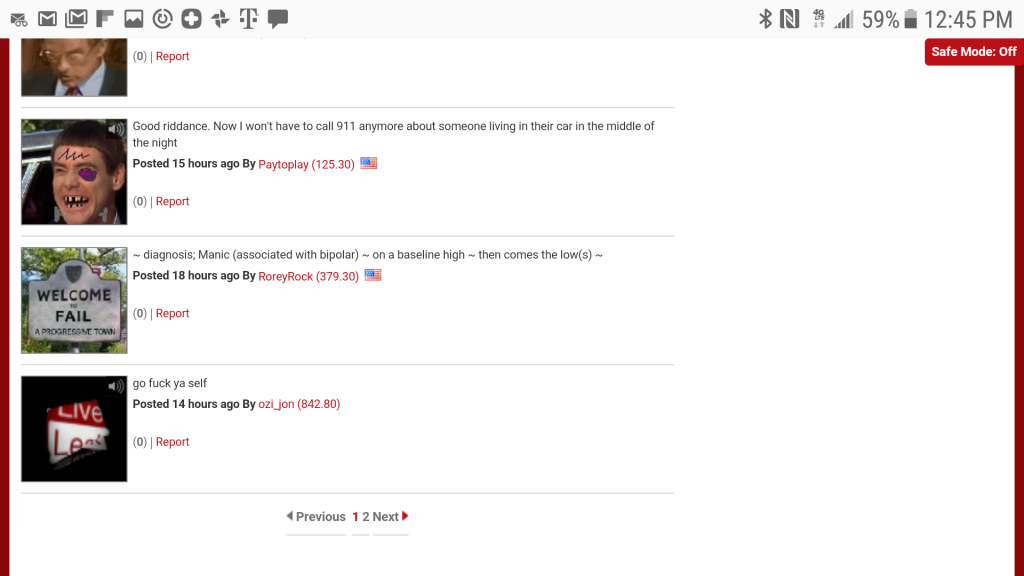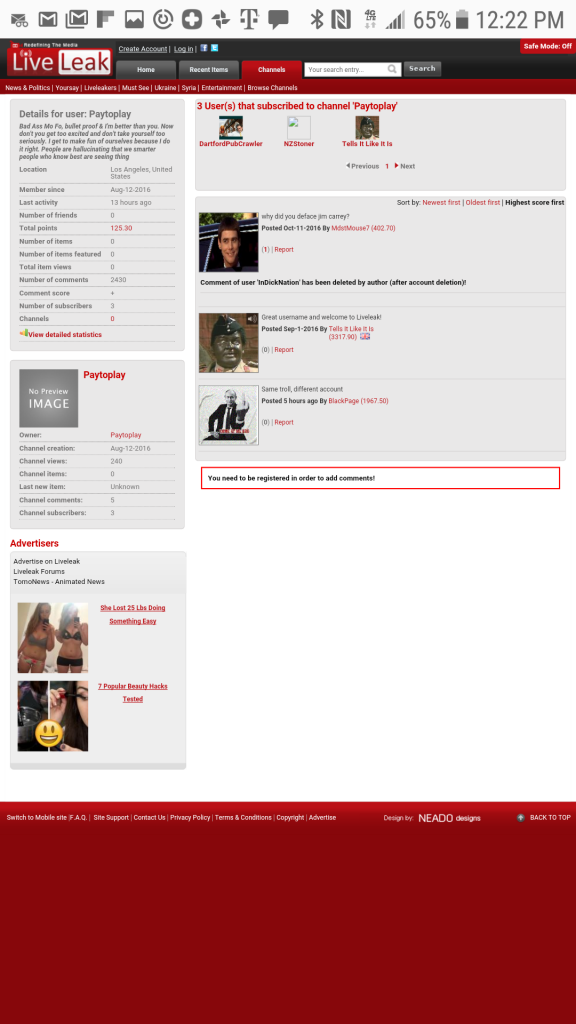 * I bet he's prob. some old ass LOSER who STILL RENTS (LOL): Yeah, I say you're a LOSER cause if you're in your 40's or older and YOU DON'T OWN IE AIN'T EVEN SMART ENOUGH TO GET A RETURN ON INVESTMENT BY OWNING YOUR OWN PROPERTY BUT STILL RENTING AT THAT AGE AND PUTTING MONEY INTO SOMETHING YOU CAN NEVER OWN THEN – YEAH – YOU A FUCKING LOSER IN MY EYES AND COULD EASILY END UP IN MY "PREDICAMENT" (WHICH I CHOOSE CAUSE I DON'T WANT TO BE NO DUMB FUCKING RENTER AND PUT MONEY INTO SOMETHING I COULD NEVER OWN) AND BE "HOMELESS", TOO!
SEE, THIS IS WHY I AM STAUNCHLY AGAINST PROSTITUTION CAUSE THESE DUDES ARE SOME EXPLOITATIVE, ABUSIVE MOFOS WHO WILL TAKE ADVANTAGE OF DESPERATE WOMEN LIKE MYSELF AND THEN THROW US TO THE WAYSIDE WHEN DONE LIKE PIECES OF GARBAGE! WHEN I find out who this mofo is (Imma check through my rolodex of tricks and on them hooker websites like usasexguide.info which I plan to later do an article on) MAAAANNNN I'M DROPPING A DIME ON HIS ASS CAUSE UNLIKE BEING HOMELESS – WHICH IS NOT A CRIME – IT IS A CRIME TO RAPE, ERR, I MEAN "PAYTOPLAY" WITH SOMEONE WHO PRACTICALLY WOULD NOT SLEEP WITH YOU OTHERWISE EXCEPT FOR ECONOMIC SURVIVAL SEX WHICH IS A FORM OF RAPE! Just wait till I get your dox: article will be in bloom and your life's gonna be fucked up since you wanna fuck with me!
This nugga here, based on what I could gather lives in quite possibly the Washington area since he uses "220 Jones" which is police code for "crazy person" in his area (personally, I think the "Jones" part is just some racist shit on his or maybe the station he works at's part). The way he "sounds" gives off the distinct impression that he might perhaps be a cop because there is a monotone-ness there. Some of the things he says such as "We are all having a hard time" makes me think – now that I think about it – of mental anguish, that this person is going thru some major challenges at this time which could be financial, whatever may be the problem (I almost think he could be homeless). Whatever it may be fucking with me won't help!
I also notice that he is PLENTY OBSESSED WITH SEX (thereby in a way ruling out whom I THINK it could quite possibly whom I don't want to attack unless I am 100% certain) which you can see in the screenshots down below: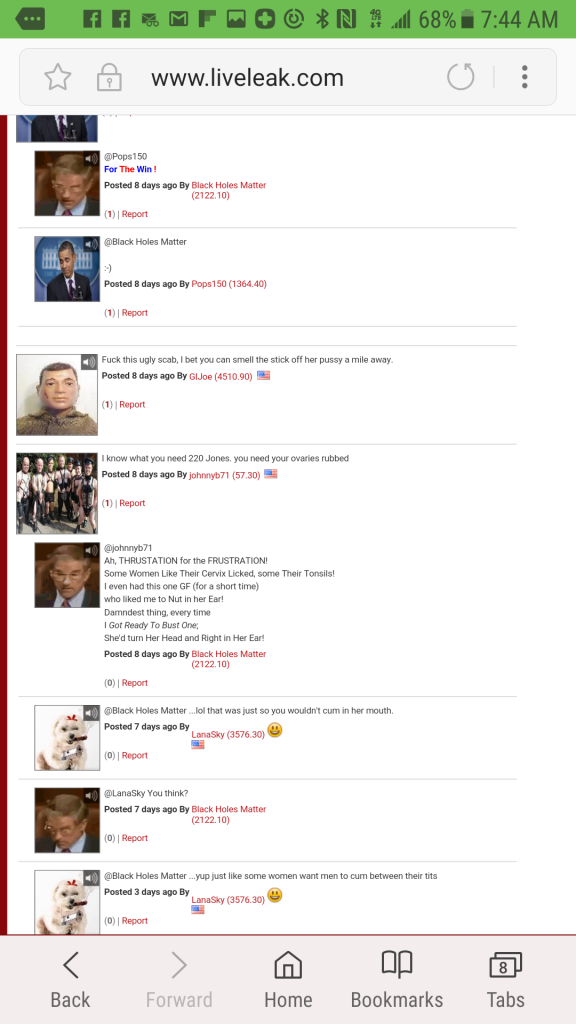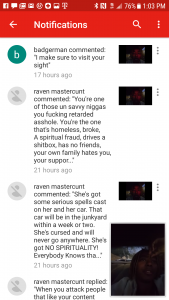 Here is more info on this spooky ass "Jeff Galbraith" character HERE:
https://www.linkedin.com/in/jeffgalbraith
https://m.facebook.com/jeff.galbraith1
Here are some of the more racist and infantile trolls from his page such as this "Jeff Galbraith" kook who came to me who appears to be a few french fries (or is it "freedom fries") of a Happy Meal whose ignorant ass comments you can see down below: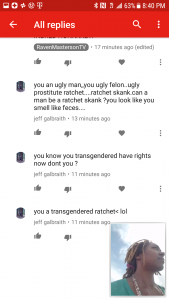 He owns Misha's coins which you can get the info DOWN BELOW:
6200 E Pima St, Tucson, AZ 85712
520-409-3384
http://www.ebay.com/usr/mishascoins
Just that very name, Black Holes Matter" gives off the impression of someone who is OBSESSED AND TO AN UNNATURAL DEGREE WITH SEX WITH BLACK WOMEN! I almost get a creepy serial killer vibe when I read his posts!! Very scary and unsettling to say the least and – LIKE A LOT OF WHITES – he projects by claiming that "I am crazy" WHEN HE IS THE ONE WHO PRACTICALLY GOT A CHANNEL DEVOTED TO ME WHICH IS SICK AND SPOOKY ASS FUCK!!
I wish I could get my hands on him and knock this mofo out! The image that ccomes to MY MIND is some rustic weirdo living in a camper van out in the middle of the forests (Wish ome of those tree people with glowing eyes that David Paulides talks about would get his ass):

Honestly, I don't for sure know who this guy is: based on what I can gather, he is a hurt, wounded lonely soul kinda like me and probably feels a "kinship" with me in a weird way (he never says anything really too fucked up about me) and has his "fetishes" and I think he admires me and some of the things I do and say (I remember oncw he made a comment noting my intelligence and I appreciate that!) and in some way lives vicariously thru me like he wishes he had my bravery to be more honest with himself and others in his personal life.
Whoever you are, man, I wish you blessings…