HERE'S THE MOST DAMNING (HE DON'T WANT YOU TO SEE THIS):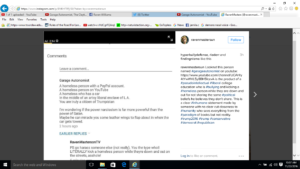 More like "garbage autonimist." Anyways, here are the emails where this jealous, mentally ill mofo attacks me OUT THE BLUE, MAKES FUN OF MY DEAD BROTHER'S SUICIDE (EVIL ASS) AND ATTACKS ME FOR HAVING BEEN ON REALITY SHOWS, ETC. USING A MERE DIFFERENCE OF OPINION TO DO (CAUSE OF SHIT I SAID A WHILE BACK) AND I'VE DONE NOTHING TO THIS EVIL, MISOGYNIST (YEAH, HE ONE ON THE SLICK WHICH IS WHY HE HAS A PROBLEM WITH ME CAUSE I SPEAK MY MIND AND HIS CONFUSED, POSSIBLY HOMOSEXUAL ASS – ONLY A PURE BITCH ACTS LIKE THIS – DOESN'T, FUCKING CLOSET CASE QUEER);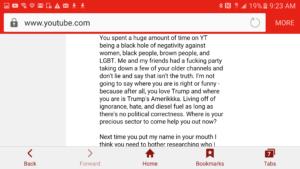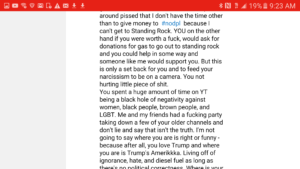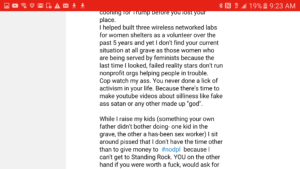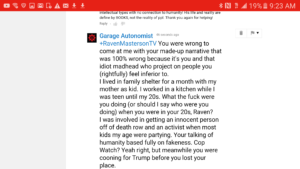 Here's some more: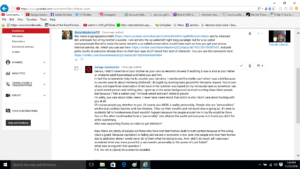 That said, THIS BASTARD reinserted himself into my mind – again – after sending me this newest messsage, which you can see here: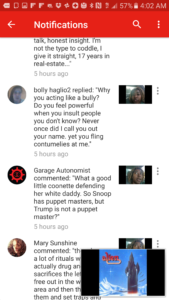 Let me preface this by saying I AIN'T NEVER DID SHIT TO THIS CRAZY, PSYCHOTIC, UNEMPATHETIC (BASED ON HIS ACTUAL POSTS), UNCARING, PSYCHOLOGICALLY MANIPULATIVE, JUDGEMENTAL (THIS BITCH SURE LIKE TO PROJECT ON ME WHEN HE DOING EVERYTHING HE ACCUSES ME OF DOING LIKE A BULLY), SICK IN THE HEAD, CLOSET CASE FEGGET! THIS EVIL, SICK BITCH (HOW EVIL YOU GOT TO BE TO JOKE ABOUT SOMEONE SUICIDE AND THEN DO IT WHILE I AM HOMELESS?) ATTACKED ME, OUT THE BLUE, WHILE I AM DOWN AND OUT (IN THE EARLY STAGES OF MY BEING HOMELESS KNOWING I HAD BEEN ROBBED AND ASSAULTED) WHILE CALLING THEMSELVES A "Feminist" (I think "feminine" is more like it. Here is HIS channel:
https://www.youtube.com/channel/UCAHIy4tYwWVL5y8BH5IczvA?app=desktop
This mofo – in my time of need – attacked my having done reality shows (out of jealous which is what I sensed), attacked me for having done porn (I thought he was sensitive to women's rights and economically depressed women), ATTACKED MY DEAD BROTHER (HOW LOW AND EVIL OF YOU AND IF I EVER SEE HIM IN PERSON I WILL CHOKE OR MAYBE GET SOMEONE IN NY – WHERE HE STAYS – TO DO IT), AND CAME FOR ME OUT THE BLUE THOUGH I NEVER DID SHIT TO HIM! The only reason why he would do this is cause…
HE IS A CLOSET CASE HOMO (HENCE WHY HE SO PASSIONATE ABOUT "THEIR RIGHTS") WITH A LOT OF NEUROTIC, PSYCHOTIC, AND PERHAPS SOCIOPATHIC TENDENCIES. Alot of people complain about this mofo:
THIS MOFO CAME FOR ME AND I WILL TELL YOU WHY: he is a closet case FAGHOT who hides behind that veneer, that facade of "respectable poliTRICKs" and caping for women's causes (CAUSE HE WANTS TO BE ONE) all the while lashing out at the strong women he WANTS TO BE such as myself (no matter how much you call yourself a "feminist" IT WILL NEVER MAKE YOU A REAL WOMAN LIKE ME WHICH IS WHAT PISSES OFF CLOSET CASE QUEERS LIKE HIM THE MOST) AND ALL THIS RESPECTABLE POLI-TRICKS BS OF COLLEGIATE PSEUDO INTELLECTUAL-ISM!
Let me tell you why I KNOW this nigga a FHEG: his main problem with me is – I ain't never did him anything but he attacks me PERSONALLY – as you can see in the screenshots above – OUT OF JEALOUSY WHICH IS WHAT BITCHES DO! YOU CAN SEE HOW PETTY "HE" IS IN THOSE SCREENSHOTS! HE WANTS TO BE ME! ONLY OTHER FEMALES GET PETTY LIKE THAT WITH OTHER BITCHES, OF WHICH HE IS ONE! NO GROWN REAL MAN ACTS LIKE THAT! PLUS HE TOOK UMBRAGE WITH MY PREVIOUS VIEWS ON QUEERS AND SHIT, MEANING HIS ASS IS MIRE THAN LIKELY A CLOSET CASE. His petty bitch ass attitude is why I had those thoughts on gay dudes (alot of queer dudes hate females cause they wish to be one) and I HATE CLOSET CASES MORE SO CAUSE OF THEIR DENIAL AND SUBSEQUENT PROJECTION ON INNOCENT PEOPLE CAUSE OF THEIR INABILITY TO COME TO TERMS WITH THEIR OWN SEXUALITY!
Plus the passive aggressive, playing mind games (mofo ain't that smart) by fucking with me for being homeless than saying he doesn't further gives that away. I believe in analyzing a person's personality and NOT WHAT THEY SAY!!
That said, he hides behind "feminism" cause he wishes to be a female and hates on men cause he WANTS EM! In a "it puts the lotion on it's skin" kinda way…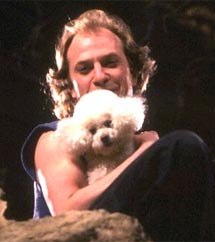 He secretly casts himself in the role of "feminist" cause he wants to insert himself into women's issues cause he wants to – for his own self gratification (follow me here…) – take on women's pain, etc and secretly and passionately WANTS for men to respond accordingly to his negative, often admittedly misandryist ravings as if he is a woman himself hence why he trolls their (men's rights) pages…
Think about it…